Yellen Sees Labor Market Weakness But Jobless Claims Say Otherwise
The improvement in emerging unemployment "has been substantial," Pantheon Macroeconomics chief economist Ian Shepherdson told The Wall Street Journal following the release of the Department of Labor's weekly jobless claims report on Thursday. Initial applications for jobless benefits decreased for a second consecutive week, giving analysts another piece of evidence of labor market improvement.
The number of Americans filing first-time jobless claims decreased by 3,000 to a seasonally adjusted 302,000 in the week ended July 12. That drop put jobless claims well below the 310,000 new claims expected by analysts and close to an annual low. Last week's jobless figures represent the second lowest number filed in 2014.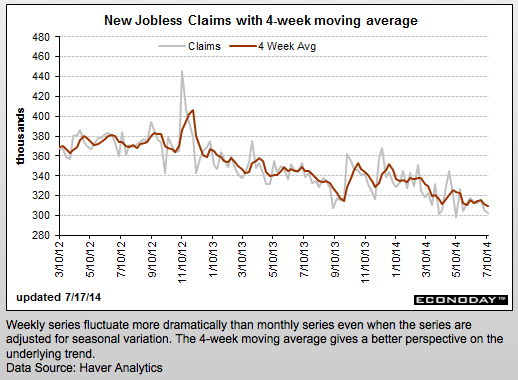 Jobless claims, which serve as a proxy for layoffs, are once again trending near a seven-year low. Before the Great Recession, weekly applications for unemployment benefits averaged approximately 320,000 due to the normal churn of the labor market, and for a majority of 2014, claims have fallen near that level. Declining jobless claims highlight the fact that emerging unemployment is returning to acceptable levels.
In other words, fewer Americans are being laid off, even if the nation's long-term unemployment level remains elevated and employers still do not have the confidence to significantly boost hiring. But while jobless claims have never stabilized below the key benchmark level of 300,000, the generally downward course charted by application numbers is evidence of ongoing healing in the labor market.
What is also encouraging about last week's jobless claim numbers in particular is that emerging unemployment traditionally grows at this time of year as auto manufacturing slows. Generally, American automakers halt production at several factories in the first half of July in preparation for new model year changeovers.
Other evidence of labor market strength came in the form of the Labor Department's four-week moving average. Alongside the drop in weekly jobless claims, the moving average fell from the previous week's upwardly adjusted 312,000 to 309,000, the lowest level in seven years. At this time last year, the four-week moving average stood at 345,000.
The number of workers continuing to draw unemployment benefits dropped, as well, falling by 79,000 to a seasonally adjusted 2.51 million in the week ended June 5. Continuing claims, reported with a one-week lag, have fallen by more than 400,000 over the past 12 months. The continuing declines in emerging unemployment are evidence that June's strong payroll numbers were no fluke, and that hiring will continue to be strong.
While "inroads" into unemployment are being made, progress is still slow. In other words, job growth may no longer be bad, but it has yet to recover. If initial claims for unemployment benefits defined the whole labor market story, then the narrative of the jobs recovery would be easy to summarize: progress is steady, or, at least, the labor market situation is not worsening.
The 288,000 jobs U.S. employers added to payrolls last month is good news, and it is encouraging that the unemployment rate is well below the 7.9 percent rate with which the United States began 2013. The economy created far more jobs than the 215,000 economists expected, and for the past three months, job creation has averaged 276,000 positions per month.
More importantly, June represented the fifth consecutive month in which job creation surpassed 200,000, a level considered to be a benchmark of economic health. June's employment gains pushed the total new jobs created in 2014 to 2.495 million, the highest of the recovery, and last month's 2 percentage point decrease in the headline unemployment rate was also an indication of labor market improvement.
In recent months, especially April, the jobless rate has ticked down generally because large numbers of Americans have given up the job hunt and dropped out of the labor force, which is the basis for the unemployment calculation. However, the unemployment rate fell from 6.3 percent to 6.1 percent in June because 325,000 fewer people were unemployed and 407,000 more people had jobs, not because more job seekers had given up their search.
The last time the headline unemployment rate was so low was September 2008, when Lehman Brothers went bankrupt and signs of coming economic trouble were emerging. But the labor market is now much weaker than it was then. American job seekers may not be as disheartened at their employment prospects as they were earlier this year, but there are still problems.
"Although the economy continues to improve, the recovery is not yet complete," Federal Reserve Chair Janet Yellen said during a Wednesday congressional testimony. "Significant slack remains in labor markets," meaning there are significantly more people willing and capable of filling a job than there are open positions to be filled.
Despite the recent job gains, Fed economists believe the dropping unemployment rate overstates the health of the labor market: underemployment remains high, the jobless rate is still historically elevated, and the labor force participation rate is historically low. Just 63 percent of Americans are participating in the labor force by having a job or by looking for a job.
Yet a recent Gallup survey found that 35 percent of Americans say now is a good time to find a job — a 7 percentage point increase since June and the highest level recorded since December 2007, the first month of the Great Recession.
More From Wall St. Cheat Sheet:
Follow Meghan on Twitter @MFoley_WSCS