"He's already stayed a lot longer than he wanted or he's supposed to… [but] he has been an outstanding partner, along with the White House, in helping us recover much stronger than, for example, our European partners."
It's hard not to imagine this being something that would send the Bartlett administration White House spiraling into a minor public relations nightmare on the West Wing. Nothing that requires its own arc, but maybe one good scene where the press secretary reiterates that the President thinks that Bernanke has done a good job as chairman of the Fed.
The members of the Federal Reserve Board of Governors are chosen by the President and confirmed by the senate. This puts Bernanke's fate — should he choose to pursue another term — in the hands of President Obama, who apparently thinks that Bernanke may have run his course as Fed chairman.
Bernanke was appointed the 14th Chairman of the Federal Reserve by President George W. Bush in February 2006, and was re-nominated by President Barack Obama for a second term in January 2010. His current term expires in January 2014, and it's unclear if he will run again. He has reportedly told close friends that he probably will not stand for a third term at the central bank.
The economy and, in particular, government involvement in the recovery has become the biggest issue facing President Obama in his second term. Accommodating monetary policy has defined post-crisis economics and financial markets have become addicted to federal purchases of bonds and mortgage-backed securities. The future of monetary policy is directly related to — and in many ways dictates — the ongoing narrative of the U.S. economic recovery. Whoever takes the chair after Bernanke will have considerable control over those policies.
While it's impossible to predict what Bernanke or President Obama will decide come January, Bloomberg posed the question to a group of financial and economic decision makers to get the market consensus.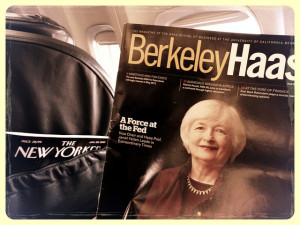 According to Bloomberg's survey of 906 decision makers in finance and economics, the U.S. Federal Reserve is doing the best job of any central bank in the world of handling the problems facing its economy. The survey showed that 57 percent of respondents feel this way. The next-best bank, the Bank of Japan, earned just 13 percent of the vote, while the European Central Bank and the Bank of England tied with "have no idea" at 10 percent.
With that in mind, 34 percent of respondents believed that current Federal Reserve Vice-Chair Janet Yellen is most likely to take the top spot in 2014. This was perhaps unsurprising given Yellen's decidedly level-headed and intelligent grasp on the economic situation. With 27 percent of the vote, Bernanke was seen as the second-most likely person for the job. After that, 22 percent of respondents had no idea, suggesting that survey participants aren't thinking too hard about this question just yet. Six percent thought that former Treasury Secretary Timothy Geithner will get the job.
A separate but similar question about who would make the best Fed chair if Bernanke were to step down, yielded similar results. A majority of participants, 31 percent, had no idea, once again suggesting that they were not thinking too hard about the question. Whether or not this was because it was not important to them or because the event is still a year away is unclear. Vice-chair Janet Yellen earned 26 percent of the vote, while Geithner earned 11 percent.
You can follow Dan on Twitter (@WscsDan)
Don't Miss: Does the Bond Market Resemble a Ponzi Scheme?