S&P 500 (NYSE:SPY) component PNC Financial Services Group (NYSE:PNC) reported net income above Wall Street's expectations for the first quarter. PNC Financial Services Group Inc. offers corporate and institutional banking, retail banking, asset management, residential mortgage banking and global investment services.
Don't Miss: Wall St. Cheat Sheet's newest Feature Trades of the Month!
Pnc Financial Services Group,The Earnings Cheat Sheet for the First Quarter
Results: Net income for the money center banks company rose to $832 million ($1.57/share) vs. $676 million (66 cents/share) YoY. A rise of 23.1% from the year earlier quarter.
Revenue: Fell 53% to $2.07 billion YoY.
Actual vs. Wall St. Expectations: PNC beat the mean analyst estimate of $1.37/share. Estimates ranged from $1.20 per share to $1.54 per share.
Quoting Management: "PNC delivered exceptional performance in the opening quarter of 2011," said James E. Rohr, chairman and chief executive officer. "Confidence is returning to the economy, and our strong balance sheet, capital position and sales momentum create tremendous opportunities for PNC to increase market share. We recently enhanced the return on shareholder investment through a significant increase in our second quarter dividend. Going forward, PNC will continue to invest in our businesses for growth across the franchise."
Key Stats:
Net income has increased 84.8% year over year on average across the last five quarters. The biggest gain came in the second quarter of the last fiscal year, when income climbed more than fourfold from the year earlier quarter.
Competitors to Watch: Bank of America (NYSE:BAC), Wells Fargo & Company (NYSE:WFC), KeyCorp (NYSE:KEY), JPMorgan Chase & Co. (NYSE:JPM), Citigroup (NYSE:C), and U.S. Bancorp (NYSE:USB).
Today's Performance: Shares of PNC are trading at $62 as of April 21, 2011 at 9:24AM ET, up 2% from the previous close.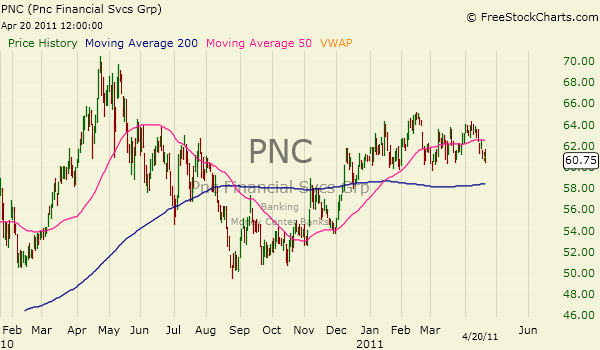 Don't Miss Wall St. Cheat Sheet's newest Feature Trades of the Month!