S&P 500 (NYSE:SPY) component The Walt Disney Company (NYSE:DIS) posted lower net income in the second quarter compared with a year-earlier period. Walt Disney Company is an entertainment company with operations in: Media Networks, Parks and Resorts, Studio Entertainment, and Consumer Products.
Don't Miss: Wall St. Cheat Sheet's newest Feature Trades of the Month!
The Walt Disney Company Earnings Cheat Sheet for the Second Quarter
Results: Net income for the entertainment company fell to $942 million (49 cents/share) vs. $953 million (48 cents/share) a year earlier. A decline of 1.2% from the year earlier quarter.
Revenue: Rose 5.8% to $9.08 billion YoY.
Actual vs. Wall St. Expectations: DIS missed the mean analyst estimate of 56 cents/share. Estimates ranged from 51 cents per share to 63 cents per share.
Quoting Management: "We are pleased with the underlying quality of our second quarter earnings," said Robert A. Iger, President and CEO of The Walt Disney Company. "There is great creative momentum throughout the company which gives us continued confidence in our ability to grow our businesses."
Key Stats:
Net income has increased 28.3% year over year on average across the last five quarters. The biggest gain came in the second quarter of the last fiscal year, when income climbed 55.5% from the year earlier quarter.
Competitors to Watch: CBS Corporation (NYSE:CBS), News Corporation (NASDAQ:NWSA), Time Warner Inc. (NYSE:TWX), Comcast Corporation (NASDAQ:CMCSA), Journal Communications, Inc. (NYSE:JRN), Cumulus Media Inc. (NASDAQ:CMLS), Scripps Networks Interactive, Inc. (NYSE:SNI), Entravision Communication (NYSE:EVC), and Entercom Communications Corp. (NYSE:ETM)
Stock Performance: Shares of DIS are down 2.7% from the previous close.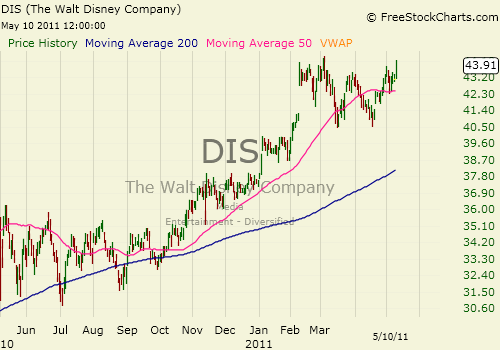 Don't Miss Wall St. Cheat Sheet's newest Feature Trades of the Month!