Financial stocks have taken a beating this year.  The Financial Select Sector SPDR (NYSE:XLF) is down nearly 23% year-to-date.  The largest US consumer bank, Bank of America (NYSE:BAC) is down 53% for the year.  With the high volatility (NYSE:VXX) in September, some analysts believe there is more pain in store for the financial sector.
Citi (NYSE:C) analyst Keith Horowitz cut his EPS estimate for Goldman Sachs (NYSE:GS) from a 10 cent gain to a 65 cent loss.  He reduced estimates "given 3Q weakness across trading and investment banking that extended through the of September, further equity market declines and wider credit spreads." Goldman Sachs has seen a slide of 43% in its share price this year.
Hot News: Will Investors Hang Up on Sprint?
As the chart below shows, the major banks underperformed the S&P 500 (NYSE:SPY), with Bank of America, Citigroup, and Goldman Sachs underwhelming investors the most in the financial sector.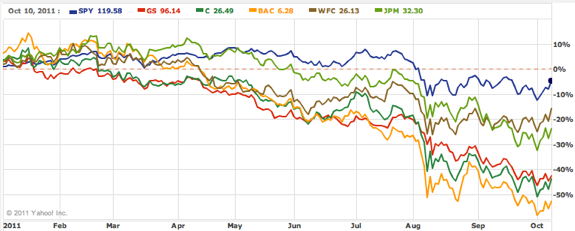 This Thursday, JP Morgan Chase (NYSE:JPM) will kick off bank earnings season as the company is expected to report an average profit of 98 cents per share, and nearly $24 billion in revenue. JPM has beaten estimates the past four quarters, an earnings miss will likely spell trouble for other banks.  The best performer of the financial sector, Buffett endorsed Wells Fargo (NYSE:WFC), is expected to report record earnings on October 17th.
Investor Insight: Here are the Volcker Rule's After Effects.
Going forward, investors looking to jump into the financial sector will need to closely monitor developments from Europe and the US.  Euro zone concerns have caused shares of Morgan Stanley (NYSE:MS) to plummet in recent weeks, as sovereign debt exposure takes center stage.  Also, the SEC is set to vote on the Volcker Rule tomorrow.  The rule, if implemented in present form according to Bernstein project, will cut revenue for Wall Street brokers by 25%.