Kobe Bryant Signs Two-Year Extension on Lakers Contract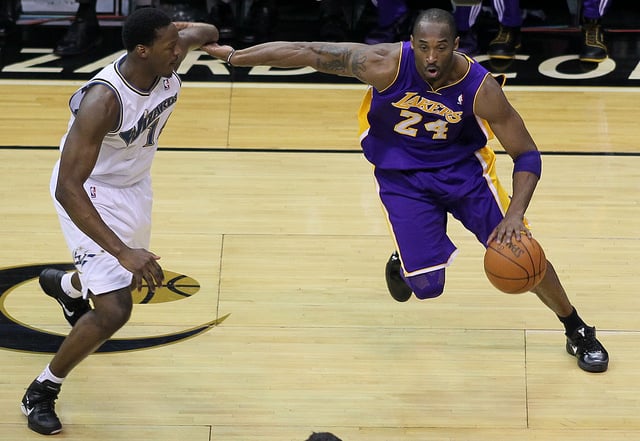 The L.A. Lakers reported on Monday that Kobe Bryant agreed to extend his contract with the team in a deal that is purportedly worth $48.5 million. The 35-year-old shooting guard is currently the highest paid player in the NBA, a distinction he will maintain with the two-year contract extension. Kobe is set to receive $23.5 million in his first additional year and $25 million in his second. Bryant has not played since April, when he suffered a torn Achilles tendon, but will finish the year having made more than $30.4 million.
The Lakers have been undergoing a major overhaul in the team's roster over past two years after Dwight Howard left the team suddenly in July, and since then, Bryant and the Lakers arrived at the agreed upon salaries for his contract extension in order for the team to have the flexibility to pursue one top free-agent player for next summer. There's been speculation that the Lakers could pursue four-time MVP Lebron James and Carmelo Anthony, the current league scoring champion. Both players are able to opt out of their current contracts after the current season.
The decision to extend Bryant's contract was fairly unanimous amongst the Buss family, who wanted to continue to host the league's highest-paid player. Further, the family wanted the deal finalized before Bryant's return to court in a show of support, emphasizing his importance to the franchise.
Lakers general manager Mitch Kupchak expressed his appreciation for Bryant, saying of the decision, "We've said all along that our priority and hope was to have Kobe finish his career as a Laker, and this should ensure that that happens. To play 20 years in the NBA, and to do so with the same team, is unprecedented, and quite an accomplishment. Most importantly, however, it assures us that one of the best players in the world will remain a Laker, bringing us excellent play and excitement for years to come."
Bryant has responded to the signing by posting a photograph of his signature on Twitter, accompanying a tweet which reads simply: #Laker4Life.
Don't Miss: 6 NCAA College Football Rivalry Match-Ups This Thanksgiving Weekend.