Nike Air Ball? LeBron James Isn't Wearing His Own LeBron 11s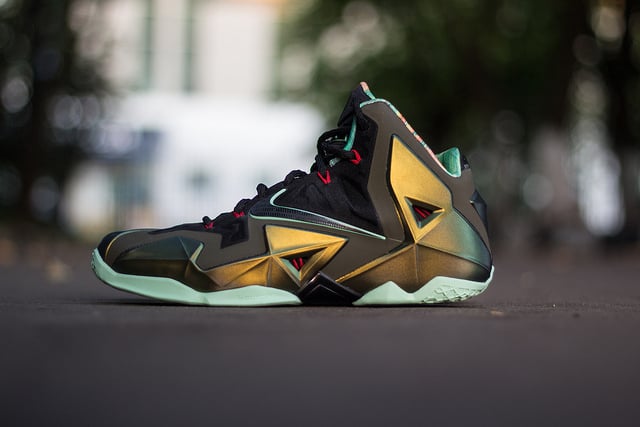 The jury's still out on whether National Basketball Association star LeBron James actually likes his LeBron 11 shoes from  Nike (NYSE:NKE) or if he only slips them on for a couple of minutes each game for advertisement purposes, but the sneakers' robust sales show that it doesn't even really seem to matter.
According to The Wall Street Journal, James has recently fielded criticism about his apparent reluctance to wear the 11s for full basketball games, even though one would think this comes with the territory of signing an annual $15 million contract with Nike. After signing James in 2003, Nike has released a line of signature LeBron shoes for each year he has played in the NBA, with the latest offering going on sale in October — but onlookers have noticed lately that in the 18 games played since the season started, James has only worn the 11s for two full games, actually spending most of his time in last year's LeBron X model.
James's fondness of last year's kicks has led to questions over the true appeal and fit of the new Nike shoes, but his manager, Maverick Carter, insisted to the Journal that the athlete is simply still tweaking his shoe so that it has the perfect fit, and James expects to begin wearing the 11s full time within the next couple of weeks.
Some may wonder why it's even a big deal that James has been wearing last year's shoes rather than this season's edition, but the Journal reports that the U.S. basketball shoe market has become an increasingly lucrative one, bringing in close to $3 billion in retail sales. The athletes who have secured such high-profile partnerships are expected to deliver on their end of the deal and wear — not to mention enjoy — their shoes.
LeBron 11s currently go for more than $200 a pop and are selling extremely well despite James' reported disinclination to wear them. The Journal reports that unit sales of the sneakers are up 18 percent so far this year, and revenue collected from the 11s are up 35 percent over that period thanks to a slight price increase.
A representative from SportsOneSource explained to the publication that this sales success reflects that most consumers purchase LeBrons for fashion purposes, rather than performance ones. Thus, it doesn't matter as much if James doesn't wear them full time, although "it would matter more if he [James] didn't wear it at all."
Still, James is one of the only partnered athletes who has been seen not wearing his sponsor's latest models, and Nike likely prefers that the four-time league MVP do so. The company recently addressed reports of James not wearing the 11s and maintained in a statement that the LeBron 11 is "one of the most innovative Nike basketball shoes to date, and we look forward to LeBron stepping back on the court in his latest signature shoe soon."
Don't Miss: 7 Classic Toys With Accidental Beginnings.