Super Bowl Scalpers Need Twice as Much Cash as Last Year
Certain experiences are worth the money. In the US, one of those is the Super Bowl. However, merely one year after Super Bowl XLIV in Miami (New Orleans Saints defeated Indianapolis Colts 31-17), average ticket prices for Super Bowl XLV in Dallas are already twice as expensive!
If you want to watch the NFL's third and fourth most popular teams — the Pittsburgh Steelers and Green Bay Packers — battle for US professional sports' most coveted crown, get ready to shell out at least $2365. If you don't catch a deal, official resale site FanSnap says to expect to pay closer to the average selling price of $5100: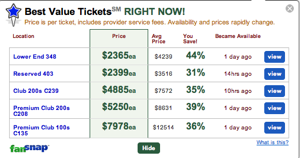 When compared to the average salary in the US of $39,527 (2010, IRS), even the cheapest seats are a major commitment to entertainment. But if you factor in the priceless memories and stories of being part of such a storied part of American culture, ticket costs ain't nothing but a number.
What do you think about Super Bowl ticket prices? Share your valued opinion in the comments below …