Apple is (NASDAQ:AAPL) the most reliable smartphone manufacturer among its other industry-leading rivals, according to a new report from independent troubleshooting website FixYa. The iPhone maker's statistics make it nearly three times more reliable than Samsung (SSNLF.PK), five times more reliable than Nokia (NYSE:NOK), and 27 times more reliable than Google (NASDAQ:GOOG) unit Motorola.
FixYa, which calls itself the leading product Q&A destination on the web and mobile, analyzed 722,558 troubleshooting requests along with the ratio of market share for each vendor and assigned a final score to each. The higher the score, the higher the vendor reliability, FixYa said in the report.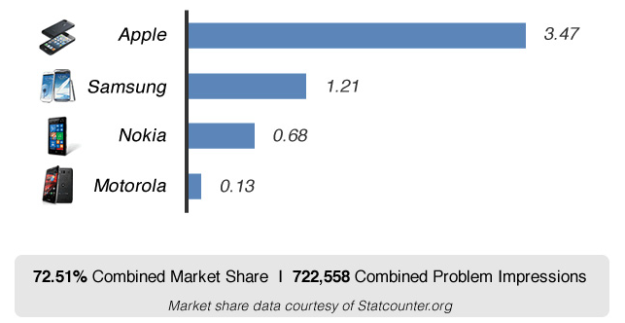 (Chart courtesy of FixYa)
According to the report, Apple users enjoy the iPhone's simple and straightforward user interface and its healthy app ecosystem. "Users enjoy the sleekness and simplicity of the Apple experience, comparing it favorably with other manufacturers," the report said…
The top four complaints regarding the iPhone are its battery life, a shortage of new features, the lack of options to customize the device, and problems connecting to Wi-Fi.
The biggest issues with Samsung smartphones are microphone-related problems, trouble with the device's speaker, battery life, and overheating concerns.
The three biggest problems with Nokia are complaints related to response time, a poor app ecosystem, and battery life. Preinstalled apps, touchscreen issues, and speaker quality feature big on Motorola's trouble sheet.
Here's how Apple (NASDAQ:AAPL) traded Monday: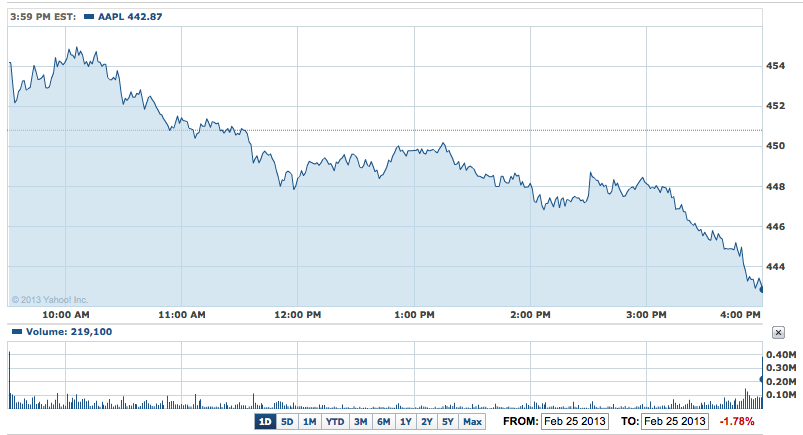 Don't Miss: Chart of the Day: Apple Leads in the USA.