Despite a recent plunge in overall consumer sentiment in the United States, confidence in the technology industry reached its highest level in history.
Earlier this month, the Thomson Reuters/University of Michigan's preliminary index on consumer sentiment dropped to 74.5, its lowest reading since August and well below estimates. However, with the latest product offerings from companies such as Apple (NASDAQ:AAPL) and Amazon.com (NASDAQ:AMZN) being released in time for the holiday season, shoppers are still willing to part with their money for technology items.
The Consumer Electronics Association, which conducts market research by uniting 2,000 companies within the consumer technology industry, reports that its Index of Consumer Technology Expectations jumped 9.3 points to 97.3 in December. It is the highest reading for the index since tracking began in January 2007, and 3.7 points higher from the same period last year.
Catalysts are critical to discovering winning stocks. Check out our newest CHEAT SHEET stock picks now.
"Technology products are the most wanted gifts this holiday season, and we've seen a tremendous amount of activity, with several new product launches over the past few months," said Shawn DuBravac, CEA's chief economist and senior director of research. "Consumers are increasingly dedicating a significant portion of their overall gift budgets to electronics, which has crowded out other categories for holiday gift spending."
As the chart shows, it has been a good year for many well-known tech names…
Shares of Amazon have surged about 50 percent year-to-date, while Apple is up 30 percent. Google (NASDAQ:GOOG) shares have increased more than 11 percent and Microsoft (NASDAQ:MSFT) is up a modest 5 percent after rallying above $32 earlier in the year. However, some tech names such as Dell (NASDAQ:DELL) and Hewlett-Packard (NYSE:HPQ) are sitting on double digit losses as consumers shift towards more portable devices.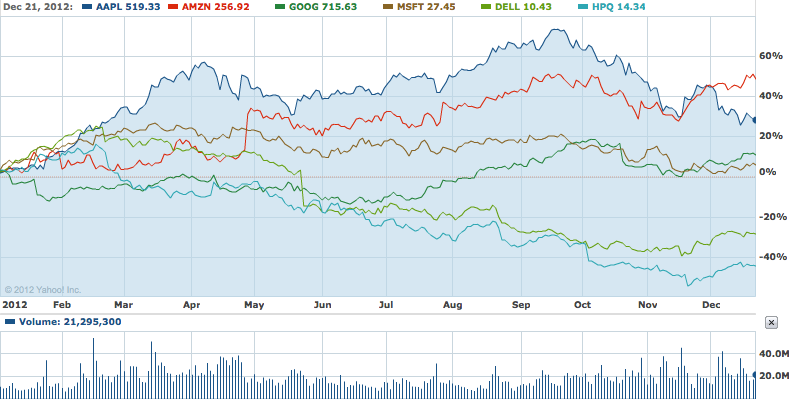 The CEA report echoes comScore data that shows technology categories as some of the best growing areas in the marketplace. ComScore reports, "The top-gaining category for the season-to-date is Digital Content & Subscriptions, predominantly comprised of digital book, music and video downloads, which has grown 22 percent versus year ago. Toys ranks second with a growth rate of 18 percent, followed by Video Game Consoles & Accessories (up 15 percent). Consumer Electronics currently ranks fourth (up 15 percent) on the strength of smartphone sales, while Computer Hardware rounds out the top five (up 14 percent) on the strength of tablet sales."
Investor Insight: These Companies are Huge Internet Power Players