Just in case the personal computer industry did not already have enough headwinds, a new report expects shipments to decline for the second-consecutive year.
Sales of desktop and portable PCs are in need of a reboot, but they will have to wait at least a little bit longer. PC shipments for 2013 are set to decline by 1.3 percent, according to the International Data Corporation Worldwide Quarterly PC Tracker. Even more concerning, tablets from companies such as Apple (NASDAQ:AAPL), Samsung (SSNLF.PK), Amazon.com (NASDAQ:AMZN), and Google (NASDAQ:GOOG) are only part of the problem.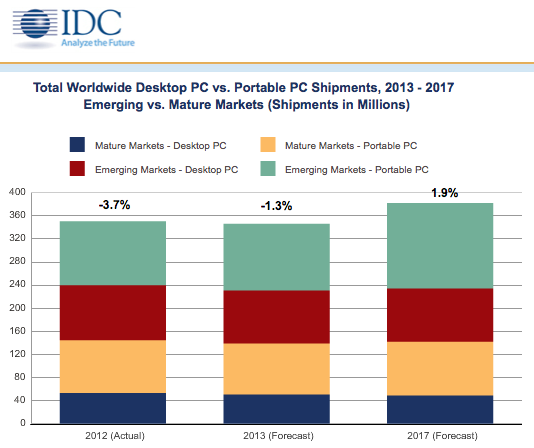 "The PC market is still looking for updated models to gain traction and demonstrate sufficient appeal to drive growth in a very competitive market," said Loren Loverde, Program Vice President. "Growth in emerging regions has slowed considerably, and we continue to see constrained PC demand as buyers favor other devices for their mobility and convenience features. We still don't see tablets (with limited local storage, file system, lesser focus on traditional productivity, etc.) as functional competitors to PCs – but they are winning consumer dollars with mobility and consumer appeal nevertheless."
In 2013, IDC expects total PC shipments to decline to 345.8 million, compared to 350.4 million last year. The firm has mature markets accounting for 138.7 million shipments, while emerging markets log 207.1 million shipments. Even though emerging markets are witnessing growth in shipments, it is only projected to rise by single-digits through 2017.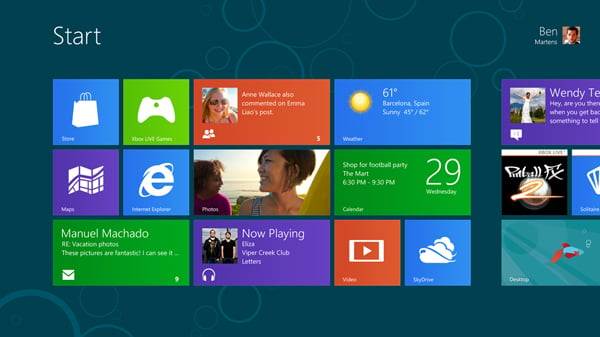 Due to a sluggish economy, disappointing holiday sales, and a lackluster debut of Microsoft's (NASDAQ:MSFT) new Windows 8 operating system, the PC market entered 2013 in a weak position. Fourth-quarter shipments plunged 8.3 percent, the largest decline for a holiday-quarter. In 2012, total shipments dropped for the first time in 11 years, shrinking 3.7 percent.
Despite the struggles in the PC industry, shares of "old tech" names such as Hewlett-Packard (NYSE:HPQ) and Dell (NASDAQ:DELL) have both surged about 40 percent this year. In comparison, HP plunged 45 percent in 2012, while Dell fell 31 percent.
Don't Miss: Chart of the Day: Phablets Lead the Way