If Facebook (NASDAQ:FB) were an athlete competing in the London Olympics, its event would surely be in diving. On Friday, shares of the social media juggernaut plunged more than 15 percent to reach a fresh post-IPO low of $22.28. Facebook reported its first earnings since going public in May, but the results did not impress investors.
Starting with the good, Facebook (NASDAQ:FB) increased its monthly active users 29.2 percent to 955 million in the second quarter, compared to 739 million in the same quarter a year earlier. Secondly, founder and chief executive officer Mark Zuckerberg showed up to the earnings conference call. Some may think it would be a given, but there was actually a debate on whether or not the elusive Zuckerberg would make an appearance. Remember the no-show at the Boston IPO roadshow?
Don't Miss: Here's More EVIDENCE Facebook and Zynga Don't Give a Damn About Shareholders.
Zuckerberg explained, "We ended June with 955 million monthly active users, over half of whom used Facebook on a daily basis and over half of whom used Facebook for mobile devices. We saw more people using our services at the end of June than at the end of March across all key countries, including 3 million more people in the U.S." Mobile continues to be a strong user growth area for the company. By the end of the second quarter, 543 million people were actively using Facebook's mobile services every month, a surge of 67 percent from last year. Mobile users are also more engaged with Facebook than people only using a desktop. "On average, mobile users are around 20 percent more likely to use Facebook on any given day. So mobile not only gives us the potential to connect more people with our services, but it also gives us the ability to provide more value and a more deeply engaging experience," explained Zuckerberg.
Although shares of Facebook (NASDAQ:FB) initially popped after the earnings release, the gains were quickly deleted as investors poked into the numbers. Despite the growing amount of mobile users, the company has yet to boost sales growth enough to satisfy investors.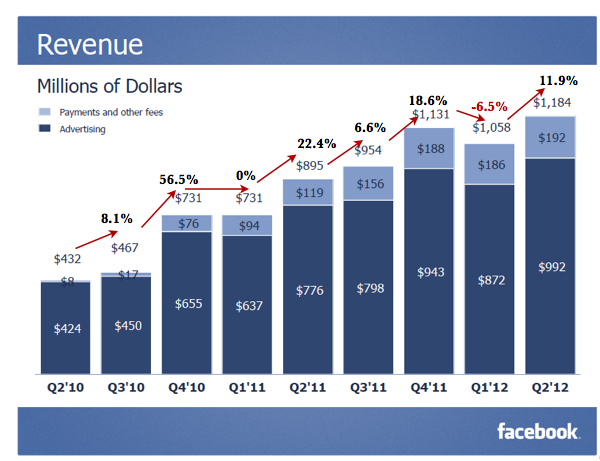 As the chart above shows, Facebook increased revenue 11.9 percent from the previous quarter. In the second quarter, the company posted revenue of $1.18 billion. It was a 32 percent jump from $895 million a year earlier, but not high enough to compensate for the IPO debacle and growth concerns. "It has become a show-me story," said Nabil Elsheshai, a senior equity research analyst at Thrivent Financial for Lutherans, according to Bloomberg. "The problem is deceleration, and there wasn't anything from an outlook perspective that would indicate that is going to stop." Facebook took the Google (NASDAQ:GOOG) approach and did not offer an earnings guidance.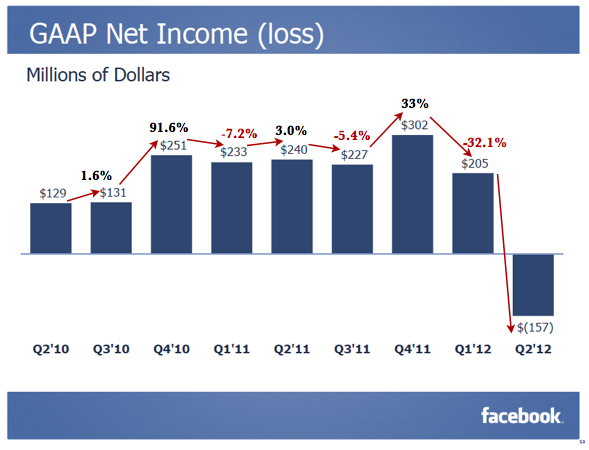 Further weighing on the stock was the dismal bottom line. Facebook reported a net loss of $157 million, compared to a net gain of $240 million (11 cents per share) a year earlier. As the chart above shows, net income has been on a downward slide all year. In the first quarter, net income fell 32.1 percent from the previous quarter to $205 million. The recent quarter was impacted by rising costs and expenses, mostly due to $1.3 billion of stock-based compensation and related payroll expenses.
With Facebook (NASDAQ:FB) being the largest U.S. tech-IPO in history, there was little room for disappointment. There is a huge opportunity for monetization of users, but many investors appear unwilling to stick around for the story to play out. The recent IPO blunders of Zynga (NASDAQ:ZNGA), Groupon (NYSE:GPN) and Pandora (NYSE:P) are still burned into trading screens.
Investor Insight: SOCIAL MEDIA: $1 Trillion Value Added or Tech Bubble 2.0?