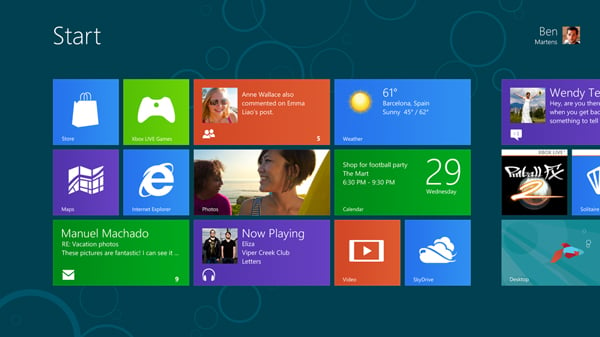 Microsoft (NASDAQ:MSFT) and its loyal fans had high hopes for Windows 8, but those who predicted the new PC and mobile operating system would be born without wings may have been right after all. The clearest evidence of this is research firm NPD's estimate that sales of Windows machines are actually lower now than they were a year ago.
Emmanuel Fromont, president of the Americas division of Acer, told the New York Times that sales of the company's Windows 8 PCs had been lower than expected, suggesting that the system's unfamiliar design, which was supposed to be its main selling point, may actually be scaring off customers.
Whether potential buyers are wary of learning an entirely new system, or whether they're waiting for more reviews to make their decisions, there's no denying that Windows 8 hasn't been as well-received as Microsoft had hoped. According to NPD, stores in the U.S. sold 13 percent fewer Windows devices from late October, when Windows 8 debuted, through the first week in December, than in the same period last year.
Catalysts are critical to discovering winning stocks. Check out our newest CHEAT SHEET stock picks now.
While NPD's statistics don't include Microsoft's own stores, which happen to be the only place to buy a Surface tablet, analysts still believe their figures to be relatively accurate, as Microsoft stores remain scarce…