10 Ways the Internet is Changing the World
Leading venture-capital firm KPCB — which has been highly influential in Silicon Valley, having backed titans such as Amazon (NASDAQ:AMZN) and Google (NASDAQ:GOOG) — publishes an annual Internet Trends Report. The 2013 edition reviews the current, shifting online landscape, and offers some speculation about where we're headed.
1) The Internet revolution is still in full swing
Internet use in the United States grew by just 3 percent in 2012, pretty much defining the lower bound of the growth spectrum. This is because the U.S. Internet market is the most mature, with a 78 percent population penetration rate and 244 million total users.
However, this pales in comparison to China's 564 million users, with a penetration rate of just 42 percent — and India will also soon pass the U.S. with 137 million users, a 26 percent growth rate, and a penetration of just 11 percent in 2012. What this means is a massive untapped Internet market in two rapidly developing and massive economies that will come online in the coming years.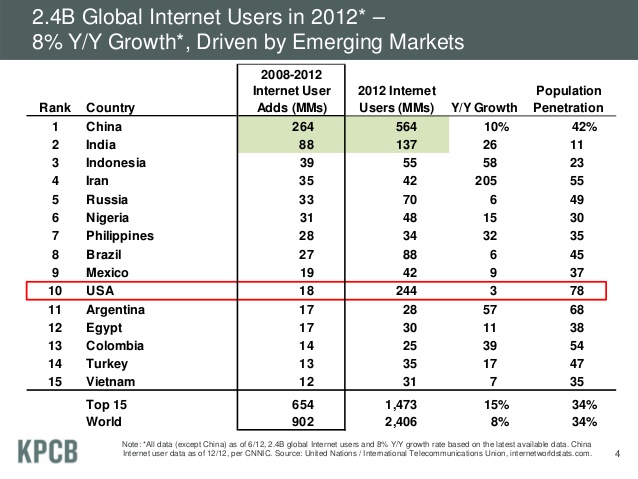 2) Mobile Internet use is just getting underway
Mobile traffic as a percentage of total Internet traffic has increased rapidly over the past few years. In May of 2012, just 10 percent of total traffic came from mobile devices, while in May 2013 the share was 15 percent. By 2014, the share is expected to be over 20 percent as the era of desktop computing comes to an end and the global smartphone subscription base continues to climb.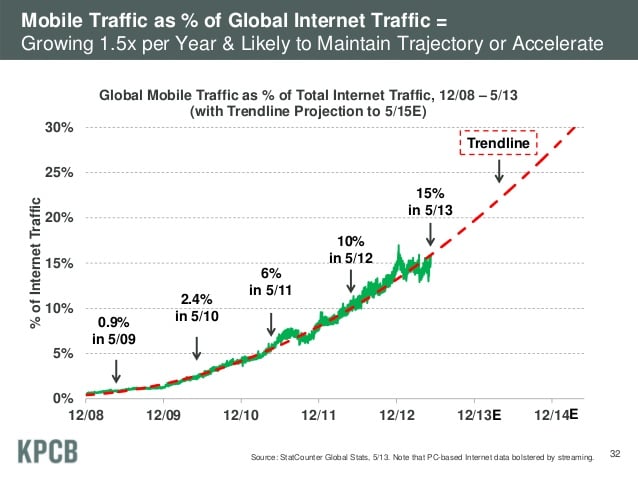 3) Mobile Internet will spread with smartphone subscriber growth…
Smartphones are currently the primary medium for mobile Internet use, and the technology still has a long way to go. About 62 percent of Internet users are smartphone subscribers, and the gap is narrowing each year. Smartphone subscriptions are growing at a global rate of 31 percent per year, while Internet use is growing at a rate of 8 percent per year.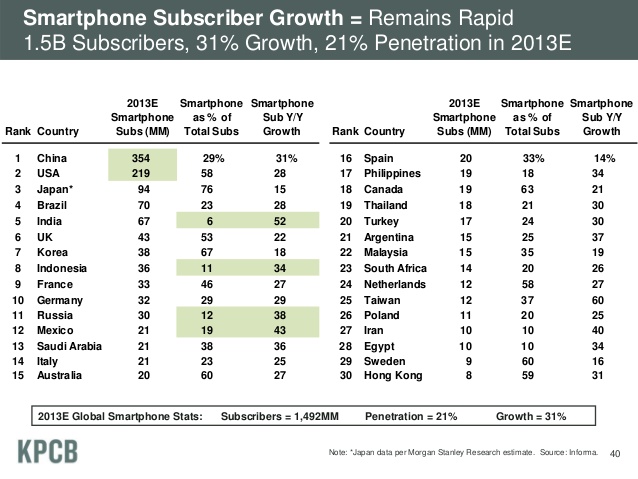 4) …and increasingly through tablets
If smartphones took the world by surprise, then tablets are taking the world by storm. As KPCB points out, global demand for large-screen computing devices is enormous and has grown at an incredible rate since the introduction of the devices a few years ago.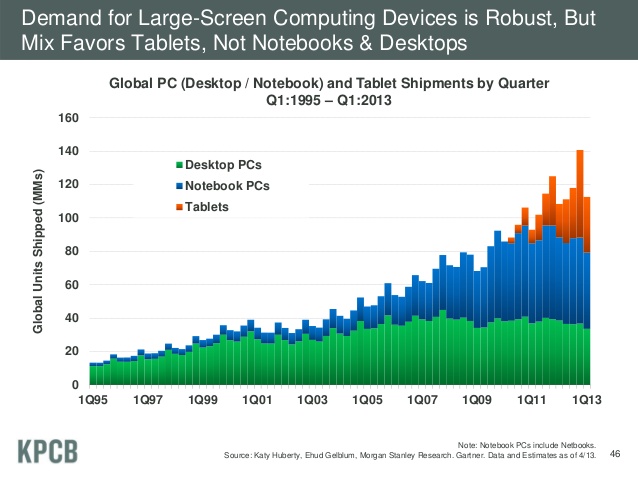 5) No one has quite cracked the mobile advertising code yet…
All of this mobile usage hasn't been fully capitalized on yet. Mobile platforms and advertisers are still struggling to fully monetize traffic on small-screen devices such as smartphones, and KPCB calculates that there is roughly a $20 billion opportunity in the United States alone for mobile ad spend based on the discrepancy between current ad spend and time spent consuming media on mobile devices.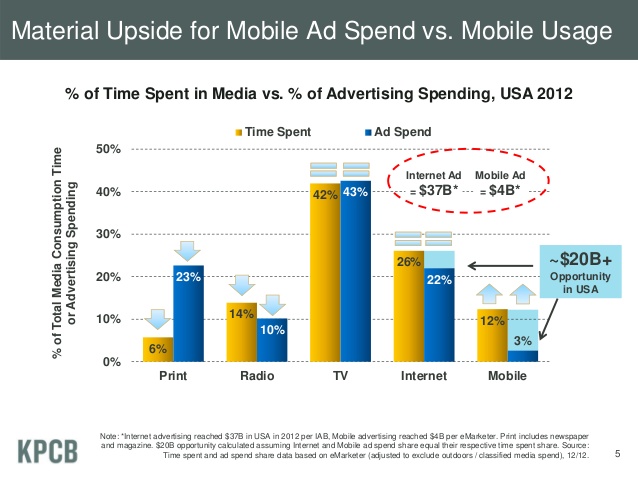 6) …but Facebook is trying hard
In many ways, Facebook (NASDAQ:FB) has been a pioneer in the new age of Internet and mobile advertising. The company's most recent earnings report demonstrated that it is successfully growing its capacity to monetize mobile advertising, a feat that most platforms are struggling with. The code is by no means broken, as mobile ad monetization is not up to par with desktop ad monetization, but progress has always been the name of the game.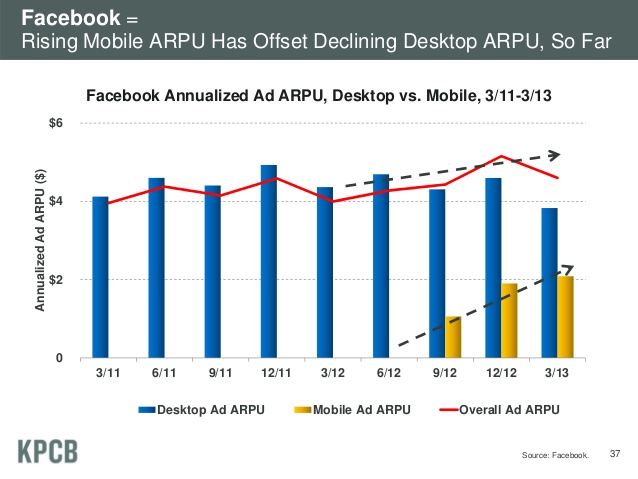 7) China is the next big experiment…
Mobile is widely seen as the primary way that people will interface with the Internet in the coming years, and in China, this phenomenon is already present. By the end of 2012, people were accessing the Internet through mobile devices more than they were accessing it through desktop PCs, lending a huge amount of support to the idea of "mobile first" design.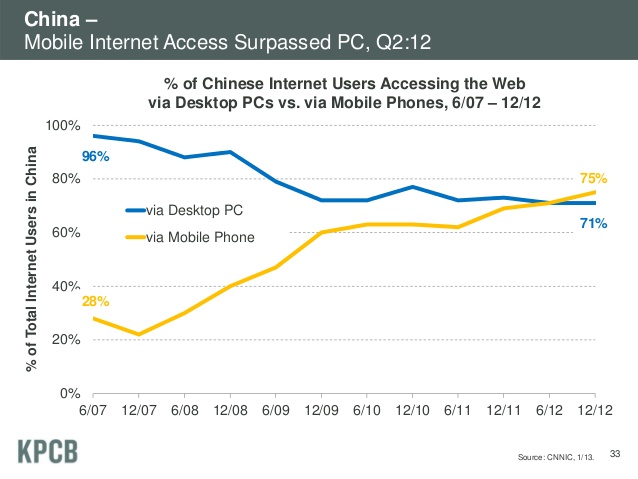 8) … and the most important market
For a long time, the United States has been the most important market on the planet. However, as China grows it is quickly becoming a highly-competitive market superpower. At the beginning of 2013, China surpassed the U.S. in total active Apple (NASDAQ:AAPL) iOS and Android devices, ostensibly flipping the switch and crowning the nation the most important Internet and technology market in the world.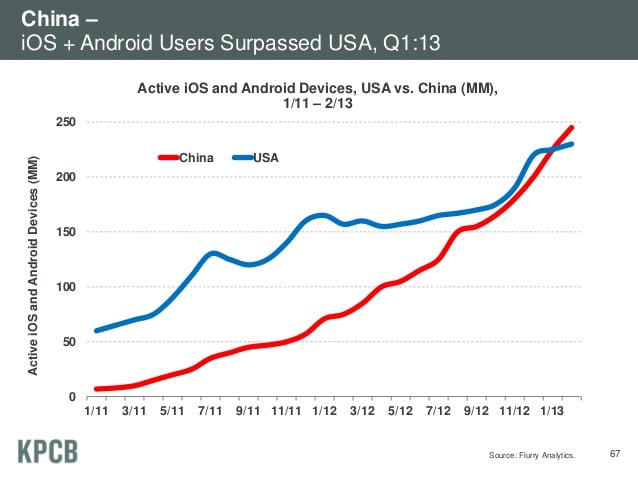 9) Sharing is caring
In hindsight, the rise of social media seemed inevitable alongside the rise of the Internet. Engagement in massive online communities has fueled the growth of companies such as Waze and Yelp (NYSE:YELP) who have made a business out of allowing people to help each other.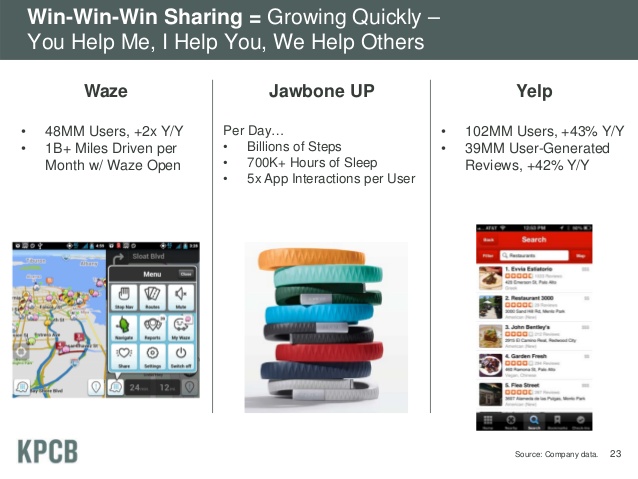 10) What's next?
As always, this is the big question. Most observers seemed fixed on the idea of wearable technology, and rumors of an iWatch and the advent of Google Glass suggests that companies are thinking along the same lines. The distinguishing feature from the maturing mobile age of computing, as KPCB indicates, will be everywhere computing.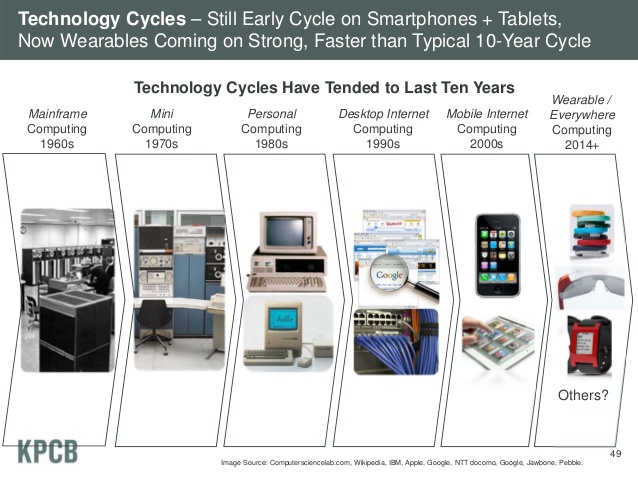 Don't Miss: Will Google Leverage Motorola Technology Against Apple?