12 Hot Apple Stories Accelerating the Stock Price This Week
Here's your Cheat Sheet to the week of news that moved Apple's (NASDAQ:AAPL) stock…
Monday
Apple (NASDAQ:AAPL) shares went on a roller coaster of a ride Monday, producing the sort of dips that cause a feeling of weightlessness and an uncomfortable sensation in the stomach of those on board. Shares began the day just above $425.50, rose as high as $427.02, and sunk as low as $422.58. In the absence of a major catalysts, the rises and falls that have became Apple's typical trading pattern can be attributed to the nearness of Apple's next quarterly report, which will come on after the markets close on April 23. Speculation about the company's performance is already rampant, but Apple's stock closed out the day up $3.01, or 0.71 percent, at $426.21. Here's a cheat sheet to today's top Apple stories:
Analyst: Here's How Many iPhones Apple Sold Last Quarter
Apple's earnings are just over two weeks away. On average, analysts are looking for earnings to contract about 17.5 percent to $10.13 per share, and revenue to increase 9 percent to $42.70 billion. Apple, for its part, guided revenue in a range between $41 and $43 billion.
Against this backdrop, an analyst at Canaccord Genuity — with a Buy rating and a $600 price target on the stock — increased his iPhone sales estimates for the second and third quarter, and reduced his average price estimate. Citing reduced pricing for the older models, the analyst raised his sales estimate from 34.5 million to 37 million in the second quarter, and from 25 million to 27 million in the third quarter. The average price estimate was reduced from $651 in the December quarter to $601 in the March quarter… (Read more.)
Will Apple Use a Dividend Hike To Placate Shareholders?
All in all, sentiment about the upcoming earnings appears to be mixed but biased toward pessimism. Recently, it seems like the only thing that has been able to drive up Apple's stock is speculation over a dividend hike. Since there has been no announcements so far, observers have suggested that the company could be waiting to use a dividend increase as a band-aid for poor financial results.
While often vehemently divided over the company, analysts and investors have both rallied behind the idea that Apple needs to do something with its $137 billion cash-and-investment war chest. Most proposals have been shot down so far — iPrefs, awkward acquisitions, bailing out Cyprus — and the consensus expectation is that if the company does not tip its hat to shareholders soon, it could face harsh selling pressure… (Read more.)
Can BlackBerry Play David to Apple's Goliath?
"BlackBerry Crushed Apple," read a surprising headline from CNBC on Monday.
The struggling smartphone manufacturer — working hard to stay afloat and be relevant in a market that Apple, Samsung (SSNLF.PK), and Google (NASDAQ:GOOG) are dividing amongst themselves — is angling to be David to Apple's Goliath. With a market capitalization of just $7 billion compared to Apple's $400 billion, for BlackBerry's (NASDAQ:BBRY), making that story a reality will be no easy task. However, winning the "Squawk Box Money Madness" stock tournament by beating Apple has enabled the manufacturer to begin representing itself as a David-like character… (Read more.)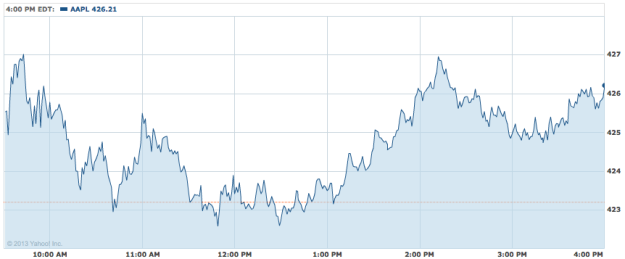 Don't Miss: Will Apple Use a Dividend Hike To Placate Shareholders?
Tuesday
"Apple (NASDAQ:AAPL) remains well position with a privileged advantage in the computer market and will be able to maintain momentum across key product lines driven by continued innovation in hardware, software and services," wrote Credit Suisse (NYSE:CS) analyst Kulbinder Garcha, an important prediction for the company as investors prepare for it to release earnings after the market closes on April 23. With such positive predictions currently holding sway over the company's narrative, investors bid shares of the iPhone maker into the green; the stock ended Tuesday up $0.77, or 0.18 percent, at $426.98. Here's a cheat sheet to today's top Apple stories:
Analyst: Apple Will Outperform for Q2
Apple's second quarter results are just a couple short weeks away, and Credit Suisse analysts believe the company will beat expectations. Analyst Kulbinder Garcha reiterated an Outperform rating and a price target of $600 on Apple shares Tuesday morning in a research note seen by Barron's. He expects solid growth in iPhone sales in the second quarter, but predicts a slowdown during the third quarter… (Read more.)
Will the iPhone 5S Have a Threesome?
"We consider the iPhone 5 a work of art and Apple's ability to deliver a device that came with a larger screen versus the 4S but one that was 18 percent thinner and 20 percent lighter was a monumental task," wrote Brian White at Topeka Capital Markets following the release of the Samsung Galaxy S 4, drawing attention to just how important screen size is to analysts' smartphone assessments.
As larger phones — like Samsung's (SSNLF.PK) Galaxy Note series — have begun to gain traction in the marketplace, there has been growing speculation that Apple will increase the screen size of its upcoming iPhone models. Already, Apple has increased the screen size of its flagship smartphone from 3.5 inches to 4 inches with the release of the iPhone 5 last September.
Now, the Topeka analyst has predicted that Apple — faced by the growing popularity of big-screened phones — will release its next-generation iPhone with "at least" two different screen sizes… (Read more.)
Could These 4 Major Acquisitions Get Apple Back on Track?
Apple is also trying to build a mobile payments presence with Passbook, but so far the application is seriously lacking in that it just does not have enough partners to be truly relevant to the average consumer, and acts more as a gift card than a credit card. Square, meanwhile, already has a solid base of retailers that accept its mobile payments, which Jindal says when combined with the 300 million credit cards Apple already has on file with its iTunes store, could instantly make Apple a mobile payments leader. Not to mention, Apple would bring founder Jack Dorsey on board, the man behind Square and Twitter.
Sadly, Jindal contends, "the probability of this acquisition remains low, as Apple is likely building an internal solution to mobile payments, and the private market valuation of Square is inflated." … (Read more.)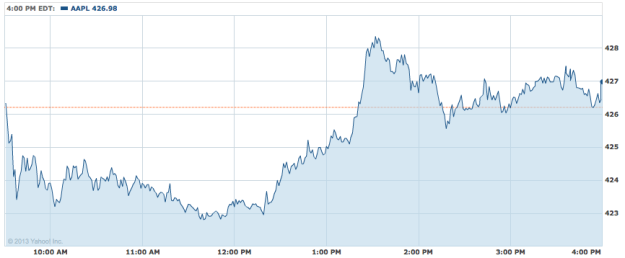 Don't Miss: Will These Apple Patents Boost Revenue or Benefit Users?
Wednesday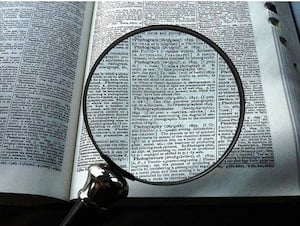 Ahead of Apple's (NASDAQ:AAPL) upcoming quarterly report — scheduled for release after the markets close on April 23 — Wells Fargo analyst Maynard Um postulated whether an "Apple Spring" is around the corner in a research note sent to Wall St. Cheat Sheet Wednesday morning. Drawing on the term "spring," seemingly with the intention of making a connection to the idea of rebirth, the analyst proceeded to outline the reasoning behind his firm's Outperform rating on shares of the iPhone maker. Apple investors seem content with that assessment as the bid shares to their third straight day of gains on the stock chart. Shares closed Wednesday up $8.71, or 2.04 percent, at $435.69. Here's a cheat sheet to today's top Apple stories:
Are Foxconn's Losses an Omen For Apple's Second Quarter?
Hon Hai Precision Industry (HNHAF.PK), the parent company of Foxconn — the manufacturing giant most noted for producing the majority of Apple hardware orders — has announced that it experienced a 19 percent sales decline in its first quarter, which could foreshadowing Apple's second quarter results, as Apple is believed to be responsible for 60 to 70 percent of Foxconn's business.
At a time when heightening pessimism surrounds Apple's second quarter results, the news from the manufacturer that dedicates a strong majority of its business to making iDevices — like the iPhone and iPad — has put additional doubts in the minds of investors and analysts, although the news is not wholly unexpected… (Read more.)
Is Apple Done Commanding Premiums?
It seems Apple is and has been having trouble pricing its smaller Retina MacBook Pro; the product is backing up in the supply chain because it is not flying off shelves. As a result, it was not long after the launch of Apple's 13.3-inch Retina MacBook Pro that the company dropped the price from the original $1,699 to $1,499.
Such a big cut in the prices of Apple products could be a bad sign for the company, which has long been able to bank on high margins from its device sales. If Apple can no longer sell its devices at high premiums, it could cease to be the company it once was…. (Read more.)
Is Apple Ditching Google for Yahoo!?
As Apple tries to get further and further away from Google (NASDAQ:GOOG), Yahoo! (NASDAQ:YHOO) might be just the partner the company needs to cut old ties to its big-time competitor.
Apple's relationship with Yahoo has been budding, especially as Apple has made attempts to move away from Google. Yahoo has already stepped in to power some of the search functionality behind Siri — Apple's voice-activated assistant —  and it has already been a big player on iOS devices, providing  finance and weather data on the devices. There are still a few things that would stand in the way of a relationship where Yahoo would fully replace Google in the iOS environment… (Read more.)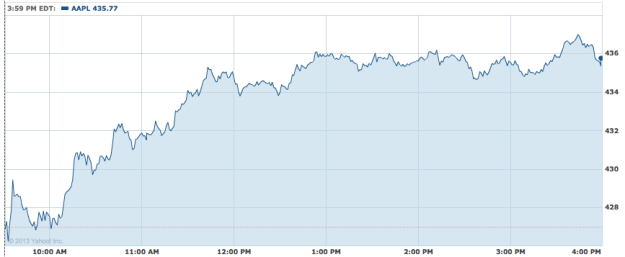 Don't Miss: Will T-Mobile Buy You an iPhone 5?
Friday
Despite ending the day in the red, the major stock indices notched strong gains for the week. Shares of Apple (NASDAQ:AAPL) etched out a similar trajectory. But its gains for the week cannot be described as strong. The stock ended three days in the red this week, limiting the 5-day period to $6.60, or 1.56 percent, increase. While much of the company's news of Friday was dominated by updates on product refreshes, the price cut from RBC Capital did not help, and shares ended the day down $4.53, or 1.04 percent, at $429.80. Here's a cheat sheet to today's top Apple stories:
What is Lynch Doing on Apple's Mystery Team?
Is a former Apple gadfly now in charge of one of the Cupertino-based company's infamous secret projects? As reported by Bloomberg, Apple controversially hired Adobe (NASDAQ:ADBE) Chief Technology Officer Kevin Lynch as a vice president for technology last month. Lynch gained notoriety among Apple followers for his criticism of Apple's refusal to use Adobe's Flash video program for its devices.
However, the former Apple critic is now rumored to be heading up a team that may be working on Apple's next big product… (Read more.)
Analyst: Apple Has Two iSurprises for Consumers This Summer
An Apple analyst who recently attended an industry trade show in China this week believes that Apple will couple a July launch of the iPhone 5S with a low-cost iPhone alternative. According to Topeka Capital Markets' Brian White via AppleInsider, Apple will announce the release of a cheaper version of the iPhone in June, in anticipation of a July launch date. White is basing his prediction on information that he gleaned from Apple vendors and suppliers at a trade show in China earlier this week.
White offered several clues about the appearance of the cheaper version of the iPhone. According to White, the low-price iPhone will be slightly thicker than the current iPhone 5 and feature a rounded back made of plastic instead of the usual glass or metal casing… (Read more.)
Here's Another Price Target Cut for Apple
Heading into second quarter results, RBC Capital analyst Amit Daryanani has lowered his price target on Apple shares from $600 to $550 reports Benzinga. Although Daryanani has reiterated his Outperform rating on Apple stock, he believes that possible "weaker demand" in the March quarter justifies the price target adjustment according to MarketWatch. Apple's March quarter results will be announced on April 23.
Via MarketWatch, Daryanani states that "We believe Apple could see product momentum return in [the second half of the year] as the company unleashes a number of catalysts." Potential catalysts include iOS 7, a new iPhone launch, and iPad upgrades… (Read more.)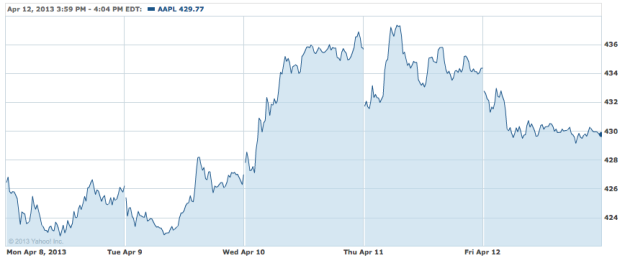 Don't Miss: T-Mobile Hitches its Fortunes to the iPhone 5.