12 Hot Apple Stories Pushing the Stock Down 2.7% This Week
Here's your Cheat Sheet to all the big stories Apple investors must know from this week after watching shares fall 2.7% from Monday's opening price:
Monday
After following a predominantly downward trend for much of the past six months, Apple's (NASDAQ:AAPL) shares made an important technical breakthrough last Friday; they closed above the stock's 50-day simple moving average for the first time since October 4, and that move could have positive long term implications. That Apple is finally trading above this benchmark level gives analysts a shard of evidence that shares may have finally bottomed out after their six-month decline, which began after the stock hit its all-time intraday high of $705.07 on September 21.
The gains that pushed Apple's stock above its moving average helped shares post gains for the last-five day period and carried them up to close at $1.67, or 0.36 percent, at $463.58. Here's a cheat sheet to today's top Apple stories:
Why Most Analysts Are Wrong About Apple
It is not often that you read an analysis of Apple that claims that almost all analyses of Apple are flat-out wrong. That is exactly what analyst Michael Hiltzik of the Los Angeles Times asserts in his analysis of what is wrong with all the analyses about Apple though. As Hiltzik points out, when Apple's stock rocketed past $700 in September last year, many analysts promulgated a story that Apple was an unbeatable winner that "would eventually grow to consume the entire Earth and everything on it."
Then when the stock plunged down to the mid-$400 range, many analysts began screaming dire warnings of Apple's imminent demise. Now it seems the prevailing story among most analysts is that Apple has lost its creative edge and will soon be overtaken by rivals such as Samsung (SSNLF.PK)… (Read more.)
Will Apple Report First Negative Annual Growth in a Decade?
Philip Elmer-Dewitt, who covers the Apple beat for CNNMoney, posted an article on Sunday stating that second-quarter earnings growth will contract at the Cupertino-based company for the first time in a decade. Elmer-Dewitt, who has been following Apple as a media correspondent since 1982, said that out of all the analysts that CNNMoney polled, even the most bullish feel that Apple will post its first numbers since 2003 where the growth for the past quarter was lower than the same quarter of the year prior.
The general consensus was that Apple's earnings per share, which for the second quarter of 2012 sat at $12.30, will slip to $10.18, according to a poll conducted by Thomson Financial… (Read more.)
Why is Apple on UBS's Most Preferred List?
In six of the past eight trading sessions, Apple's stock has made gains, likely catalyzed — at least in part — by its inclusion on UBS's Most Preferred List.
In adding Apple's stock to that group, the brokerage addressed several rumors that have been circulating about the company's plans in recent weeks. The listing, seen by StreetInsider, cited several positive catalysts for Apple, including "an increase in the buyback/dividend, a new low-end iPhone, and China Mobile (NYSE:CHL) reselling an Apple phone in the fourth calendar quarter, helping support earnings growth in F2014."… (Read more.)
Don't Miss: Will This Company Beat Apple In Court Like It Did Microsoft?
Tuesday
While analysts are continuing to mull over Apple's (NASDAQ:AAPL) product refresh cycle, how many iPhones the company will sell in the next quarter, and whether it has lost its innovative edge, the company is pushing forward into new territory, India to be specific. With analyst commentary turning slightly negative once more — Oppenheimer analyst Ittai Kidron lowered his price target for shares of Apple on Tuesday from $600 to $550 — shares ended the day down $2.50, or 0.54 percent, at $461.08. Here's a cheat sheet to today's top Apple stories:
Bob Herbold: The Apple Era Is Over, Probably
Former chief operating officer of Microsoft (NASDAQ:MSFT), Bob Herbold, said in an article Monday that he doesn't believe Apple has the vision and leadership that it once had and the "Apple era may be on its way out."
Herbold said that Steve Jobs had what it took to lead the company in the right direction. In fact, "lead" might have been one of Herbold's most important words, as he said a company's success depends on "visionary leadership that will lead to a continuing flow of leading edge products and services." And, further gains for  company's shares depends on a belief that the leadership exists.
He noted three key ingredients to having a successful business: "a visionary leader, not an administrator;" "deep personal involvement;" and "the guts to lead."… (Read more.)
Analyst: We're All Expecting Too Much From Apple
"We believe the risk reward to owning shares of AAPL is favorable given the back half of the year will likely have several product announcements that should reaccelerate earnings growth from a negative 14 percent in the first half of 2013 to a positive 15 percent in the back half," wrote Piper Jaffray analyst Gene Munster on Tuesday.
The sentiment is right in line with commentary from other Apple analysts who are expecting a relatively weak second quarter for the company. Munster continues, "While we believe that current Street numbers are too high for March and June, we view the risk around the quarter and guide as small as the March report and June guide will likely mark the turning point as investors look to the back half opportunity with new product launches. We reiterate our Overweight and $767 price target."… (Read more.)
Why Is This Apple Bull Bucking the Trend?
Co-portfolio manager Channing Smith, of the Capital Advisors Growth Fund, says that Apple's stock will hit $600 by the end of the year, and offered some explanations that seem to have eluded many analysts who have been putting down their estimates for the company.
On CNBC's "Squawk On The Street," Smith predicted that Apple is expected to have a weak quarter, the results of which have already been priced into the stock, which will put the focus on the second half of the year when Apple launches new products and puts some of its $140 billion of excess cash to work. Smith has recently increased his position in Apple… (Read more.)
Don't Miss: IDC: Apple's Closing on Samsung.
Wednesday
Amidst ongoing concerns about its product refresh cycle, criticism from the Chinese government, and a continuing courtroom battle with Samsung (SSNLF.PK), Apple (NASDAQ:AAPL) shares had a rough day. The iPhone maker's stock closed down $9.06, or 1.96 percent, at $452.08. Here's a cheat sheet to today's top Apple stories:
Will Apple Disappoint This Quarter?
Shares of Apple traded as low as $452.14 on Wednesday afternoon — a dip of $9 or 1.95 percent — pushed down by Pacific Crest analyst Andy Hargreaves's warning that the company will most likely miss expectations for the current quarter when it reports results in April and disappoint with its guidance for the June quarter. In his research note, seen by Barron's, he reiterated a Sector Perform rating on the company's shares.
The reason for his pessimism was largely a result of a lower outlook for the iPad.
Hargreaves cut his second fiscal quarter forecast to $41.1 billion and $9.60 per share in net profit from a prior $41.8 billion and $9.89 per share. The average estimate for the company's current quarter is slightly higher, at $42.77 billion and $10.14 per share… (Read more.)
Reputation Wars: Apple 3, Chinese Media 
"Smash Apple's 'Incomparable' Arrogance," read yet another headline printed by the People's Daily — the Chinese Communist Party's official mouthpiece; it is the third such article published in as many days, noted The Wall Street Journal. Two weeks ago, in its annual corporate malpractice expose, state-run China Central Television accused the company of having discriminatory customer-service practices as well.
There has been no shortage of complaints on China's social media, like Sina Corp's Weibo platform, about the company's customer service and warranty policies, but it is still questionable whether the harsh media attention will bruise Apple's reputation. So far, all the evidence points to the contrary. According to Bloomberg, a survey of 30 people conducted by China Market Research indicated that Chinese consumers still maintain a favorable view of the iPhone maker… (Read more.)
Apple vs Samsung: Did the Court Make a Mistake?
In the ongoing trial between Apple and Samsung over intellectual property rights, the iPhone maker has pushed for a reinstatement of the damages for two of Samsung's devices that a jury determined violated Apple-held patents, but it may be tricky to get.
The case, which was ruled on in August, awarded Apple $1.05 billion in damages, but U.S. District Judge Lucy Koh overturned a portion of the jury's ruling, bringing the damages down by $450.5 million. It is believed that Samsung is seeking to further appeal the court decision and has requested a partial final ruling that could then be appealed… (Read more.)
Don't Miss: Apple vs Samsung: Did the Court Make a Mistake?
Thursday
After tracing a path for several days that came enticing close to its record high but never quite took it there, the Standard & Poor's 500-stock index broke through its previous record high of 1,565.15, set on October 9, 2007. The gains enjoyed by the U.S. equity markets in general did not carry Apple (NASDAQ:AAPL) though. Thanks to ongoing charges that without the guidance of Steve Jobs the company will have difficulties with innovation and that rising competition from Samsung (SSNLF.PK) will hurt profitability, shares of the iPhone maker ended the day in the red. The stock closed down $9.42, or 2.08 percent, at $442.66. Here's a cheat sheet to today's top Apple stories:
Are Apple's Struggles in China Just Beginning?
Apple may be surviving the negative attention that Chinese state-run media has been laying on the company, but government criticism indicates that a bigger problem — one that Apple can't avoid — may be on its way. Recently, Apple has been slammed by China Central Television as well as the People's Daily — the Communist Party's main voice in the media. The media outlets criticized Apple for having poor and discriminatory service practices when it came to Chinese customers.
If the Chinese government works against Apple, it could fall behind in the market that's currently led by Samsung and two Chinese brands… (Read more.)
Analyst: Apple's Stock Is Undervalued
Concerns for Apple's future have been woven into a well-worn and often-repeated narrative. Yet, among analysts assessing the company, there is one point in the story where opinions differ; some analysts see a different ending.
While Oppenheimer lowered its price target for shares of Apple on Tuesday and Pacific Crest reiterated a Sector Perform rating on the company's shares on Wednesday, analysts at FBN announced Thursday that the firm decided to retain an Outperform rating and $650 price target on the iPhone maker… (Read more.)
Why Is Apple Cutting iPad Shipments?
According to several DigiTimes sources with supply chain information, Apple may be cutting back its shipments of the iPad Mini, which could be a good signal or a bad omen.
The sources suggested that Apple may drop its shipments of the iPad Mini in April by as much as 20 percent, and the cut could continue throughout the rest of the second quarter. That would bring the total of iPad Mini shipments down to nearly 10 million units for the period ending in June.
Speculations as to the reason behind the lowered shipments has lead to two significant hypotheses… (Read more.)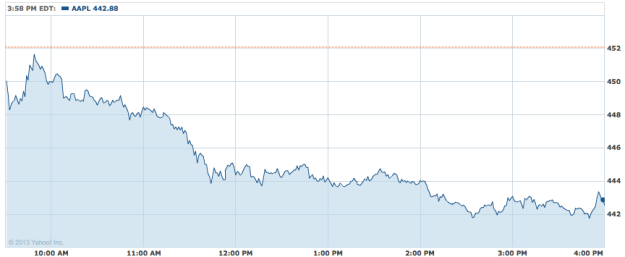 Don't Miss: Is This the iPhone 6?