13F Filing Countdown: Big Investors Reveal Positions on Apple
Has Apple (NASDAQ:AAPL) become the new favorite stock for big investors to buy this year or has it become the latest pariah tech stock everyone's trying to ditch? Apple watchers will have their answers by tonight, when major investors such as George Soros and Warren Buffett must file their 13F-HR reports. These reports will disclose what stocks these equity managers bought and sold during the three-month period that ended March 31 of this year.
Although many hedge fund managers already revealed their perspectives at the Skybridge Alternatives Conference, or SALT, last week, the upcoming 13F filings will give investors some definitive answers on what these major financial players have been up to when it comes to the Cupertino-based company's shares. Many Apple investors also kept their ears open for any information on Apple's future prospects at the recent Ira Sohn Conference, where many well-known investors such as Jeffrey Gundlach shared their views.
Besides keeping an eye on any major Apple trades, investors will also be watching Buffett's other major investments. At the end of last year, Berkshire Hathaway's (NYSE:BRKA) percentage of Wells Fargo's (NYSE:WFC) stock was worth $15.592 billion, making it Berkshire's largest stake in a public company. For many years, the previous top holding for Berkshire was Coca-Cola (NYSE:KO). Buffett also invested heavily in General Motors (NYSE:GM) and DirectTV (NASDAQ:DTV) in 2012.
George Soros invested in struggling retailer J.C. Penney (NYSE:JCP) last year, while withdrawing from investments in many tech companies such as LinkedIn (NYSE:LNKD), Amazon (NASDAQ:AMZN), and Qualcomm (NASDAQ:QCOM). Did Soros' anti-tech company positions continue into this year?
Einhorn is already familiar to many Apple watchers as the activist investor who sued the company earlier this year in an attempt to push Apple to return more capital to shareholders. Although Einhorn admitted in Greenlight Capital's (NASDAQ:GLRE) first quarter report that he didn't believe that Apple would "issue debt under any circumstances, and especially not to return cash to shareholders," the iPhone maker surprised the hedge fund manager by staging a $17 billion bond offering. According to Greenlight's latest quarterly report, Einhorn remains bullish on Apple and has increased his stake in the company. However, it remains to be seen if Einhorn still feels the same about Seagate Technology (NASDAQ:STX).
Two other major tech investors that Apple aficionados will be watching are Seth Klarman and Dan Loeb. Klarman made a short-term investment in Hewlett-Packard (NYSE:HPQ) last year, while Loeb's Third Point is currently the largest shareholder in the Japanese electronics giant Sony (NYSE:SNE). It will be interesting to see how these large investors have changed their positions on Apple and any other tech companies over the first three months of 2013.
Here's how Apple has traded so far this week.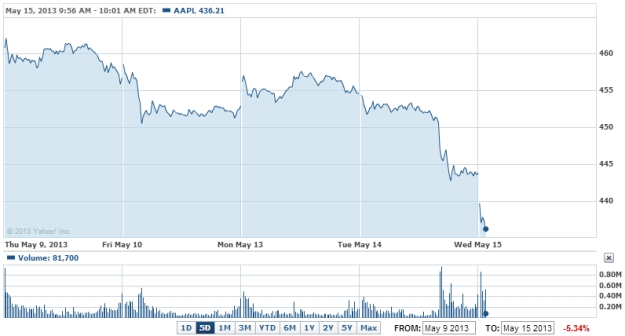 Don't Miss: Apple Gets Noisy With New Input Patent.