14 Hot Apple Stories Reviving the Stock Back Above $400
Monday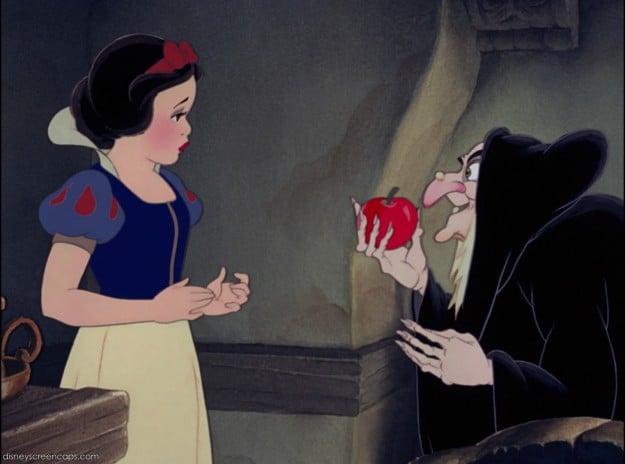 Apple (NASDAQ:AAPL) has shed $290 billion in market value since September's high — a figure equivalent to about 12 times the current value of Dell (NASDAQ:DELL) — and investors want Apple to acknowledge that there is a problem. This is no small number, but Chief Executive Officer Tim Cook and Apple management have both been close-lipped regarding this matter… (Read more.)
Analyst: Apple Desperately Needs These Catalysts
Despite the malaise characterizing the majority of analyst opinions written over the past month, most analysts covering Apple's stock hold either a buy or a strong buy rating. For the sake of comparison, 44 analysts have their ratings set at a buy or strong buy, while 10 maintain a neutral rating and 3 hold an underperform or a sell rating. A few analysts have even reiterated positive commentary about the company's prospects, and Avondale's John Bright is one of them.
While the Avondale analyst believes that Apple's earnings are deteriorating — his firm cut its 2013 earnings-per-share estimate from $45.58 to $42.66 — he wrote that the stock already reflects increasing competitive pressures and tough margin compression…. (Read more.)
Apple Investors Prepare For an Earnings Mood Swing
Apple's stock, which closed Friday at $390.53 per share, is off 13.3 percent since January 24, one day after it reported first-quarter results. Investors and observers will remember that those results alone drove shares down more than 12 percent overnight.
All told, the bears seem to have the run of the place. Reuters reports that options pricing on Friday suggests a post-earnings move of about 7.5 percent by April 26 for Apple stock. According to Birinyi, a research firm cited by the publication, this would be the fourth-largest one-day post-earnings move in the past five years. A move of that magnitude would also exceed the average 5.4 post-earnings swing… (Read more.)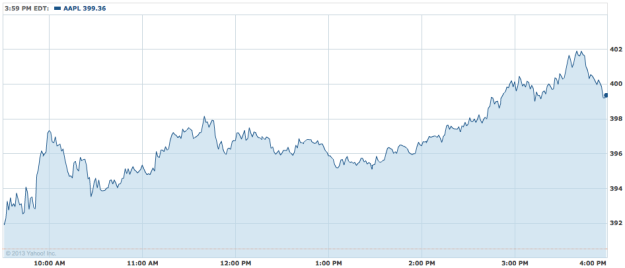 Don't Miss: Who's Calling For a New Apple CEO, and Why?
Tuesday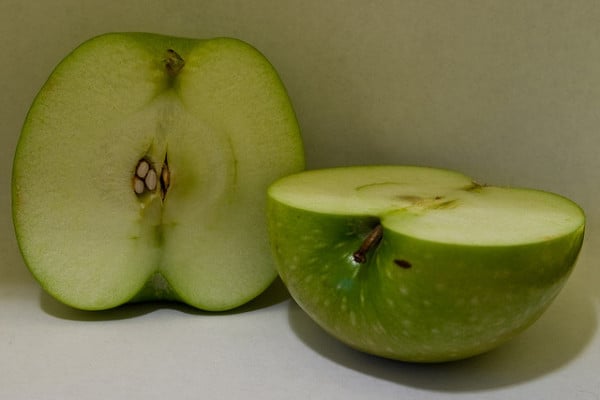 After weeks of speculation, fear mongering, and making mountains out of molehills, Apple investors, aficionados, and analysts have some solid data to inspect. Apple reported first-quarter results at 2 p.m. Pacific Time on Tuesday that were slightly better than analysts had predicted. Breaking down the results in simple terms, the iPhone maker posted earnings per share of $10.09 on a revenue of $43.6 billion, compared to earnings per share of $12.30 on a revenue of $39.2 billion reported in the year-ago quarter. While earnings per share declined on a year-over-year basis, the company's first quarter financials beat top-line and bottom line expectations. The average estimate held by analysts called for Apple to report adjusted earnings of $10 share on revenue of $42.4 billion… (Read more.)
Shares of Apple ended the day in the green, rising $7.46, or 1.87 percent, to $406.13.  In after-hours trading, shares gained as much as 4.21 percent, pushing the stock up to $422.94.
Here's Why Apple Is So Ready for 2014
Sometimes there are days you just want to forget. For Apple, all of 2013 is turning out to be like that. So says Topeka Capital analyst Brian White in a research note written as a prelude to Apple's earnings scheduled for the close of the trading day on Tuesday. Notably, White has an ultra bullish 12-month price target of $888 on the iPhone maker along with a Buy rating.
However, for its second quarter, White expects Apple to report $41.94 billion in revenue, compared to the Wall Street consensus of $42.3 billion. His EPS projection for the company for the three months ending in March is $10, slightly higher that the Street figure of $9.98. White's sales projections represent a 23 percent quarter-over-quarter decrease, and a weaker-than-average March quarter decline of 18 percent over the past six years. As far as product sales figures go, White expects iPhone sales of 34.97 million units and iPad sales of 18.4 million units… (Read more.)
Why Is Siri Endangering Drivers?
According to a study conducted by the Texas Transportation Institute at Texas A&M University, Apple's Siri and other voice-texting applications might be unwittingly endangering drivers.
Washington D.C. and 39 states in the U.S. have already banned the use text messaging while driving. About a quarter of those states have actually prohibited cellphone use in cars altogether. The reasoning behind the legislation is clear: cellphones distract drivers and unnecessarily put everyone on the road at an increased risk. Texting is the sweetheart of the generation; 6.1 billion text messages fly around the U.S. every single day. As a result, app developers have designed a gazillion different ways to write up text messages, including swipe keyboards, multi-language keyboards, keyboards that prioritize certain letters, and even one that uses Morse code. Perhaps the method most well-known is Siri, which allows users to talk while it translates the speech into text… (Read more.)
Here's One Win for Apple Before Earnings
The International Trade Commission ruled that Apple did not infringe on a patent by Google's (NASDAQ:GOOG) Motorola Mobility, a phone sensor used in the iPhone 4.
The patent is a sensor that prevents the phone from hanging up when close to a person's face, and if Motorola had won the case, it would have caused problems importing the phones into the U.S, reported Bloomberg.
It was the last of six unsuccessful patent infringement cases that Motorola aimed at Apple in October of 2010, prior to being acquired by Google in May of last year… (Read more.)
Don't Miss: Live Earnings Breakdown: Did Apple Make the Cut?
Wednesday
Apple (NASDAQ:APPL) released fiscal-second quarter earnings on Tuesday, and the dust from the tornado the results caused is still settling. Apple reported earnings per share of $10.09 and revenue of $43.6 billion, compared to average expectations for earnings of $10.00 per share on revenue of $42.33 billion. While these results were better than anticipated, investors and analysts are still not quite confident in Chief Executive Officer Tim Cook's ability to guide the company to greater growth. After all, Apple did post its first quarter-over-quarter earnings decline in a decade. While the stock posting some gains in after-hours trading Tuesday afternoon, shares of the iPhone maker closed down $0.67, or 0.16 percent, at $405.46 on Wednesday. Here's a cheat sheet to today's top Apple stories:
Why is Cramer Ranting Against Apple's Management?
CNBC's Jim Cramer said on "Squawk on the Street" Wednesday morning that analysts are revolting against Apple Chief Executive Officer Tim Cook as the company's "graphically painful" conference call made clear. While he noted that "given the fact that tech stocks have bottomed at a certain yield, it is possible that they could put in a floor soon," he added that Apple's management is "now despised." In his opinion, the conference call was a revolt against management because the current situation is one in which management is in complete denial. "What people wanted was some growth, what people wanted was new products and what people wanted was a change of discourse."
As Cramer's rant suggested, the language used by management during the earnings call did not match the company's current reality, at least the reality seen by Apple analysts… (Read more.)
Here's Your Cheat Sheet to Apple's Buyback Program
On Tuesday evening, Apple announced the largest single share repurchase authorization in history. The company increased the size of its share repurchase program from $10 billion to $60 billion, brushing aside the previous record buyback of $40 billion by Microsoft (NASDAQ:MSFT). Below that, previous buyback heavy-hitters include Proctor & Gamble (NYSE:PG) with a $30 billion authorization in 2007, and Time Warner (NYSE:TWC) with a $20 billion authorization in 2006.
On top of the revamped share repurchase program, Apple announced that it will increase its quarterly dividend by 15 percent. Alongside the earnings release, the company announced a dividend of $3.05 payable May 16 to shareholders of date on May 13… (Read more.)
Apple CEO Tim Cook Has Some iRegrets
The PC industry may be on a steep decline, but like all those old Mac advertisements — namely the "I'm a Mac, You're a PC" campaign — tried to make it clear, Apple's computers aren't any old PC, and the company plans to keep making them. Apple's earnings call Tuesday evening had a lot of news for investors — from the increasing dividends and share buybacks to the delay of new product releases until autumn and 2014. But one surprise came from the mouth of Chief Executive Officer Tim Cook in the form of a regret.
Late last year, Apple launched the iPhone 5, iPad Mini, and the latest model of its iMac all-in-one computer. After those launches, Apple hasn't released any hot products, which may have contributed to a large portion of the negativity bobbing around Apple lately… (Read more.)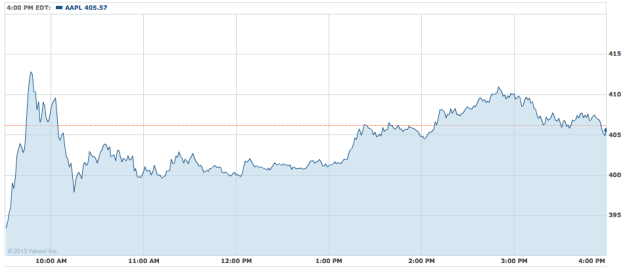 Don't Miss: How Could Apple Hurt Its Suppliers?
Thursday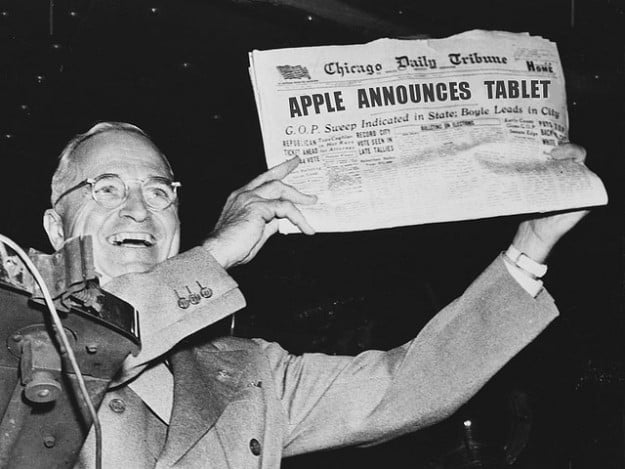 Apple's (NASDAQ:AAPL) earnings have came and went, and while news has circulated back into its normal cycle, analysts are still trying to work out what the company's results really mean for its future. Despite the generally negative comments made about Apple following the earnings statement — most notably from Jim Cramer, who commented that the company's management was in complete denial of what investors really want — shares eked out a small gain on Thursday. The stock closed up $2.92, or 0.72 percent, at $408.38.
What Does Apple's Dividend Hike Really Mean For Investors?
On Tuesday, Apple extended its hand to shareholders who have held on for the ride. The company increased the size of its share repurchase program from $10 billion to $60 billion, and hiked its dividend by 15 percent. The board declared a quarterly dividend of $3.05, increasing the company's annual payout to an insane $11.46 billion, nearly 30 percent of 2012 net income.
Apple's new dividend yield is 3 percent. This compares favorably to the average dividend yield among S&P 500 companies, which is 2.3 percent. Apple stock is already cheap enough (at a trailing-twelve month price-to-earnings ratio of 9.28) to have attracted seasoned value investors like Brian Rogers, who manages T. Rowe Price Equity. Perhaps picking up on the same wavelengths, Apple's board also decided to buy stocks it thought were undervalued…
Apple's Margins May Be Thin, But iDevices Sell Like Hotcakes
First-quarter Apple earnings have come and gone, and the market reaction was about as calm as investors could have hoped for. Options pricing last Friday suggested a post-earnings price swing of as much as 7.5 percent by April 26, a move that now looks unlikely. Briefly, Apple's first-quarter revenue increased 11.7 percent on the year to $43.6 billion, beating out expectations for $42.68 billion. Earnings fell 17.97 percent to $10.09 per share, missing some estimates but not by much. The major point of concern out of the release is a 9.9 percentage point decline in gross margins to 37.5 percent… (Read more.)
Are Macs Better Than PCs at Being PCs?
In a twist reminiscent of an M. Night Shyamalan movie, the highest-rated Windows PC was none other than one of Apple's Mac. Another Mac even came in at sixth place on the list as well. The tech firm Soluto performed an analysis of 150,000 laptops running Microsoft's (NASDAQ:MSFT) Windows operating system, keeping track of "application crashes, application hangs, blue-screens-of-death, boot time and number of background processes." And the Mac won… (Read more.)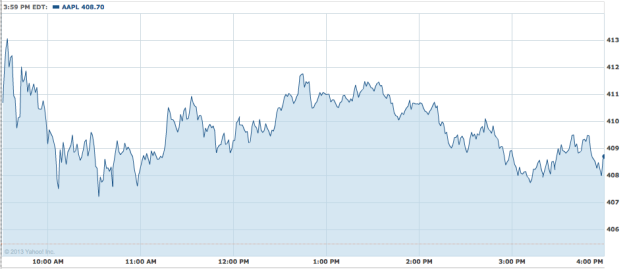 Don't Miss: Can Apple Excite With Operating Systems This Summer?
Friday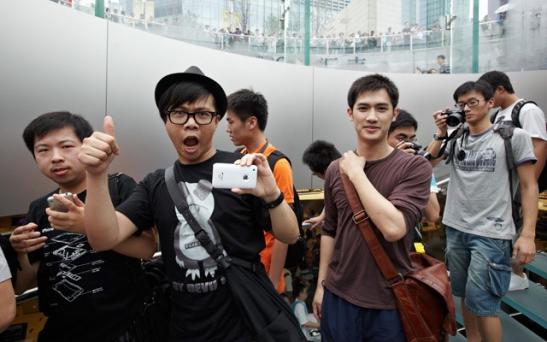 This was a big week for Apple (NASDAQ:AAPL); the company reported earnings, announced an expansion to its share buyback program, increased its quarterly dividend, and even launched a new advertisement ahead of Samsung's (SSNLF.PK) launch of the Galaxy S 4. While Apple's fiscal-second-quarter results beat expectations, the company still posted its first year-over-year decline in profit, leaving analysts a bit disappointed. Yet, shares managed to eke out a 6.83 percent gain for the week. On Friday, the stock closed up $8.82, or 2.16 percent, at $417.20. Here's a cheat sheet to today's top Apple stories:
Analyst: Apple Feels Profit Margin Pressure
Is Apple cutting prices in an effort to increase its footprint in the lucrative Greater China market? UBS analyst Steve Milunovich thinks Apple is making even more of an effort to secure a strong presence in the Chinese market by reducing its profit margins. China, which has the second largest economy in the world, has become increasingly important to Apple's future.
However, Milunovich notes that Apple's profit margin in this crucial market has decreased to 33.9 percent in the March quarter from 49.5 percent in the same quarter last year. This is also a 3.3 point reduction from the profit margin levels in the first quarter of this fiscal year… (Read more.)
Does Apple's Buyback Pass Warren Buffett's Litmus Test?
Share repurchases have a tricky history, particularly in the technology industry. Apple  is currently the anchor of the conversation that began pretty much when the first publicly-traded company decided to spend its money buying back stock instead of using it for, well, anything else.
At a glance, share repurchases indicate that a company thinks the best way to spend its money is by investing in itself. Sometimes this is true, and sometimes it is not. Dell (NASDAQ:DELL) infamously botched its buyback strategy and effectively wasted a huge amount of cash by purchasing shares at a high premium. The nearly $40-billion fiasco has become the gold standard for what not to do with a buyback program, and its zeitgeist has been summoned in reference to Apple's own tremendous capital return program… (Read more.)
Is Customer Loyalty Enough for Apple?
Despite rumors and analysts commentary indicating that Apple has lost its innovative edge and that, as a result, its loyal customer base is eroding, hard evidence has shown that not to be the case.
With data showing the overwhelming popularity of devices powered by Google's (NASDAQ:GOOG) Android at a global level, the common narrative claims that Android will dominate the iPhone. But a survey of 16,000 smartphone customers conducted by the Yankee Group over the past 12 months told a different story about the American consumer. In the United States, Apple's smartphone market share continues to beat that of devices running Google's mobile platform, and according to the survey's results, that will likely continue through 2015, at which time iPhone ownership will exceed Android ownership in the U.S… (Read more.)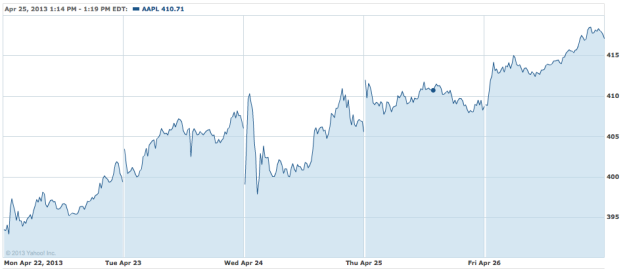 Don't Miss: Apple Suppliers Learn Not to Keep All Eggs in One Basket.