15 Apps and Tools That Excited the Tech World Last Week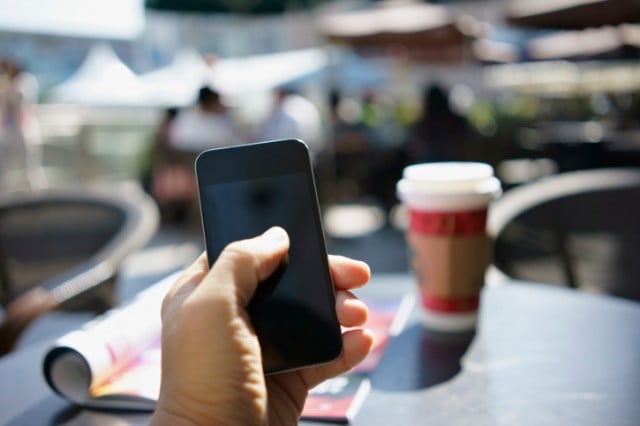 Constantly on the lookout for the most innovative new apps, tools, and websites to test out and share with your friends? Each week, we look at the crowdsourced links posted to a website called Product Hunt, where users post their best finds and the community discusses and votes for their favorite apps and tools. (In case you missed it, here's last week's edition.) Between 600 and 800 venture capitalists reportedly use the site — a great testament to its ability to surface products that would otherwise fly under most people's radars — and Product Hunt recently raised $6 million in funding, with Andreessen Horowitz leading the round.
Product Hunt offers a look at what's new every day on its homepage, and anyone can submit a product. Users can either sign up for emails to be updated on the community's best finds or can check back each day to see what Product Hunt turns up. The products posted each day collect upvotes, which partially factor into the order in which the posts are ranked at the end of the day.
Each day's posts are kept separate from the next so that users can return to look back at what's been popular over the past week or month, or check the site each day to see what's new. Each listing includes a link to the product's website, as well as related links, like its page in the App Store or recent media coverage. Users can also join a discussion in the comments section for each product, and founders often join in on the conversation to answer questions.
We looked at the top-ranked new apps and innovations on Product Hunt last week and checked out the top two products that the site surfaced each day. (We added a bonus one to make 15, adding the product with the most upvotes that wasn't in first or second place on the day it was posted.) Upvote counts do change constantly, but all of ours were recorded as of the time of writing on Monday.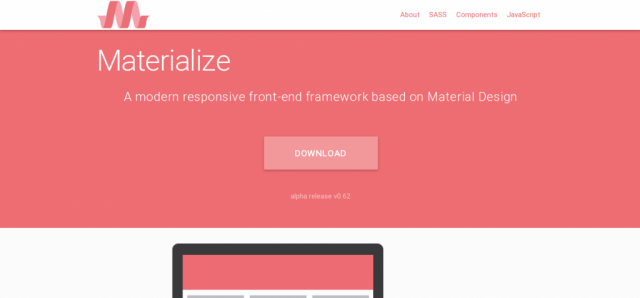 1. Materialize
Materialize came in first on Sunday, with 245 upvotes as of Monday. Materialize is a front-end framework for developers, based on Google's Material Design visual language. The open-source framework enables developers to use the design language, which Google developed as a way to enable a unified user experience across apps and platforms, and was created by a team of students at Carnegie Mellon University, including Alvin Wang, Alan Chang, Alex Mark, and Kevin Louie.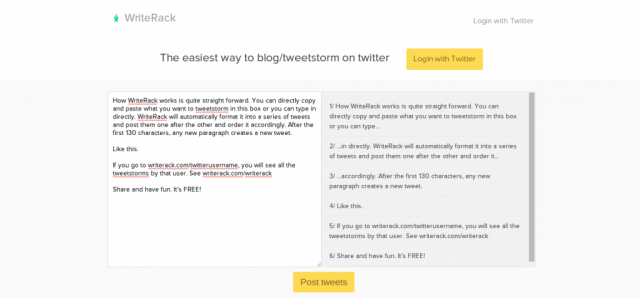 2. WriteRack
WriteRack came in second on Sunday, with 115 upvotes as of Monday. WriteRack is a tool for users who like to share more than 140 characters on Twitter in a series of tweets that users refer to as a "tweetstorm." (Entrepreneur, venture capitalist, and prolific tweeter Marc Andreessen is a master of the tweetstorm and has made the form famous, or infamous, depending on who you ask. The term "tweetstorm" was reportedly coined by Chris Dixon, one of Andreessen's colleagues at Andreessen Horowitz.) WriteRack enables users to more easily compose and post a series of tweets, and will automatically format text composed or pasted into a box on its site. WriteRack also archives all of the tweetstorms by a user in a profile on its site.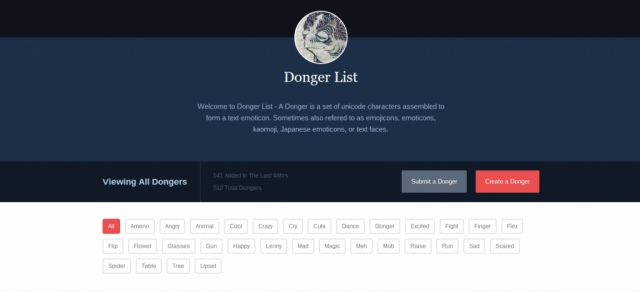 3. Donger List
Donger List came in first on Saturday, with 283 upvotes as of Monday. Donger List provides a database of dongers, or sets of unicode characters assembled to form a text emoticon. (The site notes that these emoticons are also referred to as "emojicons, emoticons, kaomoji, Japanese emoticons, or text faces.") Donger List currently features 512 total dongers, and 141 were added in the past 48 hours. Users can browse categories like "animal," "cool," "crazy," "cute," "flower," "magic," or "spider." Visitors can use a donger by selecting and copying it, and can also submit or create their own dongers.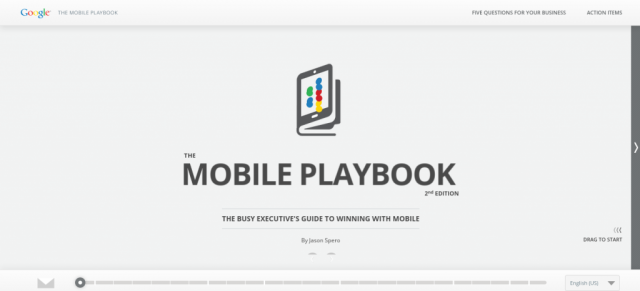 4. The Mobile Playbook
The Mobile Playbook came in second on Saturday, with 228 upvotes as of Monday. The site, created by Google and written by Jason Spero, the company's vice president of performance media, is a guide for businesses to create a "winning" mobile strategy. The playbook asks five questions:
How does mobile change our value proposition?
How does mobile impact our digital destinations?
Is our organization adapting to mobile?
How should our marketing adapt to mobile?
How can we connect with multi-screening audiences?
A section dedicated to each question includes examples and best practices, and the playbook also features a checklist of action items and a section of resources.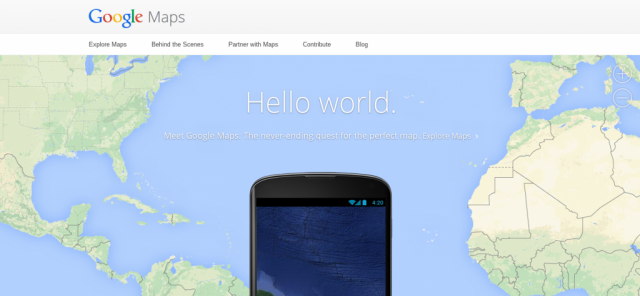 5. Google Maps 4.0
Google Maps 4.0 came in first on Friday, with 476 upvotes as of Monday. The Google Maps app was redesigned for iOS and Android with the principles of Material Design with improved graphics and fluid transitions. The update enables users to book a table at a restaurant through an integration with OpenTable, and lets users find more information on sites, like local restaurants. Users can also request an Uber ride via the Google Maps app, and the update gives users estimates of pickup times and prices.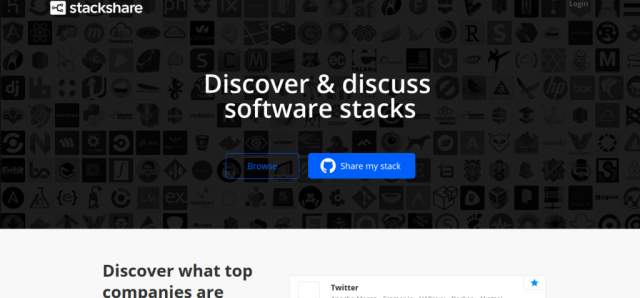 6. StackShare
StackShare came in second on Friday, with 435 upvotes as of Monday. The site enables users to learn about the tech stack behind "some of the world's best software companies." Users can discover which tools and services top companies are using, discuss and vote for their favorite tools, and share the tools they use to build specific apps and infrastructure. Users can also browse tools in categories like "Application and Data," "Utilities," "DevOps," and "Business Tools." StackShare began in 2013 as a side project of founder Yonas Beshawred, and aims to change the way that "everyone discovers and decides on software."
7. Amazon Echo
The Amazon Echo came in first on Thursday, with 608 upvotes as of Monday. The Amazon Echo is a voice-controlled, hands-free device that is designed around Amazon's virtual assistant, Alexa. Like Apple's Siri, Google Now, or Microsoft's Cortana, Alexa responds to voice commands that users give through the Echo's array of seven microphones, which use "beam-forming" technology to pick up speech from any direction in a room. The device's "expertly-tuned speaker" enables the user to hear a response anywhere in a room. Echo's "brain" runs on Amazon Web Services, and will continually adapt to speech patterns and vocabulary and add more functionality.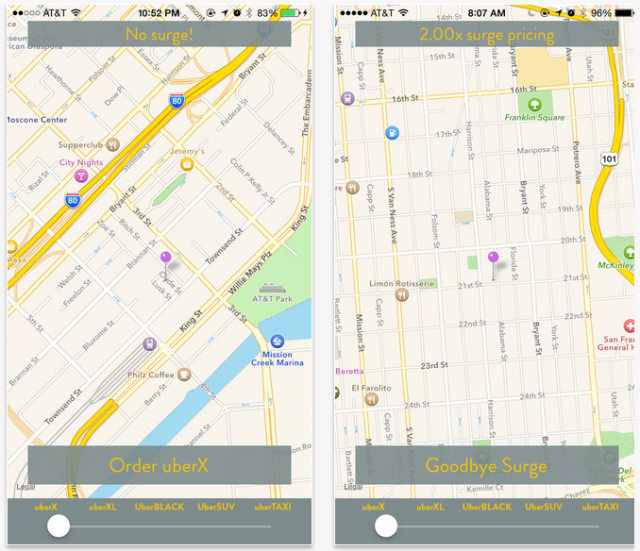 8. SurgeProtector
SurgeProtector came in second on Thursday, with 349 upvotes as of Monday. SurgeProtector is an iOS app that enables users to order an Uber ride without paying surge pricing. App creator Tom Schmidt found that in cities with high population density, Uber's surge pricing is often so localized that users can walk two to three blocks to avoid high prices.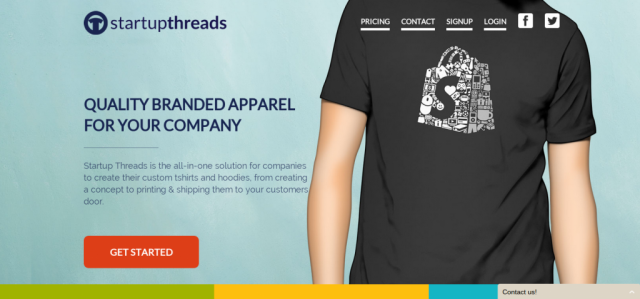 9. Startup Threads
Startup Threads came in first on Wednesday, with 650 upvotes as of Monday. The site enables companies to create custom t-shirts and hoodies, starting with creating a concept through to the process of printing and shipping them to customers. Users can upload a design or get Startup Threads to create a custom design. They can then use the Startup Threads API or web interface to ship t-shirts and hoodies to events, headquarters, or customers anywhere in the world. Frank Denbow, the founder of Startup Threads, wrote on Product Hunt that "Startup Threads was created to help companies ship their custom apparel wherever they would like, whether its t-shirts to every new paid customer, a gift to a new lead that has gone cold, or a hoodie to a new employee. We hold items in inventory for you so you get the cost savings of buying in bulk with the flexibility to ship on-demand."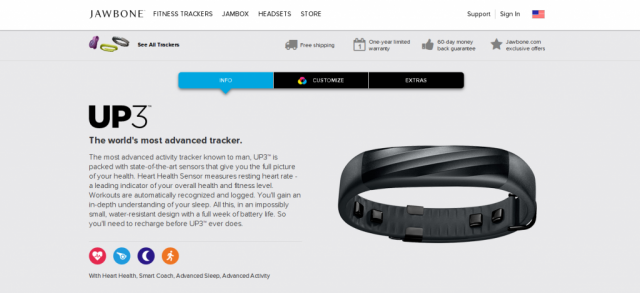 10. Jawbone UP3
The Jawbone UP3 came in second on Wednesday, with 446 upvotes as of Monday. Jawbone describes the UP3 as the world's "most advanced activity tracker." The UP3 features a tri-axis accelerometer; a "bio-impedance" sensor that measures heart rate, respiration, and galvanic skin response; a skin temperature sensor; and an ambient temperature sensor. The band's battery life lasts up to seven days, and charges in approximately 100 minutes via a magnetic USB charging cable.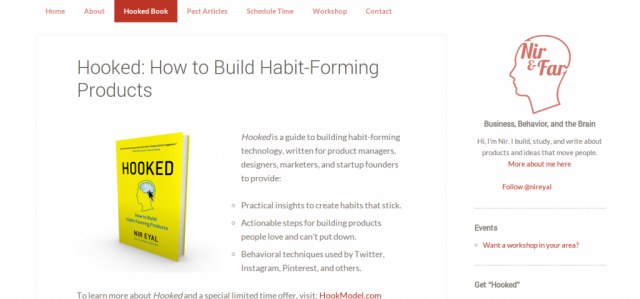 11. Hooked
Hooked came in first on Tuesday, with 676 upvotes as of Monday. Hooked is a book by entrepreneur Nir Eyal, who wrote it as a "guide to building habit-forming technology" for product managers, marketers, and startup founders. The book explains the "Hook Model," which is a "a four-step process embedded into the products of many successful companies to subtly encourage customer behavior." Hooked includes "practical insights," "actionable steps," and "fascinating examples," and is available for pre-order as a hardcover or ebook, and as an online course.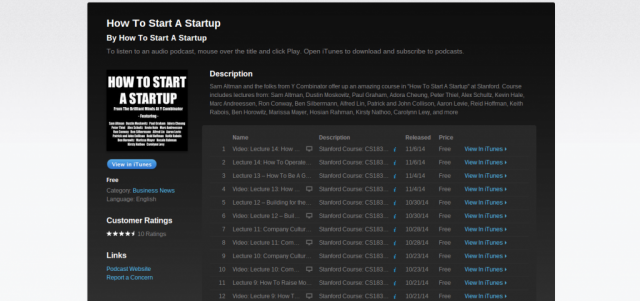 12. How to Start a Startup
The audio version of the Y Combinator How to Start a Startup  course at Stanford came in second on Tuesday, with 465 upvotes as of Monday. For those who don't want to watch a video version of the class — which features lectures from Sam Altman, Dustin Moskovitz, Paul Graham, Adora Cheung, Peter Thiel, Alex Schultz, Kevin Hale, Marc Andreessen, Reid Hoffman, Ben Horowitz, Marissa Mayer, Kirsty Nathoo, and more — the audio podcast version makes the course easier to access through iTunes.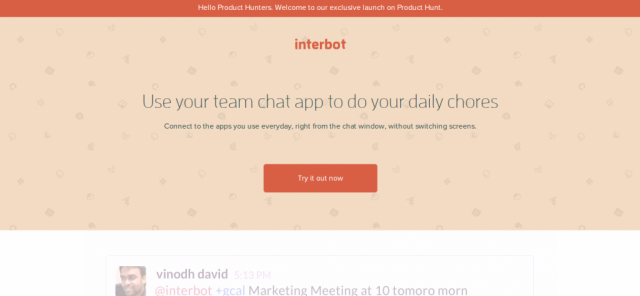 13. Interbot
Interbot came in first on Monday, with 453 upvotes as of the following Monday. Interbot, which launched exclusively on Product Hunt, connects "the apps you use everyday" to enable users to complete a variety of tasks right from their team chat app. (Interbot currently works with Slack, and will soon also integrate with HipChat, kato.im, and Campfire.) Users can create Trello cards, create events in Google calendar, or log issues in Github. Interbot integrates with Basecamp, Asana, GitHub, Google Calendar, Trello, Evernote, "and all your favorite apps."
14. Keezy Drummer
Keezy Drummer came in second on Monday, with 294 upvotes as of the following Monday. Keezy Drummer claims to be "the easiest beatmaker ever imagined," and "a digital instrument anyone can use." It includes 12 percussion sounds, enables users to create up to nine layers of sound at a time, and lets users create just one measure, 16 steps long. Users can set the tempo from 0 to 300 bpm, and the app can run in the background. The app is available for iOS, and follows the release of Keezy, an app that enables users to create compositions by recording and playing back samples.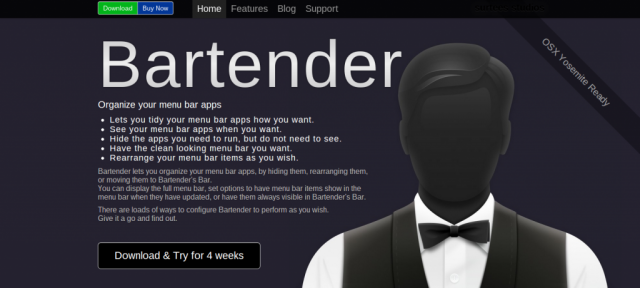 15. Bartender
Bartender came in third on Tuesday, with 381 upvotes as of Monday. Bartender enables users to organize menu bar apps on their Mac so that they can see the menu bar apps that they want to, hide the apps that they need to run but don't need to see, and arrange the apps in the order that they prefer. Users can download Bartender for a four-week free trial, or purchase it for $15.
More From Tech Cheat Sheet:
Want more great content like this? Sign up here to receive the best of Cheat Sheet delivered daily. No spam; just tailored content straight to your inbox.