15 Apps, Gadgets, and Websites You May Have Missed Last Week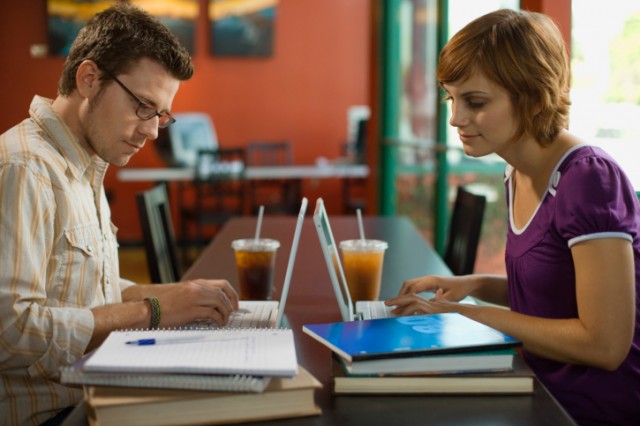 Looking for fun and useful apps, tools, websites, and gadgets to test out and share with your friends? Every week, we look at the crowdsourced links posted to a website called Product Hunt where users post their best finds and the community discusses and votes for their favorite apps and tools. (In case you missed it, here's last week's edition.) Between 600 and 800 venture capitalists reportedly use the site — a great testament to its ability to surface products that fly under most people's radars —  and, as TechCrunch reported, Product Hunt just raised $6 million in funding, with Andreessen Horowitz leading the round.
Product Hunt offers a look at what's new every day on its homepage. Anyone can submit a product. Users can either sign up for emails to be updated on the community's best finds or can check back each day to see what Product Hunt turns up. The products posted each day collect upvotes, which partially factor into the order in which the posts are ranked at the end of the day.
Each day's posts are kept separate from the next so that users can return to look back at what's been popular over the past week or month, or check the site each day to see what's new. Each listing shows a link to the product's website, plus related links like its page in the App Store or recent media coverage. Users can also join a discussion in the comments section for each product, and founders often join in the conversation to answer questions.
We looked at the top-ranked new apps and innovations on Product Hunt last week and checked out the top two products that the site surfaced each day. (We added a bonus one to make 15, adding the product with the most upvotes that wasn't in first or second place on the day it was posted.) Upvote counts do change, but all of ours were recorded as of Monday.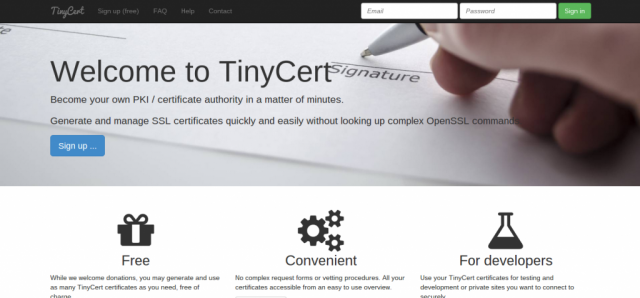 1. TinyCert
TinyCert came in first on Sunday, with 248 upvotes as of Monday. The site provides simple, free Public Key Infrastructure (PKI) as a service for startups that need to ensure the private and secure exchange of data and money through a website. TinyCert enables developers to create their own Certificate Authority and certificates, and serves as a directory for private and public keys, certificate signing requests (CSRs), and certificates.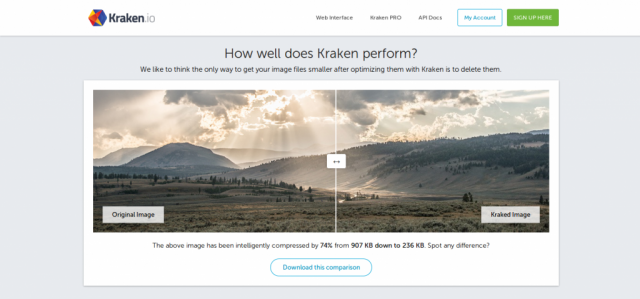 2. Kraken Image Optimizer
Kraken Image Optimizer came in second on Sunday, with 154 upvotes as of Monday. Kraken is an "ultra-fast" image optimizer and compressor. The site says that designers, developers, and even WordPress users can benefit from Kraken. With a web interface, an API, and a WordPress plugin, users can optimize and resize images, and can optimize images for smartphones and tablets, speed up their apps and websites, and save bandwidth and storage space.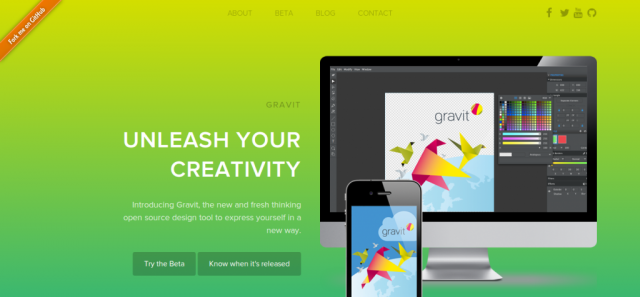 3. Gravit
Gravit came in first on Saturday, with 190 upvotes as of Monday. Gravit is an open-source design app that aims to offer "the creative possibilities of a full-scale design suite — but in a snug app-sized package." Its simple interface responds dynamically to the user's work process, and includes a variety of path, shape, and typography tools. The current beta version is available for Mac, Windows, Linux, Chrome, or even as a web version directly in the browser. A cloud app, Gravit365, is expected to be released by the end of 2014, and will bring joint project management, interactive screen-sharing, peer feedback, and support for asset-sharing across documents.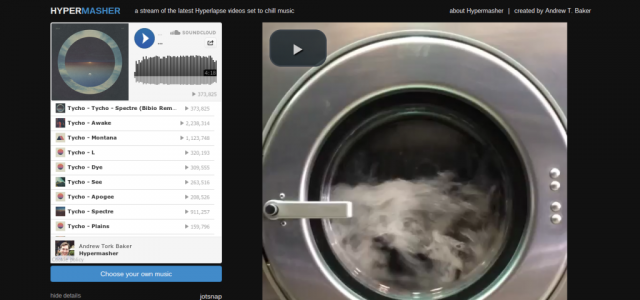 4. Hypermasher
Hypermasher came in second on Saturday, with 103 upvotes as of Monday. The site creates a continuous stream of the latest Hyperlapse videos on Instagram, set to the user's choice of "chill music" from SoundCloud. Hypermasher, created by developer Andrew T. Baker, uses the Instagram API to pull in every video posted to Instagram with the hashtag #hyperlapse. A video shows up on Hypermasher about 15 minutes after it has been posted to Instagram, depending on how many people are posting Hyperlapse videos.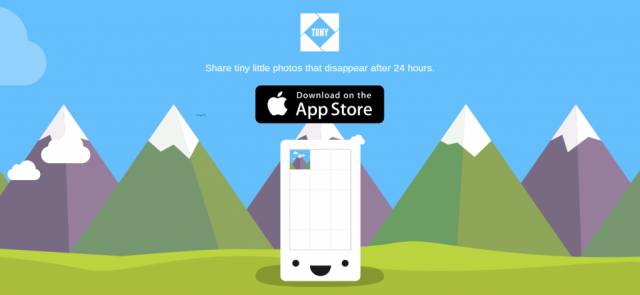 5. Tiiny
Tiiny came in first on Friday, with 317 upvotes as of Monday. Tiiny is a free iOS app that enables users to share photos and looping videos that disappear after 24 hours. Users can also browse the Popular page to find the most popular posts from users around the world, and Tiiny posts are "tiny" at 212 x 212 pixels, and can't be enlarged by others viewing them in the app. Users can also follow their friends and find other popular Tiiny users to follow. The app was launched by Digg co-founder Kevin Rose, who released it through his North Techologies startup.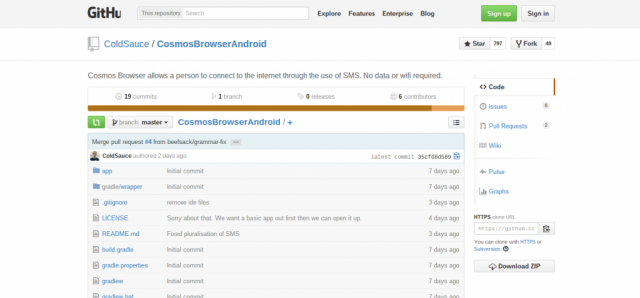 6. Cosmos Browser
Cosmos Browser came in second on Friday, with 386 upvotes as of Monday. Cosmos Browser is an open-source web browser app that enables users to connect to the internet via SMS, without a data connection or WiFi. The team behind the app explains how it works on GitHub:
"After a person inputs a url, our app texts our Twilio number, which forwards the URL as a POST request to our Node.JS backend. The backend takes the url, gets the HTML source of the website, minifies it, gets rid of the css, javascript, and images, GZIP compresses it, encodes it in Base64, and sends the data as a series of SMSes."
The phone then receives the SMS messages at a rate of three messages per second. It orders them, decompresses them, and then displays the content. The app, created at the MHacks event in Ann Arbor, will launch for Android first, with an iOS version to follow "soon."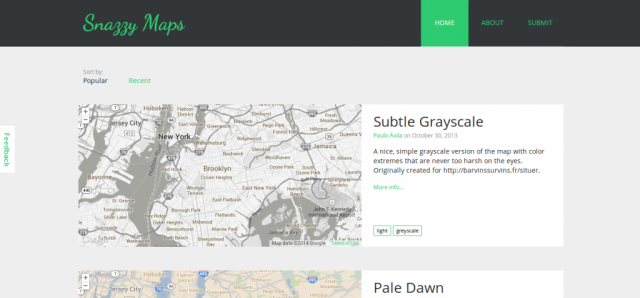 7. Snazzy Maps
Snazzy Maps came in first on Thursday, with 327 upvotes as of Monday. The site, created by web development company Atmist, provides free color themes for Google Maps, and visitors can browse themes by which are the most popular, or which are the most recent. The themes are aimed at designers and developers, and take advantage of the ability brought by version 3 of the Google Maps API to apply custom styles to maps. Users can submit their own themes, and all of the themes available on the site are free to use and licensed under Creative Commons.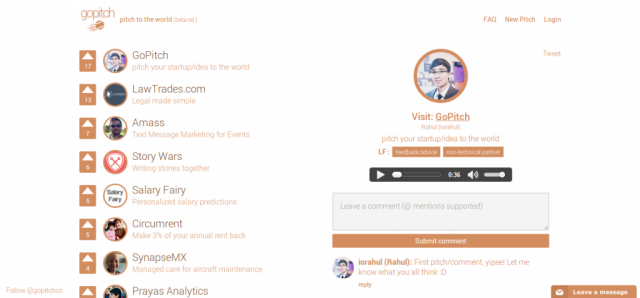 8. GoPitch
GoPitch came in second on Thursday, with 230 upvotes as of Monday. The site enables users to pitch their startups or ideas in 35-second audio posts, and receive feedback from the community. The site, inspired by Product Hunt, enables users to submit their own pitches and upvote others. The site also offers resources to help users create a solid pitch, and improve their pitch after they've received feedback.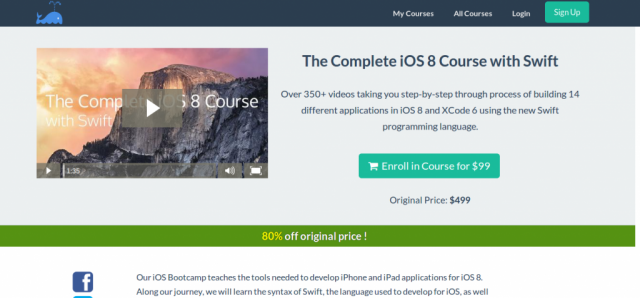 9. The Complete iOS 8 Course
The Complete iOS 8 Course came in first on Wednesday, with 482 upvotes as of Monday. The course, offered by Bitfountain, includes more than 350 videos that step students through the process of building 14 different apps in iOS 8 and XCode 6 using Apple's Swift programming language. The course prepares users to develop iPhone and iPad apps for iOS 8, and teaches the syntax of Swift, plus "design patterns and best practices." The course is taught by Eliot Arntz, and is targeted to complete beginners or programmers with experience in other languages or frameworks.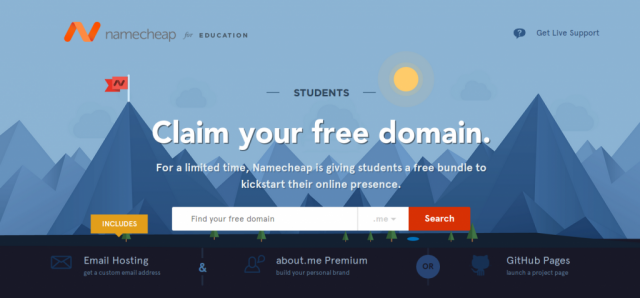 10. Namecheap for Education
Namecheap for Education came in second on Wednesday, with 223 upvotes as of Monday. Namecheap is a site that enables users to easily register, host, and manage domains, and for a limited time, Namecheap is giving students a free domain and bundle to "kickstart their online presence." The bundle includes email hosting, and an about.me premium membership or a GitHub project page. The bundle is one of Namecheap's initiatives to "get more undergrads online."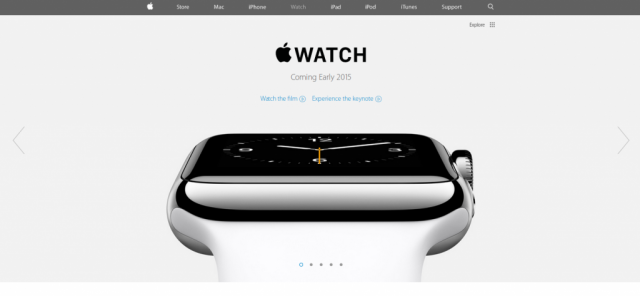 11. Apple Watch
The Apple Watch came in first on Tuesday, with 572 upvotes as of Monday. Announced at Apple's keynote in Cupertino, the watch is intended as Apple's "most personal device yet." It features a Digital Crown that lets users zoom, scroll, and select without covering the screen to make pinch gestures, haptic feedback, and a force-sensitive Retina display. It includes alerts, notifications, and apps, and health and fitness-tracking apps and abilities. Coming in early 2015, the Apple Watch will be available in two different sizes, in six different finishes, and in six different band styles.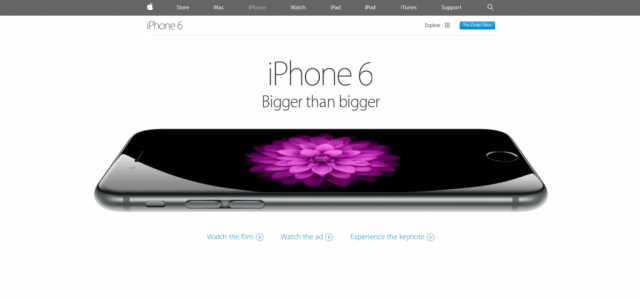 12. iPhone 6
The iPhone 6 came in second on Tuesday, with 487 upvotes as of Monday. The new iPhone is available in two models — the 4.7-inch iPhone 6 and the 5.5-inch iPhone 6 Plus — with a new Retina HD display, A8 chip, M8 motion coprocessor, an improved iSight camera with a new sensor, Focus Pixels, and new video features. The iPhone 6 also brings faster LTE download speeds, faster WiFi speeds, the new iOS 8 mobile operating system, and the new Apple Pay mobile payments system.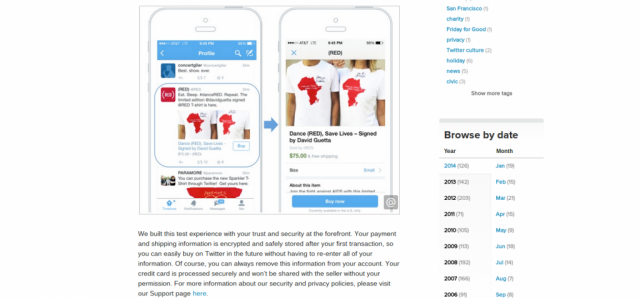 13. Buy by Twitter
Buy by Twitter came in first on Monday, with 347 upvotes as of (the following) Monday. The feature, announced in a blog post on Twitter, enables users to discover and buy products directly in their Twitter feeds on the Android or iOS apps. Starting with a small percentage of U.S. users, Twitter users will see a "Buy" button that lets them make a purchase directly from a tweet.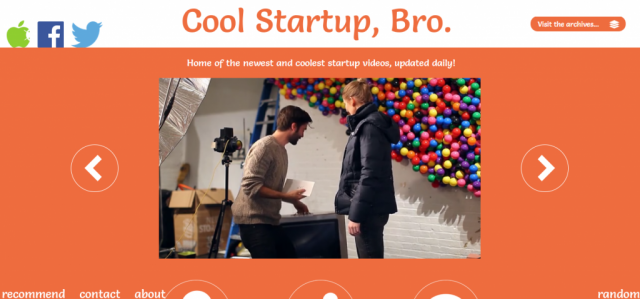 14. Cool Startup, Bro
Cool Startup, Bro came in second on Monday, with 201 upvotes as of (the following) Monday. The site collects the "newest and coolest" startup videos daily. Cool Startup, Bro aims to "showcase only the best so that you can find out just how awesome our world is going to be." Visitors don't need to create a user account or sign up for anything, and can just use the site to find great content and inspiration.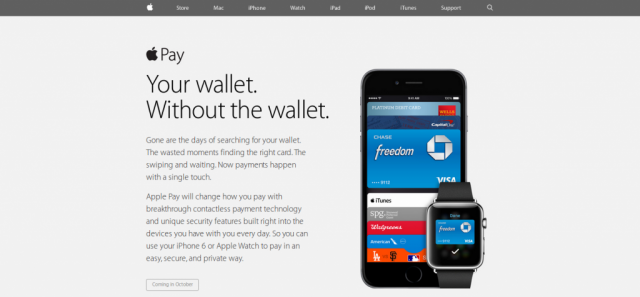 15. Apple Pay
Apple Pay came in third on Tuesday, with 455 upvotes as of Monday. Apple Pay, available in October, will use the iPhone 6's near field communication (NFC) antenna to use their iPhones to pay for purchases at stores where contactless payments are accepted. Users will also be able to use Apple Pay on the new Apple Watch, or in iOS apps where the payment system is integrated.
More From Tech Cheat Sheet:
Want more great content like this? Sign up here to receive the best of Cheat Sheet delivered daily. No spam; just tailored content straight to your inbox.