15 Awesome New Apps and Gadgets You Probably Missed Last Week
Looking to learn about exciting new products, find the most innovative apps, and be the first to tell your friends about the next great gadget? Each week, we look at the crowdsourced links posted to a website called Product Hunt, where users post their best finds and the community discusses and votes for their favorite apps and tools. (In case you missed it, here's last week's edition.) Between 600 and 800 venture capitalists reportedly use the site – a great testament to its ability to surface products that fly under most people's radar. 
Product Hunt offers a look at what's new everyday on its homepage. Anyone can submit a product. Users can either sign up for emails to be updated on the community's best finds, or can check back each day to see what Product Hunt turns up. The products posted each day collect upvotes, which partially factor in to the order in which the posts are ranked at the end of the day. Each day's posts are kept separate from the next, so that users can return to look back at what's been popular over the past week or month, or check the site each day to see what's new. Each listing shows a link to the product's website, plus related links like its page in the App Store or recent media coverage. Users can also join a discussion in the comments section for each product, and founders often join in the conversation to answer questions.
We looked at the top-ranked new apps and innovations on Product Hunt last week, and checked out the top two products that the site surfaced each day. (We added a bonus one to make 15, adding the product with the most upvotes that wasn't in first or second place on the day it was posted.) Upvote counts do change, but all of ours were recorded as of Monday.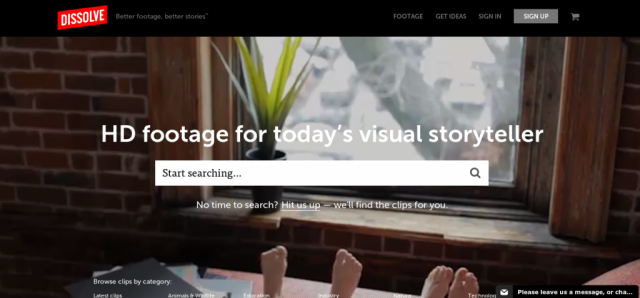 1. Dissolve
Dissolve ranked in first place on Sunday, August 3, with 126 upvotes as of Monday. The site provides HD stock footage "with a story-driven focus" for use in TV or web advertising, promotions, training videos, documentaries, websites, or mobile apps. The site has more than 225,000 clips on a variety of topics, like "Animals & Wildlife," "Fitness & Wellness," "Technology," or "Time Lapse." The footage is shot by both professional and independent filmmakers, and the company was created by the founders of iStockphoto and Veer, plus directors from Getty Images and Corbis.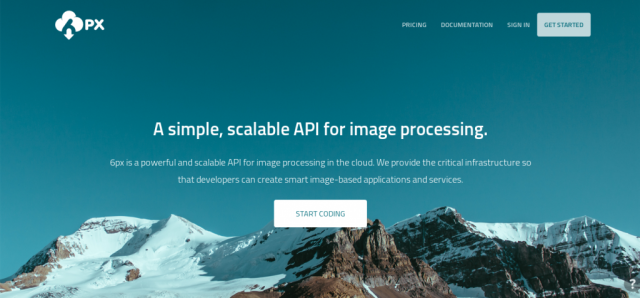 2. 6px
6px ranked in second place on Sunday, August 3, with 45 upvotes as of Monday. 6px is a scalable API for image processing in the cloud for developers who are creating image-based apps and services. The company says its platform is influenced by Instagram, Pinterest, and Snapchat, and the service handles resizing, rotating, watermarks, and conversions. Nick Parsons, one of 6px's co-founders, wrote on the Product Hunt listing that the API also allows for batch processing, and the site notes that the service's pricing is simply based on outputs (the number of images that an app or service generates with 6px.)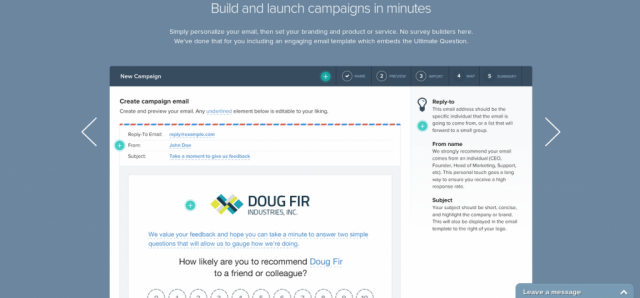 3. Promoter
Promoter ranked in first place on Saturday, August 2, with 77 upvotes as of Monday. The service aims to help companies drive organic growth and gain insight into customer loyalty with the Net Promoter System, which identifies which customers are Promoters, which are Passives, and which are Detractors. Promoter.io helps companies launch campaigns to gain feedback from customers, provides custom and real-time analytics, and enables companies to respond to customers and resolve issues in one place. Promoter.io founder Chad Keck wrote on the Product Hunt listing: "You can be a startup, big co, offline company (medical office, contractor, restaurant, etc). We have all sorts of customers getting the best feedback they've ever received."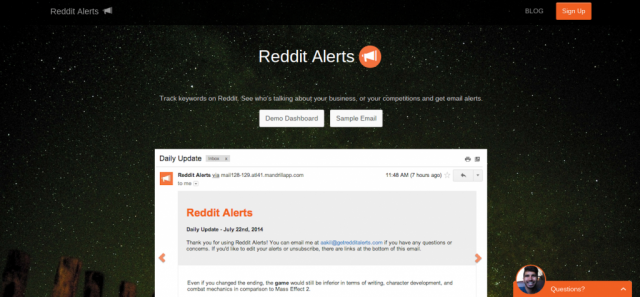 4. Reddit Alerts
Reddit Alerts ranked in second place on Saturday, August 2, with 58 upvotes as of Monday. The site enables companies to track keywords in the 10,000 posts and 200,000 comments that are added to Reddit everyday, to monitor conversations about their business or their competition. They can access matches for the keywords they're tracking via a dashboard, and receive summary emails or instant notifications, and can target or exclude specific subreddits in their alerts.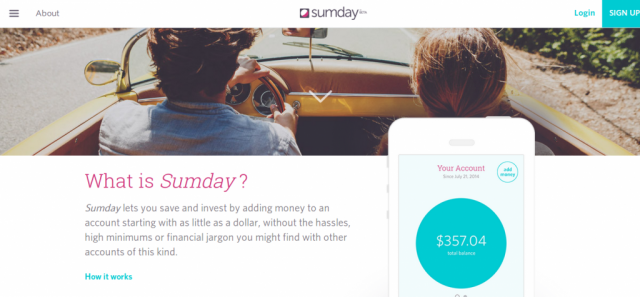 5. Sumday
Sumday ranked in first place on Friday, August 1, with 182 upvotes as of Monday. Created by BNY Mellon, a global investments company in New York, Sumday enables users to save and invest money starting with amounts as low as a dollar. They can add money when they want to, and can even tag posts on Facebook, Instagram, and Twitter with #sumday to add money to their accounts. They can also put money in the Dreyfus Basic S&P 500 Stock Index Fund, a mutual fund that typically requires a $10,000 minimum investment to get started. The service is currently in beta, and will be more widely available in the fall.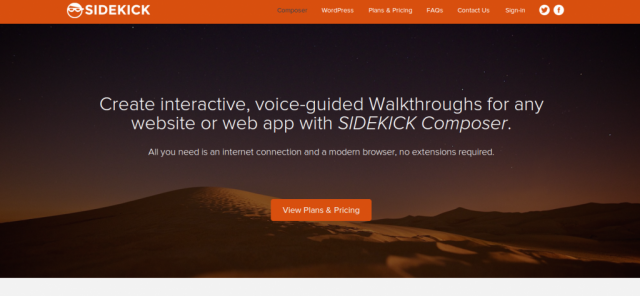 6. Sidekick
Sidekick ranked in second place on Friday, August 1, with 164 upvotes as of Monday. Sidekick enables users to create interactive walkthroughs for any website, plugin, theme, or other web-based platform. To show people how to interact with a site or an app, the walkthroughs include visual cues, like prompts and cursor animations, add voice narration or, alternately, subtitles, and enable users to interact with clicks or text input. Sidekick offers three types of walkthroughs: overviews, which are guided tours through complex interfaces; hotspots, which users can toggle on to find a detailed explanation of a specific feature; and how-tos, which step users through a specific task. Sidekick works on Chrome, Firefox, Safari, and Internet Explorer, and users can create a walkthrough with only a browser and an internet connection.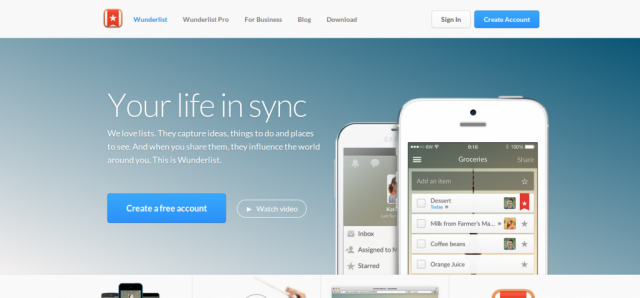 7. Wunderlist
Wunderlist 3 ranked at first place on Thursday, July 31, with 240 upvotes as of Monday. The new release of the popular list-making app enables users to share and collaborate on lists, engage in conversations via comments directly on lists, discover others' public lists, sync lists in real time across devices, and access lists from the iPhone, iPad, Android devices, Windows devices, Mac, Chromebook, Kindle Fire, and on the web. Wunderlist also includes reminders, due dates, notes, notifications, and other tools to make lists even more useful.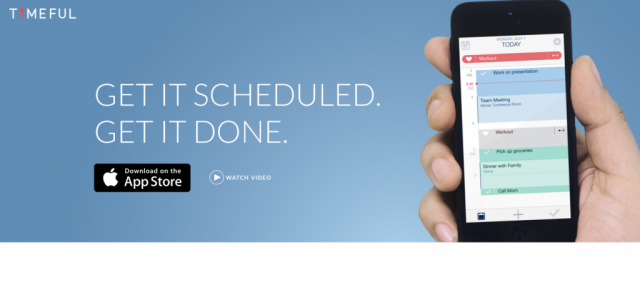 8. Timeful
Timeful ranked in second place on Thursday, July 31, with 189 upvotes as of Monday. The app provides what it calls "intelligent time assistance" via a comprehensive calendar app, which incorporates events, to-dos, and good habits into the daily calendar. The app uses algorithms to suggest when to schedule specific activities, and its suggestions improve as it learns the user's schedule. It also helps users to establish and maintain good habits and track their progress, and the calendar syncs with Google Calendar, Microsoft Exchange, Apple iCal, and others. An iOS app is available now with an Android app and a web app coming soon.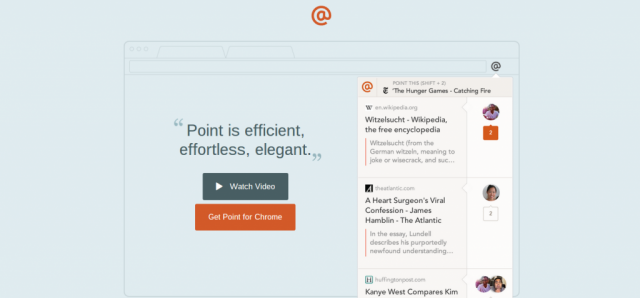 9. Point
Point ranked in first place on Wednesday, July 30, with 600 upvotes as of Monday. Point is a Chrome extension that provides a simple, streamlined way to share links with your friends. Users can quickly send a page to a friend who also uses Point by typing the @ sign, then mentioning a friend. They can also highlight parts of articles, and access their links, comments, and highlights via their Point Inbox, which they can access by clicking on the @ toolbar icon, and can tag Points with hashtags, like #readlater.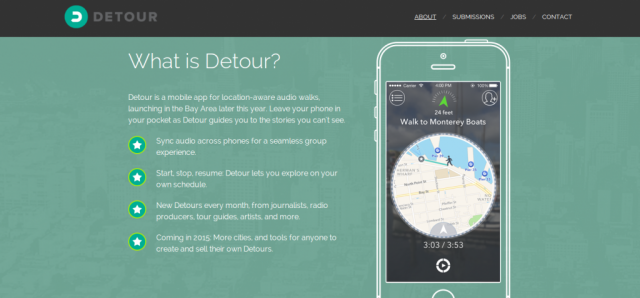 10. Detour
Detour ranked in second place on Wednesday, July 30, with 187 upvotes as of Monday. The pre-launch app, from Groupon founder Andrew Mason, provides story-based and location-aware audio walks, and will launch in the Bay Area later this year. The app will enable users to sync audio across multiple devices, so that a group can experience the tour together. The walks can be started, stopped, and resumed to allow for spontaneous exploration, and the app will add new Detours every month from journalists, radio producers, tour guides, artists, and others. In 2015, the app will add more cities, and the capability for anyone to create and sell their own Detours.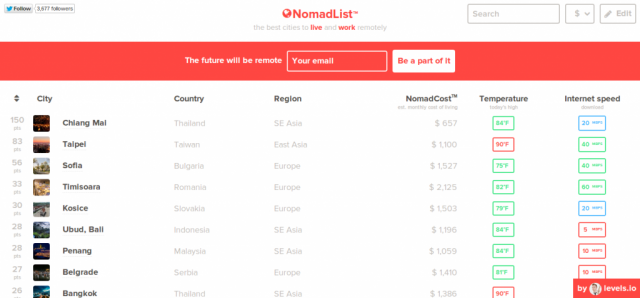 11. NomadList
NomadList ranked in first place on Tuesday, July 29, with 343 upvotes as of Monday. The website ranks the best cities to live and work remotely, and gives each a NomadScore based on a variety of attributes, including the cost of living, Internet speed, weather, and level of safety. The score factors in how much it costs to stay in a hostel, hotel, or apartment at each city's center, working in a coworking space, and having three basic meals per day. Many of the top cities are in Southeast Asia and Europe, and the current top scores go to Thailand's Chiang Mai, Taiwan's Taipei, and Bulgaria's Sofia.
12. Frame
Frame ranked in second place on Tuesday, July 29, with 237 upvotes as of Monday. Frame is a tool to create product shot mockups for apps and websites using screenshots of the app and Frame's images of devices like a Macbook, an Android tablet, or an iPhone. Users can choose a variety of scenes for each device, and some will simply show their app on a phone screen on a white background, while others place the device displaying the app onto a desk, or in someone's hand. The service is free and makes the process much quicker to complete than it would be in Photoshop or similar tools.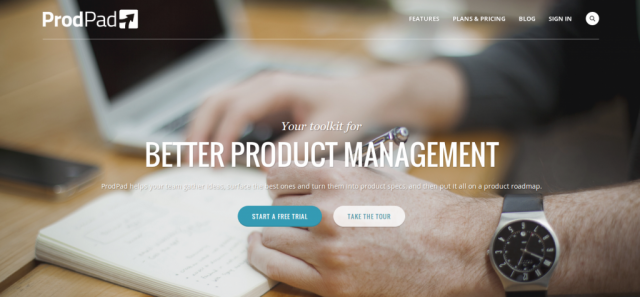 13. ProdPad
ProdPad ranked in first place on Monday, July 28, with 249 upvotes as of Monday. The company provides product management software that gives users the tools to capture ideas, surface the best ones, flesh out ideas with product specs, map out product development plans, and integrate their work in ProdPad with other tools like JIRA, Trello, Pivotal Tracker, or UserVoice. ProdPad co-founder Janna Bastow said in a comment on Product Hunt that the ProdPad software is already used by hundreds of companies, from small startups to large enterprises.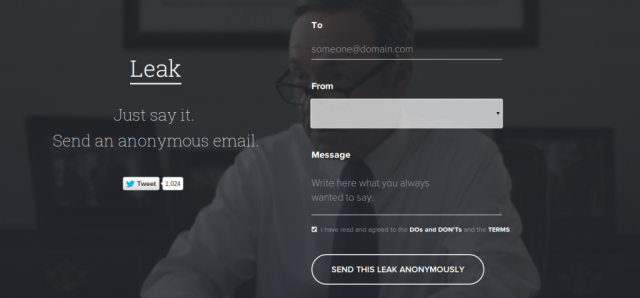 14. Leak
Leak ranked in second place Monday, July 28, with 246 upvotes as of Monday. Leak is a simple web app that enables people to send anonymous emails to any email address. They simply input the email address, choose how they want to be identified — "a friend," "a coworker," "a family member," "a friend of a friend," or just "someone" — and write a message, presumably something you wouldn't say if the recipient knew you were the sender. (The site's "DOs and DON'Ts" page does specify that users shouldn't send threats, share or encourage self-harm, use the site to bully or harass someone, or send hate speech, graphic content, pornography, people's private information, spam, or things that don't belong to them.) Co-founder Laurent Desserrey commented on Product Hunt that the app was built in a weekend, and says that users experience an "addicting feeling of freedom when you post a leak."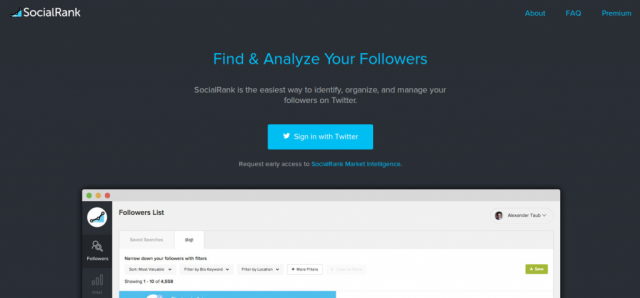 15. SocialRank
SocialRank 2.0 ranked in third place on Wednesday, July 30, with 244 upvotes as of Monday. The service enables users — both brands and individuals — to identify who follows them on Twitter and both organize and manage their list of followers. They can analyze which followers are the most valuable, which are the most engaged, and which ones have the most followers themselves. They can also filter followers by geographic location, interests, keywords, activity, and verification. The new release makes it free to analyze all of a user's followers, and adds the new sorting and filtering options. SocialRank co-founder Alexander Taub writes on Product Hunt that the service is "basically graph search on Twitter," referring to Facebook's semantic search engine for finding information and people through social connections.
More From Tech Cheat Sheet:
Want more great content like this? Sign up here to receive the best of Cheat Sheet delivered daily. No spam; just tailored content straight to your inbox.