15 Great Apps and Gadgets You Might Have Missed Last Week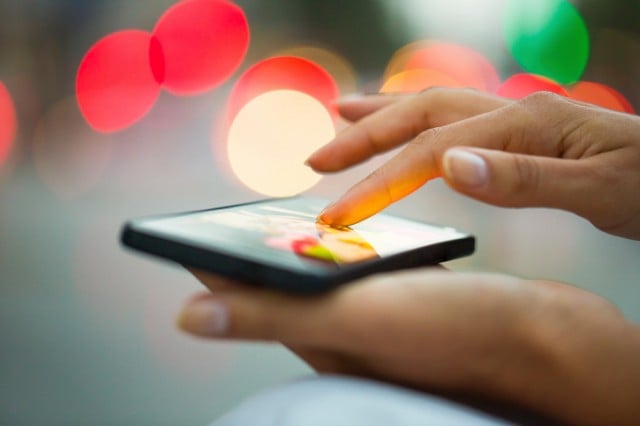 Are you looking to find the next awesome app or exciting product that you can tell your friends about? Each week, we look at the crowdsourced links posted to a website called Product Hunt, where users post their best finds and the community discusses and votes for their favorite apps and tools. (In case you missed it, here's last week's edition.) Between 600 and 800 venture capitalists reportedly use the site – a great testament to its ability to surface products that fly under most people's radar.
Product Hunt offers a look at what's new everyday on its homepage. Anyone can submit a product. Users can either sign up for emails to be updated on the community's best finds, or can check back each day to see what Product Hunt turns up. The products posted each day collect upvotes, which partially factor into the order in which the posts are ranked at the end of the day. Each day's posts are kept separate from the next, so that users can return to look back at what's been popular over the past week or month, or check the site each day to see what's new. Each listing shows a link to the product's website, plus related links like its page in the App Store or recent media coverage. Users can also join a discussion in the comments section for each product, and founders often join in the conversation to answer questions.
We looked at the top-ranked new apps and innovations on Product Hunt last week, and checked out the top two products that the site surfaced each day. (We added a bonus one to make 15, adding the product with the most upvotes that wasn't in first or second place on the day it was posted.) Upvote counts do change, but all of ours were recorded as of Monday.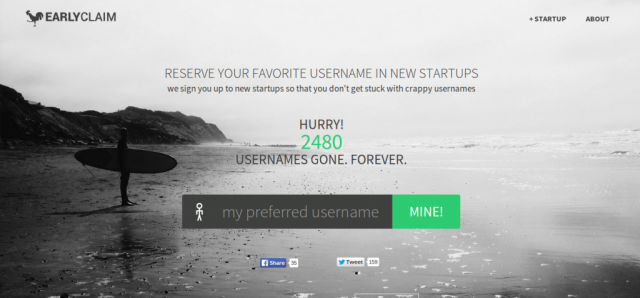 1. EARLYCLAIM
EARLYCLAIM came in first on Sunday with 136 upvotes as of Monday. The site enables users to reserve their favorite username in new startups. As the site explains: "We sign you up to new startups so that you don't get stuck with crappy usernames." The site works by getting startups on board to create logins for EARLYCLAIM users through an API connection. Beyond helping users reserve their favorite usernames, the site's objective is to  help startups gain traction among a base of early adopters, which the site's founders say is one of the "toughest challenges" for new startups. As of Monday, the site says that almost 2,500 usernames have been claimed.
2. SlimFold Wallet
The SlimFold Wallet came in second on Sunday with 45 upvotes as of Monday. Unlike many on Product Hunt, the SlimFold Wallet is a physical product, an ultra-thin wallet made of Tyvek, the envelope material used by FedEx. The site claims that the wallet is "6x thinner than regular wallets," "5x lighter than leather wallets," waterproof, and rip-resistant. The wallets are designed to fit in a pocket with an iPhone and come in both an "original" and "micro" model in a variety of colors.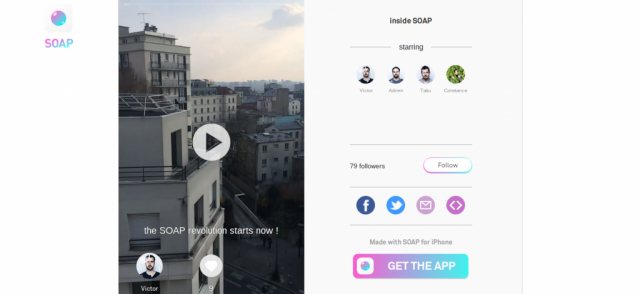 3. SOAP
SOAP came in first on Saturday with 170 upvotes as of Monday. SOAP is an app that enables users to create ongoing stories with multiple video clips, which they can add over time. SOAP co-founder Adrien Dupuy explains on the Product Hunt post that stories can be created by multiple people simultaneously, and users can have multiple stories ongoing at the same time. SOAP is currently available for iOS, and the site notes that an Android version "will be released soon."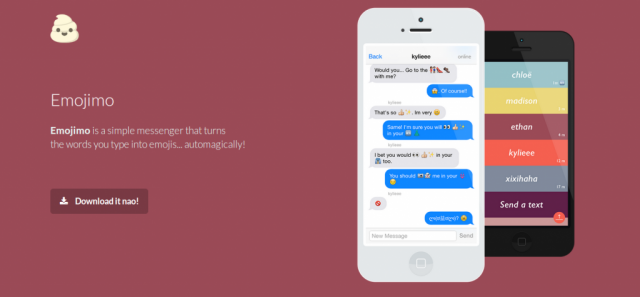 4. Emojimo
Emojimo came in second on Saturday with 57 upvotes as of Monday. Emojimo is a messenger app that "turns the words you type into emojis …  automagically." The app aims to provide "a whole new perspective on contextual messaging," and users can add their own word-emoji combinations to the master dictionary. If a message is confusing, they can also long-press to see the original text. While Emojimo users can message friends within the app, users can also tap the "send a text" button to convert a typed message to an "emoji-ed text that you can send as SMS or iMessage." Emojimo co-founder Allan Zhang said on Product Hunt that he and co-founder Sam Mendelson plan to launch an Android app, ideally to "directly integrate into SMS from the app." He added of future changes to the current iOS version: "Hopefully iOS 8 will allow for easier way to ride the iMessage system too."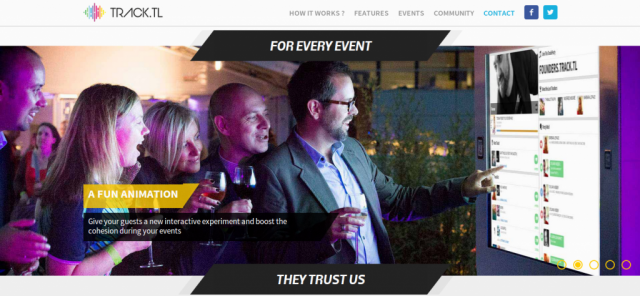 5. Track.tl
Track.tl came in first on Friday with 164 upvotes as of Monday. The app enables users to build a "collaborative playlist" for events. Anyone can search for tracks to add to the playlist, and can upvote their favorite songs. The app draws on libraries from Deezer, Grooveshark, and SoundCloud, and offers an interface that be displayed on large screens for guests to interact with. Users can share messages and photos on the live feed that Track.tl creates for the event, and the host can customize the playlist with a logo or colors. Track.tl co-founder Louis Aubert commented on Product Hunt that he began using the app for house parties, and now uses it as the office as well.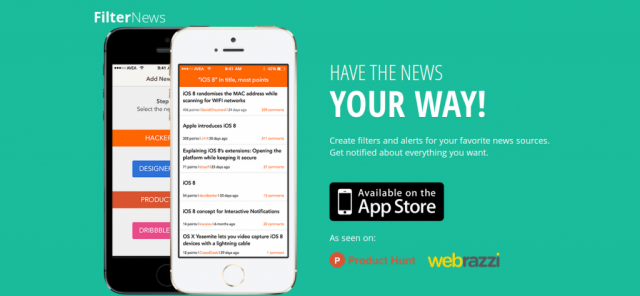 6. Filter News
Filter News came in second on Friday with 101 upvotes as of Monday. The app enables users to create filters and notifications for news sources Hacker News, Designer News, and Product Hunt. Taking Product Hunt as an example, users can filter posts by who posted them, how many upvotes they've gathered, how many comments they've gotten, and what keywords are in the title. The app also integrates with Pocket to enable users to save posts to read later. Filter News is currently available as an iOS app, with Android and Windows Phone apps, and possibly a Chrome extension on the way.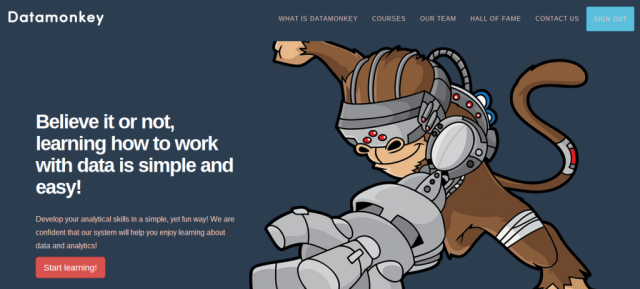 7. Datamonkey
Datamonkey came in first on Thursday with 247 upvotes as of Monday. The site is described on Product Hunt as "Codeacademy for data," and offers interactive lessons on the basics of working with spreadsheets and SQL. Both aim to help users advance their skills as data analysts, and the courses are offered free of charge. Datamonkey co-founder Ilya Parshin says that the site will soon add more content, and more complex lessons.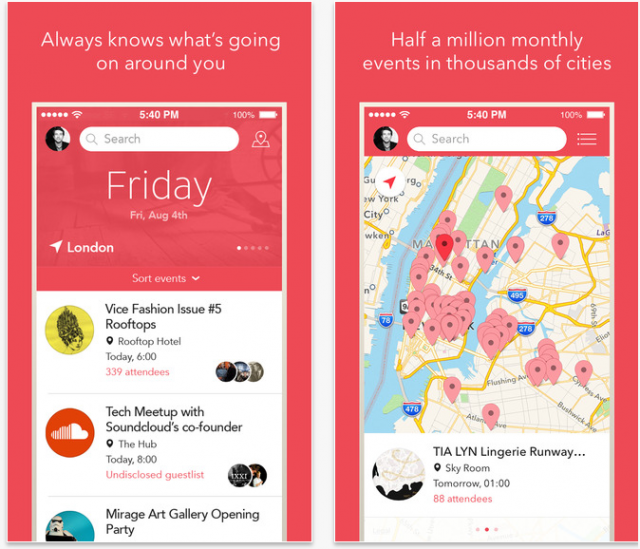 8. Vamos
Vamos came in second on Thursday with 219 upvotes as of Monday. Vamos is an iOS app  and web platform that automatically aggregates local events from Facebook, Eventbrite, Ticketmaster, Eventim, and StubHub for easy discovery. Guest lists, tickets, and Instagram photos are all available in the app, which also enables users to follow their friends' plans and their favorite venues. The app lists "half a million monthly events in thousands of cities," and is adding more event sources every month. Its recommendation engine gives users a list of events based on their location, profile, and friends' activity. Vamos co-founder David Prentell says that in addition to the web platform and iOS app, an Android app is "just a couple of weeks away."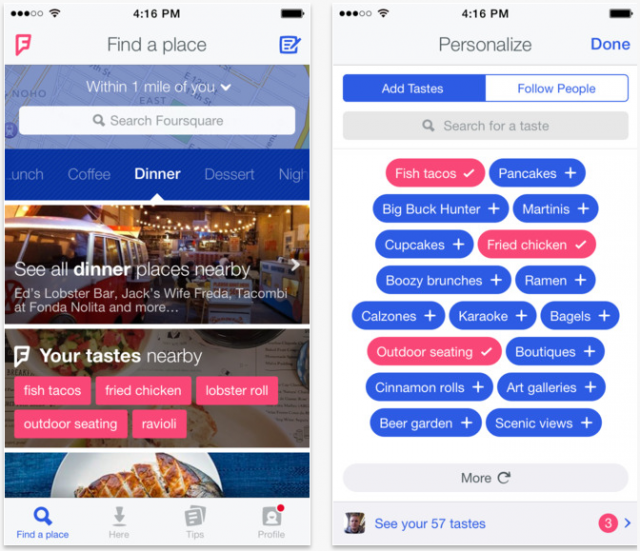 9. Foursquare 8.0
The new Foursquare app came in first on Wednesday with 379 upvotes as of Monday. The new version of the Android and iOS app emphasizes personalized recommendations based on the knowledge it gathers about users' tastes, which can range from specific like "whiskey" or "salted caramel," to general like "outdoor seating" or "used bookstores." Users can search for restaurants, coffee shops, nightlife, and shops nearby, or in a location they're planning to visit. Recommendations account for taste, places users like, and the places recommended by friends and "experts," who have shared their discoveries via the app.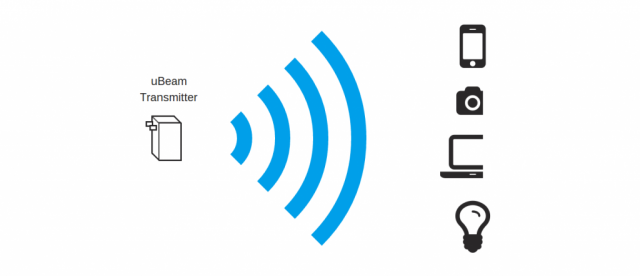 10. uBeam
uBeam came in second on Wednesday with 224 upvotes as of Monday. The company has developed technology for "ultrasonic wireless power transmission," or the wireless charging of electronics like phones and laptops by converting electricity into sound and sending that audio over ultrasound. A receiver on the device captures the audio, and converts it back into electricity to power the device so that users could walk around a room while charging their device. The system is pre-launch, and uBeam founder Meridith Perry said on Product Hunt that technical specifications won't be released until the product is ready for launch.
11. Navdy
Navdy came in first on Tuesday with 482 upvotes as of Monday. The company's technology, hailed as Google Glass for your car, made a splash when it launched last week. Navdy's transparent "Head-Up Display" projects information in front of you in the car you already have, and is compatible with both Android smartphones and the iPhone. Users can interact with the information with gestures, and can also use the voice commands they'd normally use with Google Voice and Siri. They can display, read aloud, or disable any notification that they get on their phone, and get navigation directions with Google Maps, tap into the car's computer to access its diagnostics, and control any music app. The product is available to pre-order now and will ship in 2015.
12. Push for Pizza
Push for Pizza came in second on Tuesday with 185 upvotes as of Monday. The app aims to give users a simple and fun way to order pizza. When they hit the app's pizza button, users are presented with a list of pizzerias to choose among, provided based on their location. Currently users can choose between two choices — cheese or pepperoni — and enter their payment information and delivery address. The company's website says it was founded by five teenagers (and one adult), and aims to simplify the process of ordering a pizza on traditional sites.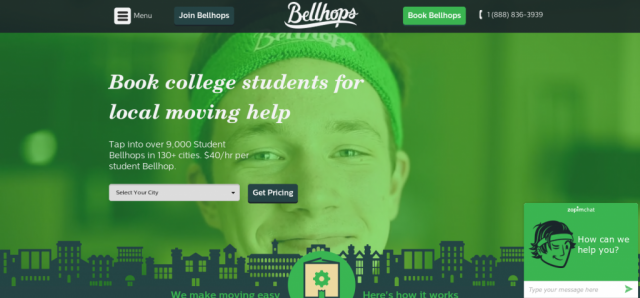 13. Bellhops
Bellhops came in first on Monday with 293 upvotes as of (the following) Monday. The site enables users to book local college students for help moving, and when they book a moving team, they'll receive pictures, bios, and a phone introduction from the Bellhop "Captain." Bellhops clock in and out on their smartphones, and the customer will verify the time they report. The service has 8,000 student Bellhops across the country, and all moves are licensed and insured, plus offer refunds if anything is damaged or if the customer thinks the move should have taken less time.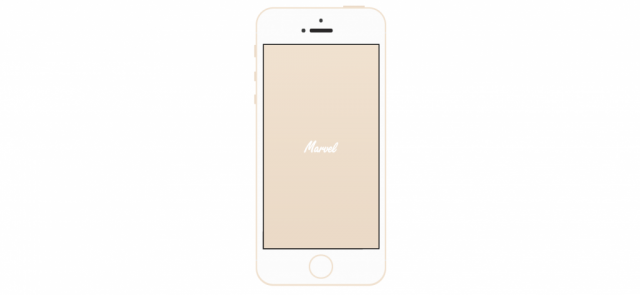 14. Devices.css
Devices.css came in second on Monday with 202 upvotes of (the following) Monday. Devices.css offers open-source device frames for designers and developers to display prototypes of mobile apps and web products. The designs are minimal, and the iPhone, Android, Lumia, and iPad are all available. They were created  for users of Marvel, a free prototyping tool, and were released based on feedback given by Marvel users.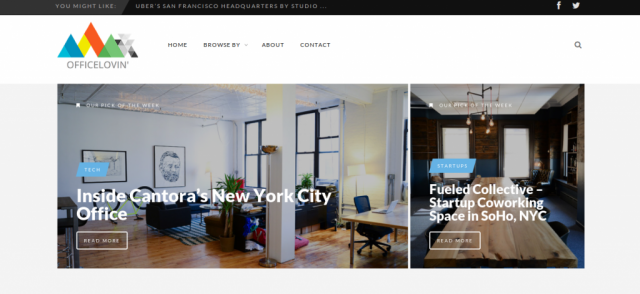 15. Officelovin'
Officelovin' came in third on Wednesday with 193 upvotes as of Monday. The site features tech office spaces from around the world, and enables users to discover how the offices of startups and tech companies look via a series of photos. Users can browse spaces for inspiration by office type — "startups," "tech," "coworking," "venture capital firms," or "digital agencies," — or by designer, and the site features a listing of offices of "interesting companies" like Buzzfeed, Dropbox, Facebook, Google, and Spotify.
More From Tech Cheat Sheet:
Want more great content like this? Sign up here to receive the best of Cheat Sheet delivered daily. No spam; just tailored content straight to your inbox.