15 Hot Apple Stories Pushing the Stock Down Another 4.4% This Week
Monday
It's a sour Monday for the world's largest technology company as Apple's (NASDAQ:AAPL) shares settle once more into their familiar — yet disappointing — path downward. The problem is that "something big" has been coming for a long time now, and everybody is tired of waiting. That sentiment has been transferred to Apple's stock, currently down 28.45 percent year-over-year and down 19.37 percent year-to-date. Investors are waiting for the stock to buck the trend or continue to fall and find a floor. After another rough treatment in the Chinese media — prompting concerns for Apple's market share in the country — and a rising tide of general market negativity, the stock ended the day down $13.75, or 3.11 percent, at $428.91. Here's a cheat sheet to Monday's top Apple stories:
Could Apple Take More of Samsung's Money?
It seems the idea that Samsung (SSNLF.PK) was getting off lightly after U.S. District Judge Lucy Koh eliminated almost half of the damages it owed Apple was spoken too soon as the case could turn out quite differently. While the original case ended with Samsung owing Apple $1.05 billion in damages for more than 28 different smartphones that infringed on Apple patents, Judge Koh later struck down the damages from 14 of the devices and put them off for a retrial.
Now it appears that those 14 devices — which made up less than half of the total damages — could turn out to be even more valuable for Apple than they had originally been… (Read more.)
Analyst: Here's Why Apple Looks Like HP
While Apple's brand is as different from Hewlett-Packard's (NYSE:HPQ) as one technology company can be from another, the two device manufactures have a shared experience: being the target of a smear campaign conducted by the Chinese government. With the accusations of discriminatory customer service practices raining down from the People's Daily — the Chinese Communist Party's official mouthpiece — and state-run China Central Television for three straight weeks, Citigroup analyst Glen Yeung has turned to HP as a template for calculating the potential costs the state-sponsored propaganda campaign could have on Apple.
The propaganda used against HP in 2010 decimated its business in China. In his note, Yeung indicated that Apple could suffer a similar fate… (Read more.)
Apple's Public Relations Nightmare Brought to You By Foxconn
Job cuts at a Shenzhen-based Foxconn facility appear to have pushed a worker to throw herself from the roof of the plant, AppleInsider reported. Somehow — details are few — she survived the fall, which appears to have been from a seven- or eight-story height.
Suicide attempts are not new to Foxconn, the company contracted to manufacture orders for several major device makers, most notably Apple. The company has gone so far as installing nets around its buildings to prevent jumpers from killing themselves (or trying) at its plants.  The negative attention has reflected badly on Apple in the past, which has since made commendable efforts to increase its transparency… (Read more.)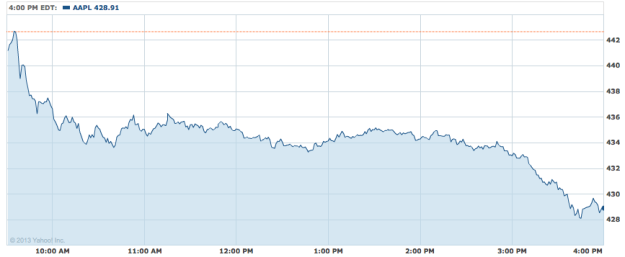 Don't Miss: Apple's Public Relations Nightmare Brought to You By Foxconn.
Tuesday
The criticism that Apple (NASDAQ:AAPL) has lost its innovative touch has fallen fast and furious on the company recently. While it has long been seen as a company capable of creating one category-defining product after another — and in fact, Apple built its reputation on that type of creativity — analysts have put forward the thesis that founder Steve Jobs' absence can be seen in the company's product pipeline, which is populated by nothing but product refresh, according to their assessments. Many analysts have cited this change as a reason for the stock's poor performance of late.
However, despite this assessment and the fact that Apple was hit with two more harsh critiques on Tuesday, the iPhone maker managed to end the day in the black — albeit just barely. After posting five consecutive declines, the stock closed up $0.99, or 0.23 percent, at $429.90. Here's a cheat sheet to Tuesday's top Apple stories:
Patent Trial: Has Apple Lost an Edge on Samsung?
In the case that never ends between Apple and Samsung (SSNLF.PK), a key patent finding could have U.S. District Judge Lucy Koh pulling the rug out from underneath Apple's claims. The case has already been volatile and dramatic, as Judge Koh first awarded Apple $1.05 billion in damages after a jury found that Samsung violated patents involved in more than 28 different smartphones, and then she removed 14 devices from the ruling, dropping the damages by $450 million.
There was some bad news for Apple on the horizon Tuesday morning, as the U.S. Patent and Trademark Office denied the validity of a key patent Apple had used in the case against Samsung… (Read more.)
Is Apple Ditching Samsung For This New Partner?
From the beginning, Samsung has has built Apple's mobile A-series chips, which have been powered iPads and iPhones since 2010. Even the latest chips in the iPhone 5 and fourth-generation iPad are made by the company's Korean competitor. However, the end of an era may be approaching. Apple and Samsung's rivalry seems to be driving the iPhone maker to switch to Taiwan Semiconductor Manufacturing Co. (NYSE:TSM) as its chief supplier of mobile device chips… (Read more.)
Goldman Analysts Take A Slice Out Of Apple
If the profile of Apple's stock chart were a roller coaster track, the past five trading days would be one of those vectors that puts your gut into weightlessness. After climbing from below $430 per share on March 12 to more than $460 on March 25, the stock has effectively entered free fall and is down nearly 6.5 percent over the past week. The stock was back below $430 on Monday, but edged higher on Tuesday morning.
Complicating tepid gains on Tuesday is some bearish growling from Goldman Sachs. The firm retains a buy rating on the stock, but reports indicate that Apple has been removed from the much-watched conviction buy list… (Read more.)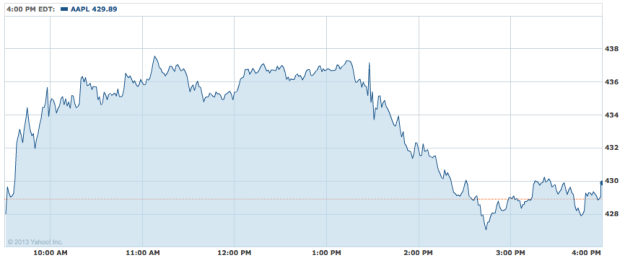 Don't Miss: Does The Growing Gap Between iOS And Android Signal Shrinking iPhone Demand?
Wednesday
In the absence of major catalysts, and fueled by an impatient investing public and customer base, the rumor mill has ceaselessly churned out headlines about the future of Apple (NASDAQ:AAPL). Every branch of the company's future has been predicted by one analyst or another: whatever Apple's next step is, someone's probably called it already. Yet, despite concerns that Apple has lost its innovative touch and that no category-defining product lie in its pipeline, the company's stock ended the day up $2.06, or 0.48 percent, at $431.85. Here's a cheat sheet to Wednesday's top Apple stories:
Should Apple Shoot For The Moon?
With every reasonable idea thoroughly vetted by the public, curious observers are reaching further and further for possible tips about what Apple's next release will be. While investors will not know what the product will be until the launch — at least not without forcing someone to violate an NDA — they can take a look at who could be working on that technology for Apple.
The next best thing to knowing what somebody is up to right now, is knowing what they did in the past. Looking at past performance for top executives is nothing new for many investors. Often times, the right leadership is the deciding factor in a company's success or failure. This conversation has surrounded Apple ever since Tim Cook took over. There has also been a lot of conversation about Jony Ive, the man behind much of Apple's iconic design characteristics, and how his presence at the company will affect its upcoming products and the success of those products… (Read more.)
Analyst: Apple's iTV Will Be Different Than You Think
"During our China-Taiwan Tech Tour, our research indicates that a full blown Apple 'iTV' will launch in 2013, opening up a new market opportunity for the Company," stated Topeka Capital analyst Brian White succinctly in a research note sent to Wall St. Cheat Sheet on Wednesday. His main argument hinges on the assertion that the new device will be "different than you think."
The primary reason for what he termed the "misguided speculation" that has surrounded the timing of the device's release is due to the fact that Apple has created entirely new user interface aesthetics, he wrote, noting that these changes are a major innovation capable of revolutionizing the television watching experience… (Read more.)
Alan Kay: Apple's Not Cutting It
Former Apple contributor and tech visionary Alan Kay sat down for an interview with computer historian David Greelish, and his words painted an unsavory picture of Apple.
Kay may be an idealist when it comes to envisioning what a computer can and should be, and he does not seem to think Apple has lived up to his standards. He has dreamed of "symmetric authoring and consuming," where everyone could be involved, engaged, and mentally stimulated, and the Dynabook — Kay's own ideal — was central in that vision. But, he said that Apple has not achieved the equivalent of the Dynabook with its devices or its services… (Read more.)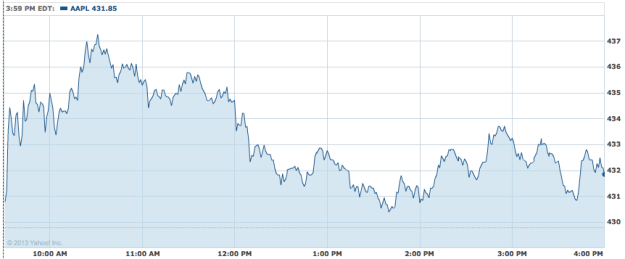 Don't Miss: Are Apple's Headphones a Rip-off?
Thursday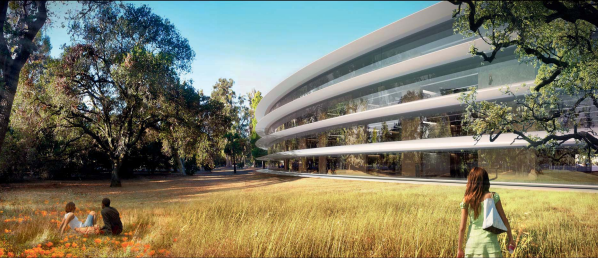 All major U.S. indices — the Dow Jones, the Nasdaq, and the S&P 500 — managed to edge out modest gains on Thursday, but Apple (NASDAQ:AAPL) did not end up riding the wave to greater heights. Despite posting slight gains on the stock chart in the past two trading sessions, the outpouring of opinion from investors, technology commentators, and analysts have kept Apple's ocean rough, and the high swells have kept its boat rocking. As a result, shares ended Thursday in the red, down $4.27, or 0.99 percent, at $427.72. Here's a cheat sheet to Thursday's top Apple stories:
Is Apple Truly Number One?
Apple may not be done fighting for primacy just yet, as the company took first place in an analysis of sales by brand covering the three months from December to February, according to a report by ComScore. However, the results beg a question: could it have simply been lucky timing?
Apple's iPhones were the most popular smartphones in the U.S. market for the period, topping the success of devices from Samsung (SSNLF.PK), HTC (HTCKF.PK), Google's (NASDAQ:GOOG) Motorola, and LG (LGEAF.PK). The company snagged a 38.9 percent share of the market in the 3-month period, which actually brought it up from the 35 percent share recorded in the three months prior. Of the top five brands, Apple was not the only one to climb up, but it was the highest climber… (Read more.)
Mind the Gap: Apple and Google are Growing Farther Apart
The gap between Silicon Valley giants Google and Apple  continues to widen, this time due to the companies' web operations. Google has embarked on development of its own version for an internet browser engine, called Blink, and in the past it has relied on WebKit — an open source browser engine program that is free to use. Both Google's Chrome and Apple's Safari browsers have relied on WebKit-based solutions, but now Google has said that its new engine operations will "technologically liberate" Chrome from Safari completely, CNET reported.
Apple and Google were both working with the same code base with WebKit, and held a healthy, cooperative relationship for a long time. With Blink, each company will now be working independently on browser features, without the added progress on either side that bound the two companies together… (Read more.)
Here's What Apple Is Spending $5 Billion On, and It's Not a Dividend
Apple's plans to build Apple Campus 2 — a veritable Mecca for technology and innovation in Cupertino, and a thinly-veiled attempt to build utopia on earth — are not a secret. Information regarding the project is available on Cupertino's city website, and curious minds can explore floor plans and even see idyllic renderings of the finished site, which looks more like a nature preserve than a corporate headquarters. The campus was championed by Steve Jobs shortly before his death, and many saw the project as an extension of his personal vision for the future of the company… (Read more.)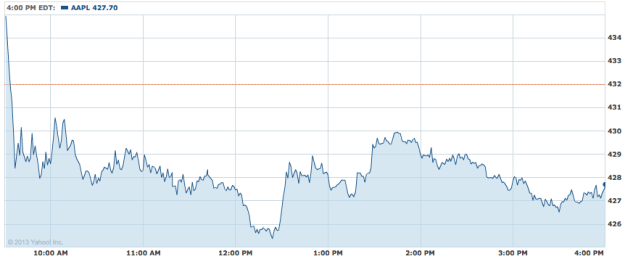 Don't Miss: Is an iPad 5 On The Way?
Friday
"Starbucks sells a commodity at prices 10 times higher than the cost of that commodity, because it provides the "third home" experience. While other technology companies have seen margins erode quickly at the hands of commoditizing forces, Apple has realized that technology can have pricing power [that is] tantamount to a luxury good," wrote Lazard Capital's Edward Parker in a recent note seen by Barron's on Friday. However, despite that opinion and the fact that Apple (NASDAQ:AAPL) has worked hard to cultivate that reputation, shares of the iPhone maker closed down Friday by $4.55, or 1.06 percent, $423.17, contributing to a decrease of 4.4 percent over the five-day trading session. Here is a cheat sheet to Friday's top Apple stories:
Apple Grows While Android Slows
The most recent smartphone subscriber market share data from comScore seems to indicate that the growth of Apple's iPhone 5 subscriber base is still going strong, while devices that use Google's (NASDAQ:GOOG) Android platform appear to be on the decline. Brian Loftus, via Philip Elmer-Dewitt at CNNMoney, created a chart with comScore's data that demonstrates the recent gain in Apple's subscriber base.
In a three-month period between November 2012 and February 2013, there were a total of 10.4 million new smartphone subscribers. Of these new subscribers, 2.9 million, or 28 percent, were using Android-powered devices… (Read more.)
Will Apple Overtake Microsoft in 2013?
Sales of Apple devices will soon overtake sales of devices running Microsoft's (NASDAQ:MSFT) Windows platform according to predictions from a major market research group. Tablets will outsell laptops and desktop computers by 2015, according to a recent report released by the market research group Gartner, via the Financial Times. Apple's iPad currently dominates the tablet market with over half of the market share.
Although Microsoft has an established foothold in the traditional corporate computer market, it may find its Windows operating platform becoming less important in the overall market as more consumers shift from desktop to mobile device usage… (Read more.)
Was There An Apple-Google Anti-Poaching Conspiracy?
Apple, Google, and several other technology companies will not face a class action lawsuit over an alleged anti-poaching conspiracy — for now. In a decision rendered on Friday, U.S. District Judge Lucy Koh said the plaintiffs had not yet demonstrated that their lawsuits had enough in common to be designated with the class certification, reported Reuters. However, Koh said the "alleged overarching conspiracy" could be granted class certification in the future if "new evidence" is introduced, reports Reuters.
The lawsuit brought by five software employees alleges that Apple, Google, Adobe (NASDAQ:ADBE), Intel (NASDAQ:INTC), Intuit (NASDAQ:INTU), and Disney's (NYSE:DIS) Lucasfilm and Pixar units conspired to not poach employees from each others' companies, thereby limiting the employees' job options and salary potential… (Read more.)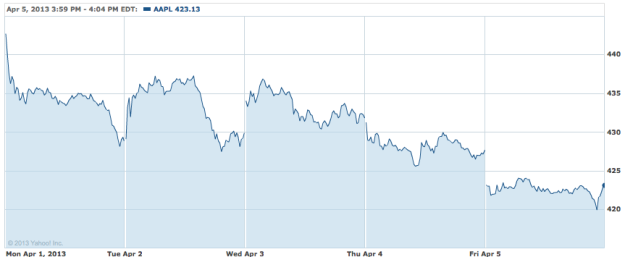 Don't Miss: Apple Wins Key Battle in Samsung Patent War.