15 Hot Apple Stories Stabilizing Shareholder Anxiety This Week
Monday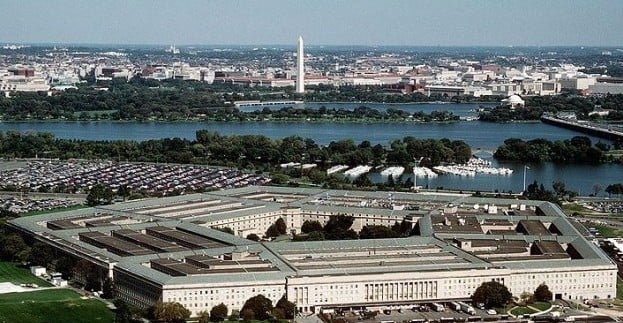 After taking a scary dip in early April, Apple's (NASDAQ:AAPL) stock stabilized somewhat in the last week, staying above the level of $450 per share for the entire five-day period. Despite experiencing some minor rises and falls, the stock has advanced nearly 16 percent since closing at a 52-week low of $385.10 on April 19. Shares continued trading within their current range Monday, closing up $1.77, or 0.39 percent, at $454.74. Here's a cheat sheet to today's top Apple stories:
Finally, Apple Gets Pentagon Approval
After being beaten in the race to get Pentagon approval by rivals BlackBerry (NASDAQ:BBRY) and Samsung (SSNLF.PK); Apple has finally received its Department of Defense security approval. The recent approval covers all of Apple's iOS 6-powered devices. Earlier this month, BlackBerry won security approval for its BlackBerry 10 operating system, and Samsung won approval of its Android Knox-based mobile devices. Although Samsung's standard devices do not meet the military's security specifications, the South Korea-based smartphone maker was allowed to beef up its security with Knox Security software… (Read more.)
Could This Be the Future of Apple's iOS?
Could this be the iOS 7 reboot that Apple (NASDAQ:AAPL) users have been waiting for? Simply Zesty, a full service digital agency based in the UK, has created an amazing concept video that outlines the expected design changes that users are anticipating for Apple's new mobile operating system. Simply Zesty describes its video as "our concept designs for iOS 7, gathered from the rumours, speculation and features we think Apple should include on the new OS."
Apple will officially unveil the new iOS 7 at the Worldwide Developers Conference, scheduled for June 10-14. Apple's iOS has not had a major makeover since the iPhone's debut in 2007, and this could be a make-or-break scenario for the next generation of Apple's mobile operating system… (Read more.)
Major Apple Supplier Gets April Sales Bump
After posting a first quarter drop in earnings revenue, Foxconn, also known as Hon Hai Precision Industry, has seen its latest figures rise. According to Patently Apple, Foxconn saw a 12 percent monthly increase in total sales for April due to an increased demand for consumer electronics products. Foxconn is one of Apple's (NASDAQ:AAPL) largest suppliers, with an estimated 40 percent of its total sales revenue derived from the Cupertino-based company… (Read more.)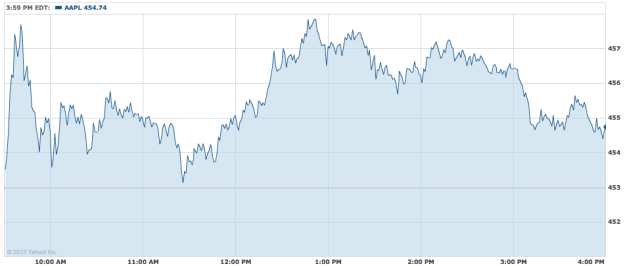 Don't Miss: Is Apple Ignoring a Growing Screen Size Trend?

Tuesday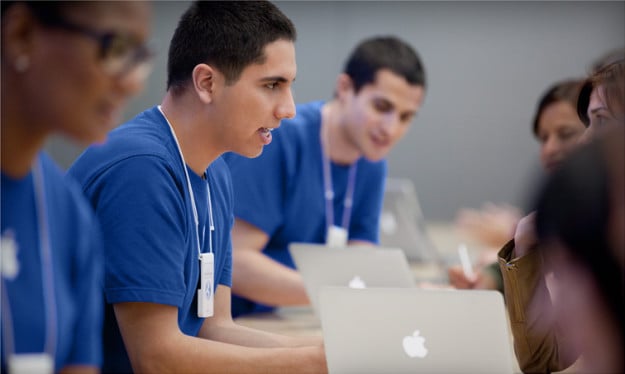 As Apple (NASDAQ:AAPL) seeks to build relations beyond its main supplier Foxconn and attempts to add Samsung (SSNLF.PK), shares of the iPhone maker slumped on Tuesday. Following Monday's gains, the stock ended the day down $10.88, or 2.39 percent, at $443.86. Here's a cheat sheet to today's top Apple stories:
Is the Average Joe Still Buying Apple?
Apple has come under a great deal of scrutiny over the past several months. The world's largest publicly traded company suffered a sharp correction that started last year, and faces worries about new product offerings on an almost daily basis. However, the average joe investor still believes in Apple.
Shares of Apple dropped nearly 17 percent in the first quarter, compared to double-digit gains in the Dow Jones Industrial Average and S&P 500. In April, the company's stock price even reached a fresh 52-week low of $385. Many investors saw this as a buying opportunity, though. According to brokerage firm TD Ameritrade, more of its clients now own Apple than ever before. In fact, Apple is the most widely held stock in terms of dollars invested, and the second most popular by the number of investors, behind General Electric (NYSE:GE)… (Read more.)
Another Way Samsung Has Copied Apple
Samsung's penchant for mimicking Apple's products is an open secret in the smartphone industry, although it is still widely disputed whether or not this copying rises to the level of illegal patent infringement. Now it seems that Samsung's aping of Apple has even gone beyond the similarities found in both of the companies' products. Just like its Cupertino-based rival, the South Korea-based smartphone maker has recently started to accumulate a large cash pile. Although not quite as large as Apple's approximately $145 billion cash hoard, Samsung has still accumulated an impressive amount… (Read more.)
Is China Mobile Preparing for Apple's Arrival?
Is Apple on the verge of laying the cornerstone for its Chinese smartphone market ambitions? Various reports seem to point to an upcoming deal between China Mobile (NYSE:CHL), China's largest carrier, and Apple. China Mobile has over 700 million subscribers in the Greater China market.
After returning from a trip to China, Morgan Stanley (NYSE:MS) analyst Katy Huberty wrote in a note to investors that Apple is in the process of acquiring "TD-LTE licenses, and related phone launches are expected by year-end." China Mobile currently has a limited TD-LTE network but is supposedly working on expanding its range… (Read more.)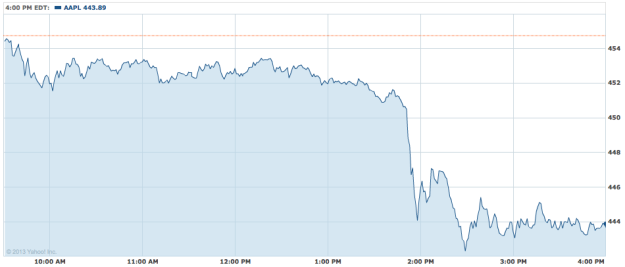 Don't Miss: Another Way Samsung Has Copied Apple.

Wednesday
The share prices of oft compared tech giants — Apple (NASDAQ:APPL) and Google (NASDAQ:GOOG) — have greatly diverged since their stock trajectories crossed paths last year. After climbing to a peak of $463.84 last week, Apple's stock is once again on a downward slide, and it has fallen over 19 percent this year alone. On the other hand, Google stock has risen about 28 percent this year and recently broke the $900 mark. In fact, shares of Google closed up 3.25 percent at $915.89, while shares of Apple closed down 3.38 percent at $428.85.
Here's a cheat sheet to today's top Apple stories:
13F Filing Countdown: Big Investors Reveal Positions on Apple
Has Apple become the new favorite stock for big investors to buy this year or has it become the latest pariah tech stock everyone's trying to ditch? Apple watchers will have their answers by tonight, when major investors such as George Soros and Warren Buffett must file their 13F-HR reports. These reports will disclose what stocks these equity managers bought and sold during the three-month period that ended March 31 of this year.
Although many hedge fund managers already revealed their perspectives at the Skybridge Alternatives Conference, or SALT, last week, the upcoming 13F filings will give investors some definitive answers on what these major financial players have been up to when it comes to the Cupertino-based company's shares… (Read more.)
What's Apple's Big iPhone 5S Change?
Has Apple finally solved its physical home button problems on the next generation of iPhone? Since it is pressed every time the device is used, the iPhone's home button is one of the most repaired parts of Apple's flagship smartphone. Although Apple Stores can already easily replace any broken physical home buttons on the current iPhone, this new type of home button will eliminate even that minor in-house repair inconvenience.
An unconfirmed report from Taiwan's TechNews website via Cult of Mac states that Apple is planning on replacing the iPhone's physical home button with a sapphire crystal capacitive touch button that will also function as a fingerprint sensor… (Read more.)
David Tepper Sours On Apple
A recent filing reveals that David Tepper — the billionaire manager of the Appaloosa Management hedge fund — cut his stake in Apple by 41 percent in the first quarter of this year. During the 3-month period that ended March 31, Appaloosa unloaded 372,661 Apple shares, leaving the hedge fund with a total of 540,000 Apple shares worth approximately $239 million. Appaloosa manages a fund worth $17.9 billion.
At the end of 2012, Appaloosa held 912,661 shares of the Cupertino-based company's stock, but it began to reduce its Apple exposure when the stock fell 17 percent in the first few months of this year…(Read more.)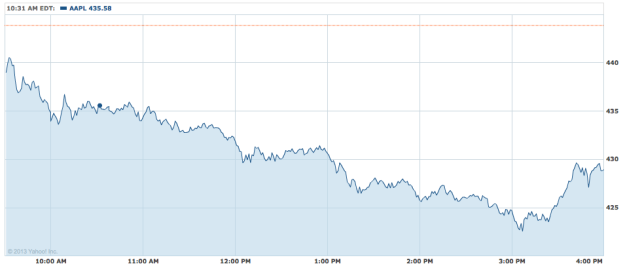 You can follow Meghan on Twitter (@MFoley_WSCS) for the latest industry news.
Don't Miss: David Tepper Sours On Apple.
Thursday
As concerns for the company's future grow, a new round of 13F statements filed with the Securities and Exchange Commission over the past few days have revealed that a number of mutual funds and hedge fund managers have trimmed their Apple (NASDAQ:AAPL) holdings, and these sell offs put some pressure on the iPhone maker's stock. But nevertheless, the company closed up $5.73, or 1.34 percent, at $434.58. Here's a cheat sheet to today's top Apple stories:
David Tepper Is Not the Only One Dumping Apple
Apple closed down 3.38 percent at $428.85 Wednesday, falling below its 50-day moving average for the first time in close to a month. The fact that shares fell below this psychologically important level for the second time in less than a month, the stock hit a new 52-week low, and the company reported its first quarter-over-quarter earnings decline in a decade all in the same four-week span has made investors nervous.
Well-known hedge-fund manager Julian Robertson dumped his firm's entire stake in Apple during the first three months of this year; a document filed with the U.S. Securities and Exchange Commission showed that his Tiger Management's investment portfolio did not hold any Apple shares as of the end of March… (Read more.)
Is Apple In Trouble Over Taxes?
Approximately $100 billion of Apple's cash reserves is strategically kept overseas and out of the reach of America's tax collectors. Although this is a common practice for large companies with overseas earnings, it appears that Apple will soon be the subject of a Senate hearing on its offshore tax practices. According to anonymous sources via Bloomberg, Apple CEO Tim Cook will testify at the hearing that is scheduled for May 21.
The Senate Permanent Subcommittee on Investigations has previously looked into the tax strategies of other large technology companies, including Hewlett-Packard (NYSE:HPQ) and Microsoft (NASDAQ:MSFT)… (Read more.)
Apple's App Store Rings Up 50 Billion Downloads
Ever since Apple initiated its app download countdown ticker earlier this month, many countdown ticker watchers have been predicting that the App Store would cross the 50 billion mark threshold before the month was out. It turns out that they were right. Apple surpassed 50 billion downloads yesterday, around the same time that rival Google (NASDAQ:GOOG) announced that Google Play had hit the 48 billion download mark… (Read more.)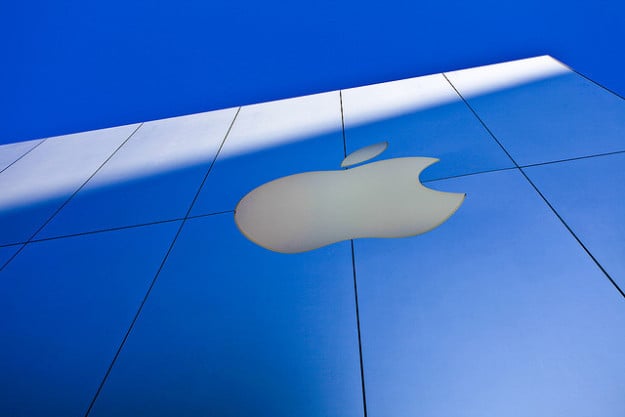 Don't Miss: How Low Has the iPhone's Market Share Fallen?
Friday

While shares of Apple's (NASDAQ:AAPL) top tech competitor Google (NASDAQ:GOOG) have stuck above $900 for the past several days, the iPhone maker has remained mired in concerns for its innovative capabilities. According to a recent survey commissioned by Bloomberg, 71 percent of respondents believe that the Cupertino-based technology company has lost its position as the lead industry innovator. Although 43 percent of respondents believe Apple will eventually regain its lead position, 28 percent believe Apple has permanently surrendered its innovation crown.
Ending a tough week, shares of Apple ended the week down 4.35 percent. The stock closed in the red on Friday as well, dropping down $1.32, or 0.30 percent, to $433.26. Here's a cheat sheet to today's top Apple stories:
Is Apple Losing This Huge Market to BlackBerry and Samsung?
Is the Indian market slipping through Apple's fingers? According to analyst Trip Chowdhry of Global Equities Research, Apple is indeed losing the hearts and minds of India's consumers due to a combination of several factors. One of the major reasons that Apple is failing in the Indian market is because of a lack of Apple stores. India has laws that prohibit the Cupertino-based company from opening a retail store without also establishing a manufacturing… (Read more.)
This Apple Supplier Is Still Messing Up Labor Practices
Longtime Apple supplier Foxconn is being squeezed between a rock and a hard place as the Taipei-based company tries to reduce workers' hours while simultaneously keeping up with production orders. The maker of Apple's iPad and iPhone products has been the target of scrutiny by the Washington-based Fair Labor Association ever since Apple became a member of the organization after a rash of Foxconn employee suicides in 2010.
Although the FLA says Foxconn has resolved almost all of its factory safety and worker condition problems, the Chinese manufacturer is still having difficulty meeting the July deadline for reducing workers' hours. So far Foxconn has reduced the maximum amount of weekly hours to 60. However, the company originally promised to reduce the number of weekly work hours to 40 with nine hours of overtime by July of 2013…(Read more.)
Apple CEO Wants Drastic Changes in Tax Laws
With less than a week to prepare for his appearance at a Senate hearing that is looking into Apple's offshore tax practices, CEO Tim Cook has announced that he plans to ask for a corporate tax law overhaul while he is in Washington. According to the Washington Post, Cook is seeking a "dramatic simplification" of the current corporate tax laws and will offer up several specific changes he believes will encourage more companies to repatriate overseas earnings. Apple currently keeps approximately $100 billion of its cash reserves overseas and out of the reach of America's tax collectors. Apple could face a corporate tax rate of 35 percent under current U.S. tax laws if it tries to bring its cash into the U.S… (Read more.)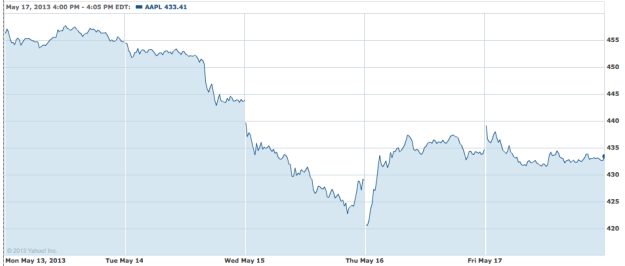 Don't Miss: Will the iPad Mini 2 Hit By Summer's End?