15 Huge Apple Stories Driving Shares Back to $450
Monday
Research firm Strategy Analytics reported last week that Apple's (NASDAQ:AAPL) share of the global smartphone market fell from 22.8 percent in the year-ago quarter to 17.9 percent in the first quarter, signaling further problems for the iPhone maker and its flagship device. Bernstein Research analyst Toni Sacconaghi took the company's third-quarter guidance as an indication that Apple's market share will continue to drop in the next several quarters. Yet, despite ongoing concerns, shares of Apple ended the day in the green — closing up $12.92, or 3.10 percent, at $430.12. Here's a cheat sheet to Monday's top Apple stories:
Apple-Samsung Fanboys, Microsoft Is Laughing At You
Despite Nokia's (NYSE:NOK) Lumia 920 being named the Smartphone of the Year by Endgadget readers, Nokia has had difficulties selling its Microsoft (NASDAQ:MSFT) Windows Phone 8 powered smartphone; in the first three months of 2013, Windows Phone accounted for just 5.6 percent of all global smartphone sales. While this figure represented an increase from the 3.7 percent share the operating system commanded in the year-ago quarter, the company is still finding it hard to convince buyers that there are more than two operating systems in the world: Apple's iOS and Google's (NASDAQ:GOOG) Android.  A recent advertisement created to showcase the Lumia 920 made fun of this way of thinking… (Read more.)
 Is Apple Borrowing Money a Sign of the Changing Market?
Historically, the vagaries of the technology market have bested any company too slow to change with the wind. Though its sheer size suggests that it could stay the course for a number of years regardless of headwinds, Apple announced last week that it would shift course, hike its dividend, and placate shareholders hungry for yield.
Previously, Apple was able to maintain investor demand in its stock by launching new products, increasing sales, and reaping massive products. But the company's rapid-growth phase is winding down and the company is ripening. Apple is expected to slowly transition away from a product-cycle-driven, hardware-focused computer company to more of a software and services company. This means flatter quarterly revenues and steadier earnings — appealing to shareholders not through share price growth but through dividends — as announced in the last earnings report… (Read more.)
Will the iPhone 5S Be Here Sooner Than Expected?
"We've got a lot more surprises in the works," Apple Chief Executive Officer Tim Cook said Tuesday in the company's second-quarter earnings call. "Our teams are hard at work on some amazing new hardware, software, and services that we can't wait to introduce in the fall and into 2014." While this statement has left analysts running rampant in their predictions for what those surprises might be — including the much-rumored smart watch — most seem sure that the so-called iPhone 5S will be among the products released this fall.
However, the surprise may be that the still as-yet-unannounced, next-generation iPhone may be coming sooner than expected… (Read more.)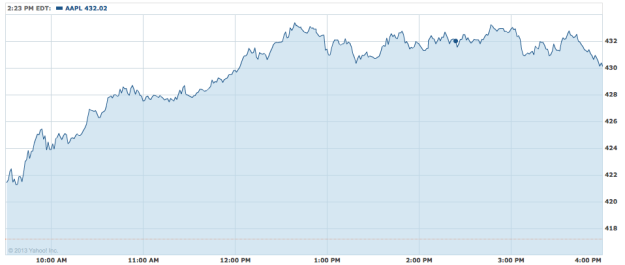 Don't Miss: Does This Patent Application Foretell a New Product from Apple?
Tuesday
Investors' concerns over Apple's (NASDAQ:AAPL) slowing sales growth and questions regarding the iPhone maker's future profitability have caused a significant sell-off; since hitting its all-time high in September of last year, the company's stock has lost close to 40 percent of its value. After dropping below the psychologically significant level of $400-per-share the week before reporting quarterly earnings, the company's shares hit a new 52-week low. While fiscal second-quarter results did little to assuage investors fears, shares have been trading slightly higher in the intervening week. The stock ended the day in the green on Tuesday, closing up $12.66, 2.94 percent, at $442.78. Here's a cheat sheet to Tuesday's top Apple stories:
Fitch Thinks Apple Is Riskier Business Than Microsoft
Even though the international credit rating agency Fitch does not have a formal credit rating on Apple, the iPhone maker's decision to borrow money to fund its share buyback program and increase of its quarterly dividend prompted the firm make a few comments about its credit worthiness.
In a report published Monday, Fitch analysts — led by James Rizzo — wrote that if the ratings firm were to release a public grade for Apple, "inherent business risk that overshadows a significant liquidity cushion" means that such ranking would likely fall "at the highest end" of the single-A category. This tier is at least three levels lower than the Aa1 rating held by Moody's and the equivalent AA+ grade assigned by Standard & Poor's… (Read more.)
Why Is Apple a Master of Satisfaction?
Apple is proving to be the master of satisfaction this week; two surveys in as many days have hoisted Apple to the first place spot.
On Monday, J.D. Power and Associates released the results of its survey on customer satisfaction with tablet manufacturers. In that competition, Apple took the cake with 836 points out of 1,000 possible. Amazon (NASDAQ:AMZN) came in second with a score of 829 for its tablets. All other brands, including Samsung (SSNLF.PK), fell below the 828-point industry average. Apple alone received a rating of "among the best" from the firm… (Read more.)
Analyst: Apple Love Is Like Muscle Memory
"If you think about the basics for Apple, it's build the best hardware platform on the planet, build the best software and ecosystem on the planet," Brian Marshall, an analyst at ISI, said on CNBC's "Squawk on the Street" on Monday.
That may sound like one part tall order and one part happy talk, but it's also basically true. For nearly a decade, with different hardware at different times, Apple did exactly that. The iPod proved to be a best-in-class music player, the iPhone revolutionized smart devices, and the iPad pretty much defined the product category. Macs may not have the same relative market dominance, but they are still a top-tier device… (Read more.)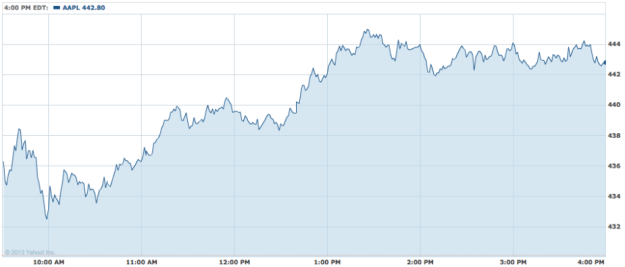 Don't Miss: Why Is Apple a Master of Satisfaction?
Wednesday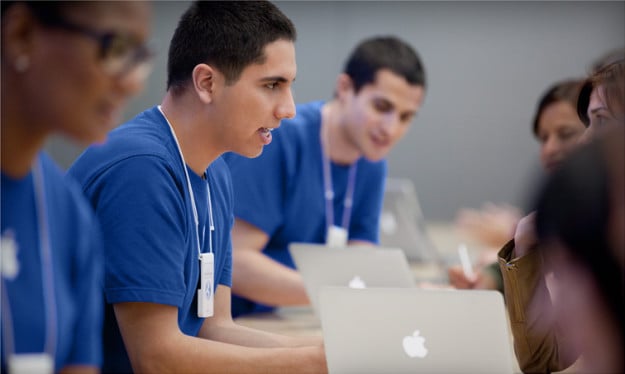 Last week, in anticipation of Apple's (NASDAQ:AAPL) venture into the debt arena, Moody's Investors Services and Standard and Poor's Ratings Service offered their investor grade ratings on the company's bonds. Moody's gave an Aa1 senior unsecured rating and S&P gave a comparable AA+. Although Apple received a slightly less than perfect credit rating from both Moody's and S&P, it was definitely much higher than what the tech giant has historically received. Back in the company's financial doldrums of 1997, it was unceremoniously given a junk rating by Moody's.
But while Apple's credit rating has noticeably improved, this change did not give investors any more credit. Shares ended the day in the red, closing down $3.49, or 0.79 percent, at $439.29. Here's a cheat sheet to Wednesday's top Apple stories:
Why Did This Big Investor Cut His Stake in Apple?
Is this big investor's Apple cutback a sign of trouble ahead for the company? Will Danoff, the manager of the tech-heavy Fidelity Contrafund, has expressed his "heightened concern" about Apple's  long-term prospects by cutting the equity mutual fund's stake in the Cupertino-based company by 1.46 million shares in the first quarter.
According to its quarterly report, this still leaves Contrafund with a substantial stake in Apple with 10.1 million shares at a value of $4.5 billion… (Read more.)
Analyst: Apple Revenue Will Grow Through June
As investors scrambled to get a chunk of Apple's $17 billion bond offering Tuesday, some analysts were still poring over the Cupertino-based company's 10-Q filing in search of potential upsides. Barclays (NYSE:BCS) analyst Ben Reitzes believes he found a minor upside that may indicate slightly higher revenue in the June quarter.
Ben Reitzes notes via Barron's that Apple's latest filing indicates expectations of $33.5 to $36.4 billion in June quarter revenue, based on the company's off-balance-sheet commitments such as advertising, research & development, and various manufacturing expenditures. Still, this is slightly better than Apple's guidance… (Read more.)
Apple's iOS 7 Redesign: Too Much, Too Late?
Is Apple making a strategic mistake by revamping its iOS 7 operating system on the cusp of its debut? Jonathan Ive, the Senior Vice President of Industrial Design at Apple, took charge of the human interface aspects of Apple's software after a major management realignment last October. Ive is initiating many revolutionary changes in the appearance of Apple's mobile-software programs, many of which haven't been altered since the debut of the original iPhone in 2007… (Read more.)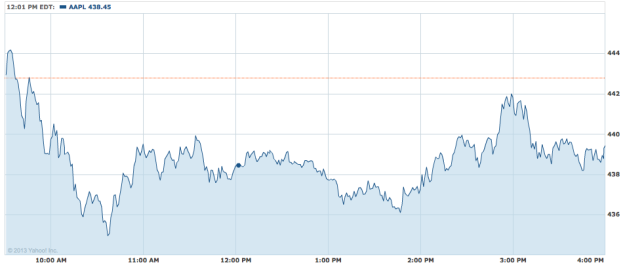 Don't Miss: Here's How Apple Went From Junk To Bond Champion.
Thursday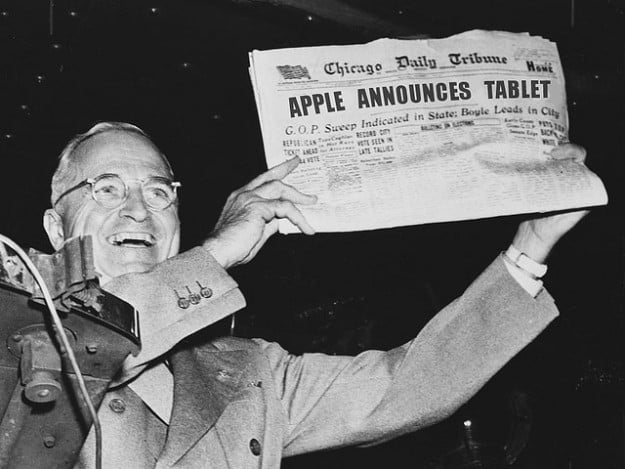 Is Apple (NASDAQ:AAPL) really in decline or is its recently falling share price given too much weight by most Apple analysts? Horace Dediu, who has a reputation as one of the most prescient and thoughtful Apple analysts working today, definitely believes that there are many exaggerated and distorted claims being made about Apple's so-called share price volatility. But the company's recent dip has concerned new Apple shareholders, who perhaps gave share price far more significance than it should objectively be given. Despite this thinking, Apple investors bid the stock up into the green Thursday following Wednesday's decline. The stock ended the day up $6.32, 1.42 percent, at $445.52. Here's a cheat sheet to Thursday's top Apple stories:
Apple Is Burning the Midnight Oil for This Project
The Worldwide Developers Conference, scheduled for June 10-14, is barely over a month away and nobody knows this more than the software engineers who are working on Apple's iOS 7 project. According to anonymous sources via AllThingsD, Apple's software engineers are burning the midnight oil in order to get iOS 7's reworked appearance ready in time for its preliminary debut at the WWDC… (Read more.)
Is Apple Plotting an E-Payment Evolution?
Is Apple gearing up for a major push into the e-payment arena? A recently published patent reveals that Apple is continuing to develop its near field communication capabilities, or NFC, in anticipation of future retail shopping technologies.
Although the patent has the unglamorous title of "Method of Setting Payment Option Preferences," this patent essentially outlines a future where your iPhone becomes your virtual wallet and shopping assistant. As stated in the patent abstract, it covers "systems and methods" for "a portable electronic device to provide smart menus to a user based on a context of a transaction."… (Read more.)
These Banks Made Hay With the Apple Bond Sale
Although the primary purpose of Apple's $17 billion bond sale was to provide funding for its $100 billion shareholder capital return plan, the unusually large offering also had a beneficial side-effect on Apple's underwriting partners. According to a U.S. Securities and Exchange Commission filing Wednesday, Apple paid the banks that assisted in the deal a total of $53.3 million in fees. These fees are typically split among the underwriters based on the proportional amount of the sale that each firm processed.
The main beneficiary of these fees was Goldman Sachs (NYSE:GS), which received a $38.3 million payout for handling 72 percent of the six-part bond offering… (Read more.)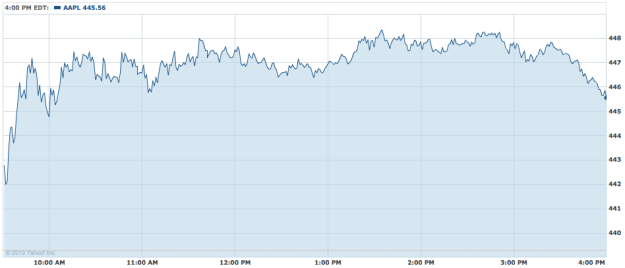 Don't Miss: Will Apple and Samsung Benefit From Sony's SmartWatch Failure?
Friday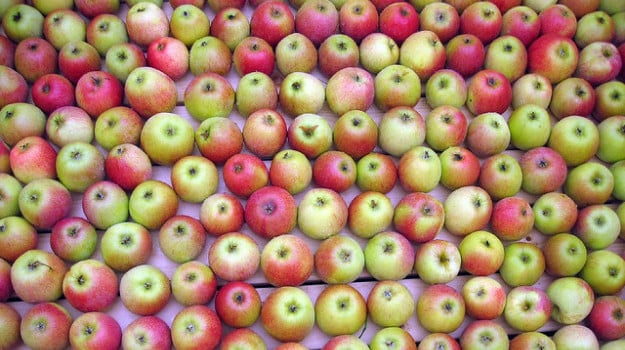 Both the S&P 500 and the Dow Jones Industrial Average surged to record highs on Friday, with the S&P closing above 1,600 and the Dow briefly trading above 15,000 for the first time as the stock market extended this year's rally. Even Apple (NASDAQ:AAPL) caught hold of the rally wave, ending the 5-day trading period up 7.86 percent. Shares also ended Friday in the green, closing up $4.46, or 1 percent, at $449.98. Here's a cheat sheet to Friday's top Apple stories:
Apple's Working On Scaling the Android Mountain
Apple continues to be the leading original equipment manufacturer, or OEM, in the smartphone market; while Google's (NASDAQ:GOOG) Android hangs on to its number one spot as the most popular smartphone operating system.
According to the analytic market research company comScore, Apple's share of the OEM smartphone market rose 2.7 percentage points to 39 percent during the last 3-month period ending in March. Samsung's (SSNLF.PK) Android-powered devices were used by 21.7 percent of subscribers during the same period. However, Samsung's OEM market share only rose by 0.7 percentage points, up from 21 percent in December… (Read more.)
How Much Did Apple Cough Up to Silence China?
It's no secret that Apple's reputation was battered in China earlier this year by various critical news stories from official government media outlets. Although Apple seems to have reached a détente in its relationship with the Chinese government, the question remains: how much did Apple's China troubles cost the company?
In its latest 10-Q filing, Apple states, "Accruals for product warranty for the three months ended March 30, 2013 include $414 million associated with product sales in prior fiscal periods reflecting the impact of changes to certain of the Company's service policies and other estimated warranty costs." This is widely believed to refer to the warranty adjustment that Apple made in China in order to appease its government detractors… (Read more.)
Can Apple Grab Another Slice of the Smartphone Market?
Is Apple missing out on an important slice of the smartphone market by neglecting to produce a low-cost alternative to its premium iPhone product? Five analysts from JPMorgan believe Apple is at a crossroads for a potential smartphone market expansion. This collaborative analysis was done by JPMorgan hardware analyst Mark Moskowitz, Gokul Hariharan of the firm's Asia-Pacific research unit, semiconductor market specialist Harlan Sur, LG Display and Samsung analyst J.J. Park, and European tech companies analyst Sandeep Deshpande.
Moskowitz notes that the greatest number of smartphone shipments is in the $575 to $700 range and the $75 to $200 range. However, these analysts believe that Apple could potentially dominate the mid-range $350 to $400 price range smartphone market if they were to produce a device in that range, while "keeping its design aesthetics unchanged."… (Read more.)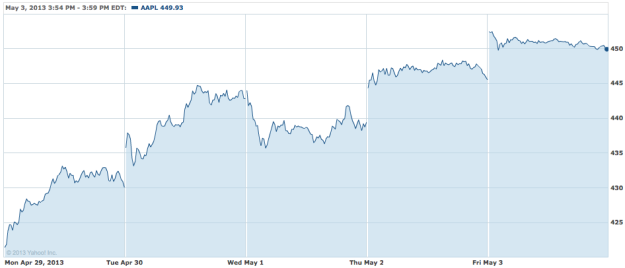 Don't Miss: Another Carrier Jumps on the Apple Bandwagon.