15 New Tech Products to Help You Start 2015 Off Right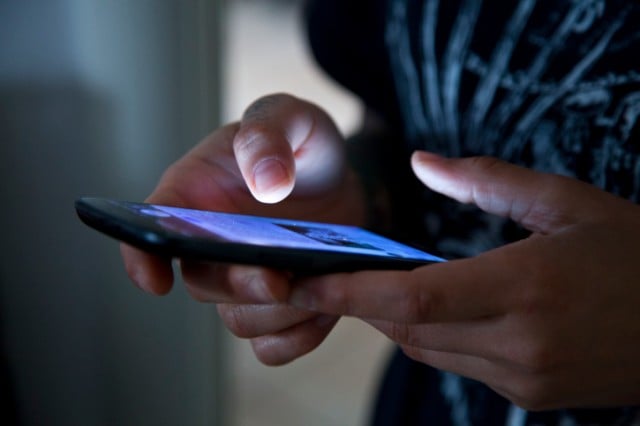 Are you constantly searching the Internet for the most innovative new apps, tools, and websites to test out and share with your friends? Then look no further. Each week, we look at the crowdsourced links posted to a website called Product Hunt, where users post their best finds and the community discusses and votes for its favorite new apps and tools. (In case you missed it, here's last week's edition.) Between 600 and 800 venture capitalists reportedly use the site — a great testament to its ability to surface products that would otherwise fly under most people's radars.
Product Hunt offers a look at what's new every day on its homepage, and anyone can submit a product for others to comment on and upvote. Users can either sign up for emails to be updated on the community's best finds or can check back each day to see what turns up. The products posted each day collect upvotes, which partially factor into the order in which the posts are ranked at the end of the day.
Each day's posts are kept separate from the next so that users can return to look back at what's been popular over the past week or month, or check the site daily to see what's new. Each listing includes a link to the product's website and often contains other related links, like its page in the App Store or recent media coverage. Users can join a discussion in the comments section for each product, and founders often join in on the conversation to answer questions or solicit feedback from early adopters.
We looked at the top-ranked new apps and innovations on Product Hunt last week and checked out the top two products that surfaced each day. (We added a bonus one to make 15, adding the product with the most upvotes that wasn't in first or second place on the day it was posted.) Upvote counts do change constantly, but all of ours were recorded as of the time of writing on Monday.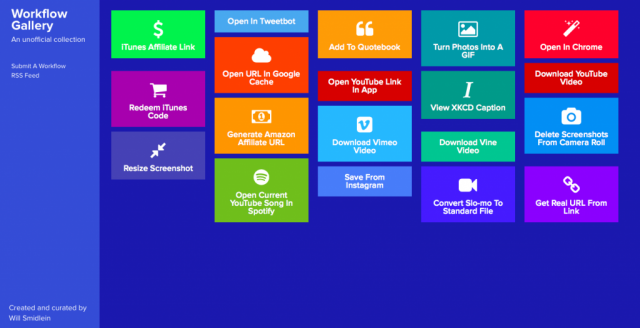 1. Workflow Gallery
Workflow Gallery came in first on Sunday, with 239 upvotes as of Monday. The website provides an "unofficial collection" of workflows for the iOS app Workflow, curated by developer Will Smidlein. Smidlein's collection features workflows to turn photos into a GIF, download a video from YouTube, save an image from Instagram, open a YouTube song in Spotify, and more. The Workflow app, with the tagline "Powerful automation made simple," enables users to connect apps and actions to automate the tasks that they complete on their devices. Workflow has more than 150 actions and even enables users to add workflows as apps to the home screen.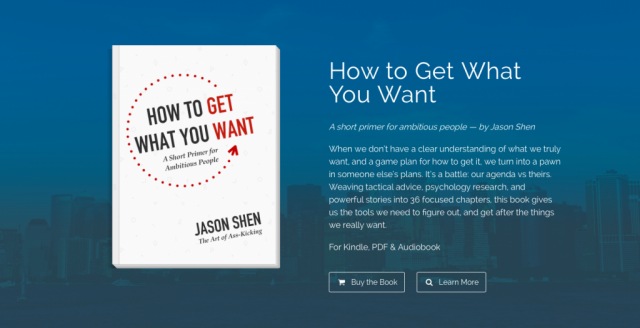 2. How to Get What You Want
How to Get What You Want came in second on Sunday, with 113 upvotes as of Monday. How to Get What You Want is "a short primer for ambitious people" written by Jason Shen, a marketing manager at Percolate. Shen says that he wrote the 36-chapter book, available for Kindle, as a PDF, and as an audiobook in a "2 week sprint over the 2014 holidays." The book addresses topics including "getting out of your own way," "how to manage more," "asking the right questions," and "marking your progress."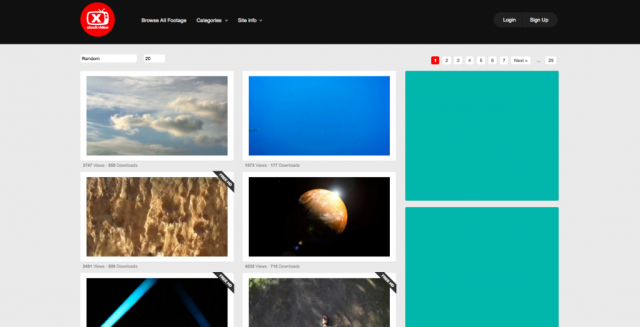 3. XStockvideo
XStockvideo came in first on Saturday, with 414 upvotes as of Monday. The site provides stock footage that is free to download and use in a "free to view" video project, and users who need footage for commercial purposes can opt to purchase an extended license for what the site says is a small fee. Product Hunt users say the clips can be used for video loops for landing pages, and people can browse for videos in categories like "Abstract/Textures," "Education/Science," "Healthcare/Medical," and "Nature/Landscapes."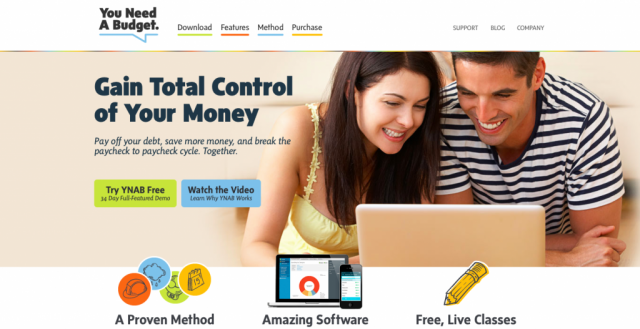 4. You Need a Budget
You Need a Budget came in second on Saturday, with 133 upvotes as of Monday. You Need a Budget provides personal budget software via desktop, iOS, and Android apps. The software teaches You Need a Budget's methodology for getting out of debt, saving more money, and breaking the paycheck-to-paycheck cycle. You Need a Budget provides a free online course to teach new users this methodology; the app costs $60 for Mac or Windows, or users can start with a 34-day trial.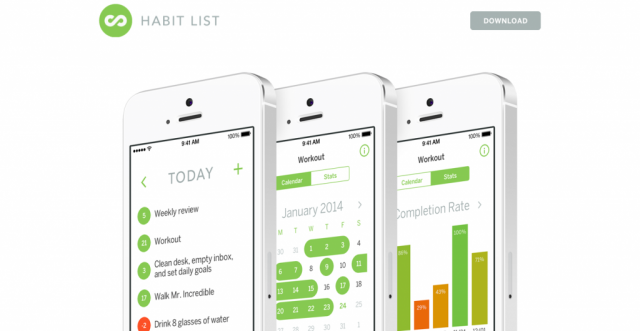 5. Habit List
Habit List came in first on Friday, with 392 upvotes as of Monday. Habit List is an iOS app that helps users create good habits and break unhealthy ones. The app aims to motivate users by keeping track of their streaks, helping them focus on their priorities by showing them which tasks are "due" on a given day, keeping them on track with reminders and badges, and enabling them to view trends over time: weekly and monthly completion percentages. The app enables users to choose three kinds of schedules — specific days, non-specific days, or intervals — for their habits, and helps them see what works and what doesn't so that they can switch days and times of tasks to get better at sticking with habits.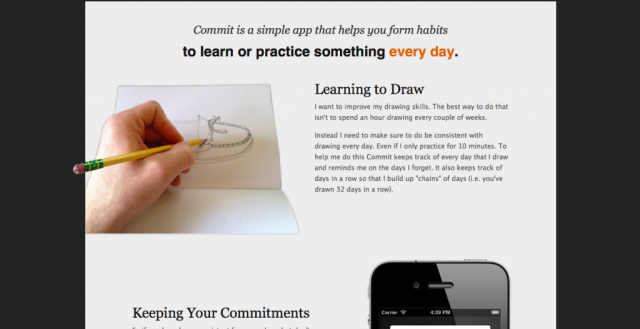 6. Commit
Commit came in second on Friday, with 174 upvotes as of Monday. Commit is an iOS app that helps users form habits by learning or practicing something everyday. The app tracks how many days in a row the user completes each commitment and uses the chain of successful days to motivate users to keep the chain going. Commit's App Store page notes that the app can help users form habits like drawing, running, language learning, practicing an instrument, programming, exercising, flossing, reading, practicing yoga, and more.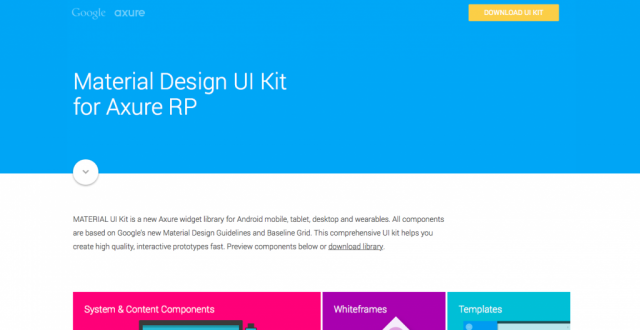 7. Material Design UI Kit for Axure RP
Material Design UI Kit for Axure RP came in first on Thursday, with 286 upvotes as of Monday. The Material Design UI Kit is a widget library for Android mobile, tablet, desktop, and wearable devices, with all components based on Google's Material Design guidelines and Baseline Grid, for Axure, an interactive wireframe software and mockup tool. The UI kit is intended to enable developers to create prototypes quickly. It includes system and content components, whiteframes, templates, and icons.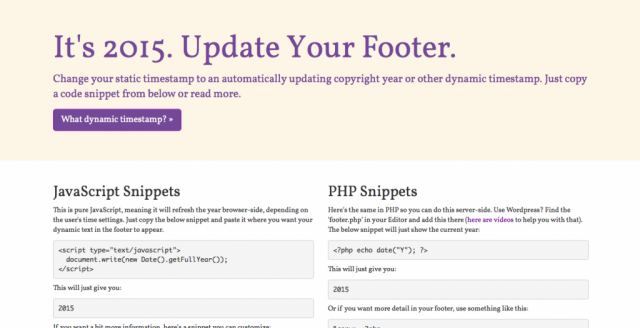 8. Update Your Footer
Update Your Footer came in second on Thursday, with 246 upvotes as of Monday. Update Your Footer is a tool that enables developers to change the timestamp on their websites to an automatically updating copyright year or other dynamic timestamp. A dynamic timestamp helps developers "future-proof" their websites, because, as the Update Your Footer site notes, "friends don't let friends look dead on the Internet."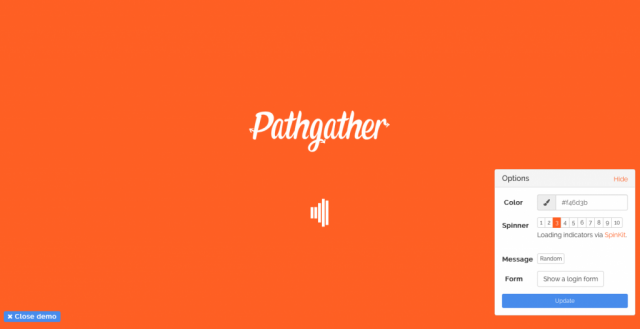 9. PleaseWait.js
PleaseWait.js came in first on Wednesday, with 423 upvotes as of Monday. PleaseWait is a library to show users a "beautiful splash page" while an application loads. Neville Samuell, an engineer at Pathgather, the company behind PleaseWait, explains on Product Hunt that the code is "a small snippet of JS & CSS that hides the main body and shows it again when your site is ready." Samuell notes that the tool is intended for apps — like Slack or Asana — that need to complete a significant amount of preloading before they are useful. Pathgather describes itself as "an NYC-based startup building a platform that dramatically accelerates learning for enterprises."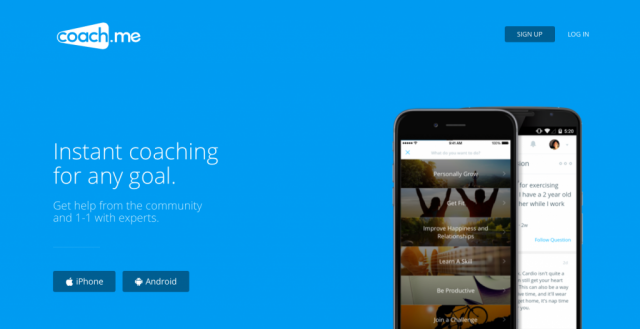 10. Coach.me
Coach.me came in second on Wednesday, with 289 upvotes as of Monday. Coach.me is a newly rebranded version of self-improvement and coaching app Lift, the name of which CEO Tony Stubblebine told the community and Product Hunt made it difficult to convince users "that we were more than a habit tracker." Users can get help from coaches and from the community to get "instant coaching for any goal." Community support through Q-and-A is free and enables users to learn from thousands of others pursuing the same or similar goals, or users can get in-app coaching with an expert for $14.99. The app is available for iOS and Android.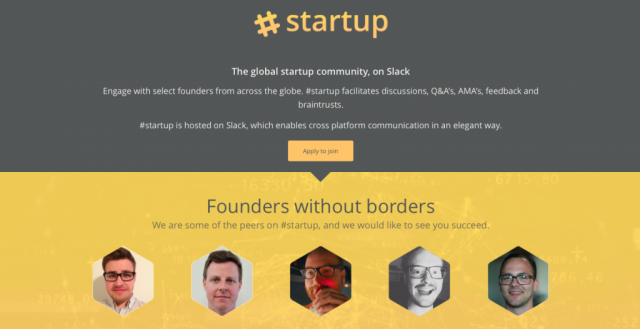 11. #Startup
#Startup came in first on Tuesday, with 509 upvotes as of Monday. #Startup is a global startup community on messaging app Slack. Hundreds of founders have joined the community, and users can apply to join by sharing an introduction about themselves and giving a one-time donation of about $24, which goes to the nonprofit Startup Foundation. (If applicants aren't accepted or aren't satisfied, they'll receive their money back.) The Startup Foundation aims to use #Startup to "bridge the gap between founders across the globe, and build a support network at the same time."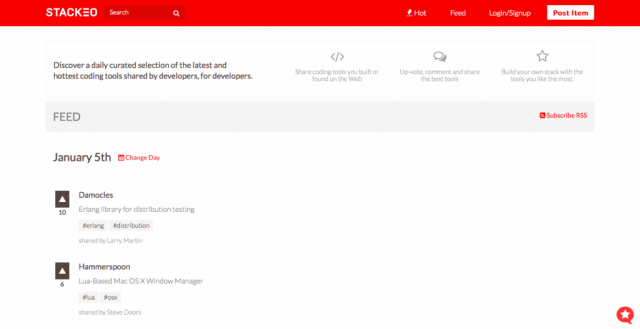 12. Stackeo
Stackeo came in second on Tuesday, with 239 upvotes as of Monday. The sites provides a daily, curated selection of "the latest and hottest coding tools," selected and shared by developers in much the same way that Product Hunt works. Users can share coding tools they've built or found on the Internet; upvote, comment on, and share the tools that others post; and build their own "stack" with the tools that they like the most. Users can also receive a weekly email with the best tools of the week.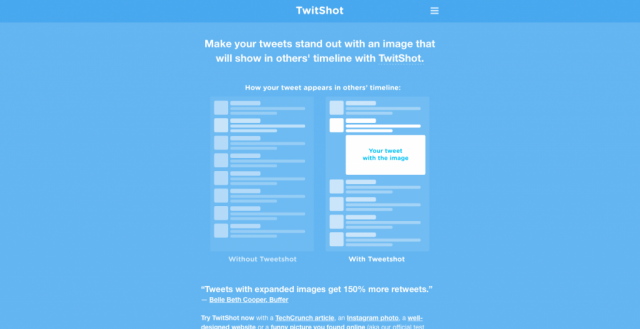 13. TwitShot
TwitShot came in first on Monday, with 275 upvotes as of the following Monday. TwitShot gives users an easy way to create tweets with images in them, which consistently get more interaction and retweets than those without images. TwitShot founder Romain Cointepas said on Product Hunt that instead of having to extract images from websites or articles manually, save them locally, and upload them to Twitter, TwitShot users just type their tweet with links, and the tool automatically extracts images and screenshots. The tool also solves the problem of Twitter's automatic cropping of an image.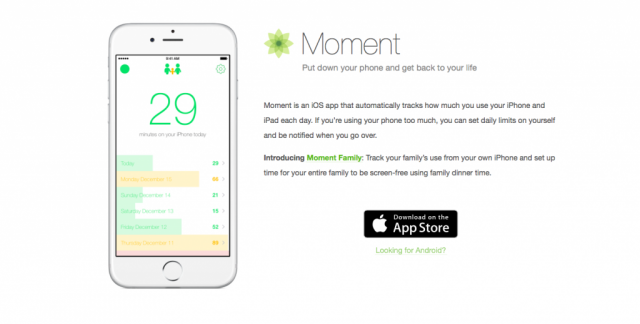 14. Moment 2.0
Moment 2.0 came in second on Monday, with 120 upvotes as of the following Monday. Moment is an iOS app that enables users to automatically track how much they use their iPhone and iPad each day, set daily limits for themselves, and get notified if they exceed those limits. The new version of Moment adds the Moment Family feature, which enables users to track their family's use from their iPhone and set up time for the entire family to be screen-free, such as during dinner.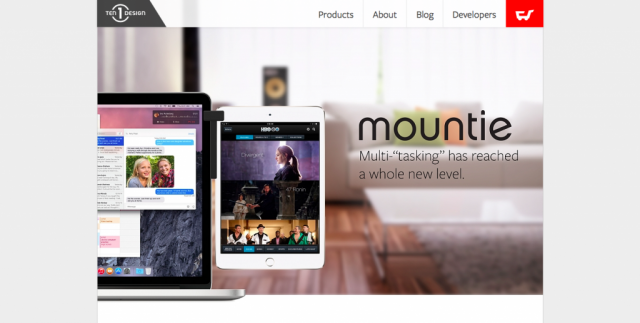 15. Mountie
Mountie came in third on Tuesday, with 200 upvotes as of Monday. Mountie is a product by Ten One Design that enables users to mount an iPhone or iPad to their MacBook as a second screen. (The device works with any tablet or phone between 5 mm and 9 mm, and also works with most laptop computers.) Mountie is preloaded with interchangeable rubber grips and is built with a clamp designed specifically for the purpose of enabling users to use "any app that helps you make it through the day" next to the work they're completing on their laptop.
Want more great content like this? Sign up here to receive the best of Cheat Sheet delivered daily. No spam; just tailored content straight to your inbox.