2 Analysts: Let's Examine Apple's Bearish Stock Pattern
Some Apple (NASDAQ:AAPL) analysts are spending the Easter weekend worrying about the future direction of their Apple shares after Apple laid some "technical traps" in the abbreviated trading week before the holiday. According to Apple analyst Tim Parker at Benzinga, there are essentially three "traps" that have been created by Apple's recent stock movements.
First, Parker notes that Apple is "well below its 50 day moving average." Apple closed down 2.08 percent at $442.66 on Thursday and the simple moving average over a 50 day period was at $455.09. However, Parker also notes that the trading week was shortened, so volume was unusually low for the week. As Parker states, "Technical moves on low volume are often discarded in the short-term."
Secondly, Parker notes the technical formation of a bearish head and shoulders pattern, or HSP. The left shoulder was formed in March and April 2012, and the head was formed from Apple's high of 705 in September of 2012. As Parker states, "If the right shoulder forms, look out below."
Finally, Parker notes that "the recent top is a lower high than the $480 high set in early February. If the pattern continues, a break below $420 is certainly possible."
Apple analyst Ernie Varitimos at AppleInvestor, thinks the estimated target might be even lower. Using an HSP formula, he calculates the target price for Apple might soon be driven down to 355. As Varitimos states, "That's pretty scary, because if this pattern plays out, there's still a mountain of pain in store for long term investors of Apple."
However, even Varitimos believes that no amount of technical analysis can say for sure exactly what a stock will do. As he points out on AppleInvestor, "90 percent of all traders lose money, so take all this analysis with a good dose of skepticism."
Apple closed down 2.08 percent at $442.66 on Thursday, at the end of a shortened trading week. The chart below shows Apple's stock movement over the past three months in comparison to the simple moving average over a 50 day period.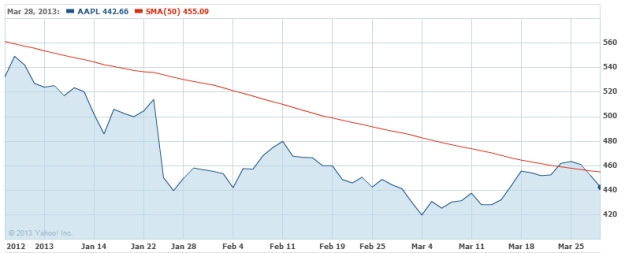 Don't Miss: Analyst: Apple Will Hit $274 In Six Months.