2 Ways to Invest in the Wireless Revolution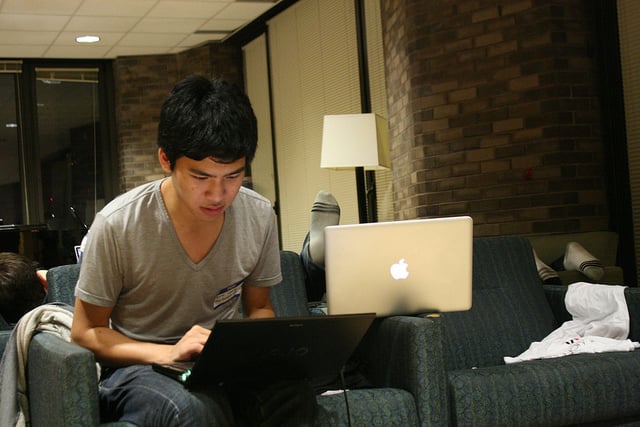 Most people thought Matt Rogers and Tony Fadell were crazy to leave Apple (NASDAQ: AAPL) in 2010 to try and start-up a small company focused on wireless home automation. Without any initial startup funding, the two bootstrapped a prototype thermostat that they eventually used to raise money from Google (NASDAQ:GOOG) and other investors. Over the next three years, the two grew the company to over 200 employees and shipped between 40,000 and 50,000 thermostats per month.
In January, Google acquired the wireless "internet of things" company for a lofty $3.2 billion. The move provides Google with a way to capitalize on a new wireless revolution that's changing the way that people interact with technology. Nest's focus on thermostats and smoke detectors represents just a tiny fraction of the market, but with a $3.2 billion valuation, it underscores just how large the relatively untapped market is for investors.
In this article, we'll take a look at three ways to invest in companies like Nest that are using wireless technologies to disrupt some very large industries.
Capitalizing on Wireless Healthcare
Most people are familiar with how diabetes patients operate on a daily basis. After using a blood glucose meter to measure blood sugar levels, they may inject themselves with an insulin shot in order to stabilize the body's metabolism. Wireless technologies are starting to revolutionize markets like these by automating certain tasks that would otherwise require error-prone human intervention, such as giving insulin shots after a reading.
Johnson & Johnson's (NYSE:JNJ) OneTouch Ping is the first full feature insulin pump that wirelessly communicates with a blood glucose meter remote. Using the blood glucose meter alone, patients can opt to wirelessly deliver insulin doses without touching the pump at all, giving them more freedom, discretion, and flexibility. The process also removes some of the potential for errors that can hamper the effectiveness of treatment.
Johnson & Johnson has also invested in other wireless technologies designed to revolutionize healthcare, such as Text4Baby where it is a founding partner. The first-ever free mobile health service provides timely and expert health information via SMS messages to pregnant women and new moms through a baby's first year. The service also connects women to local prenatal and infant care services and resources.
Wireless module makers like AmbiCom Holdings Inc. (BB: ABHI.PK) are positioning themselves to capitalize on the increasing number of medical device makers incorporating wireless functionality into their products and services. In 2012, the company reported $3.3 million in revenues, $1.75 million in gross profit, and $530,000 in net income. These metrics make it one of the few profitable and growing OTC companies.
The company's OEM wireless modules are incorporated into medical devices like wireless glucose meters or patient monitoring systems. Since its customers must obtain FDA clearance for the design and components found within medical devices, the company benefits from long-term recurring revenue that's tied to device sales. Recently, management announced new slim and ultra lightweight SDIO cards that reduce power consumption, increase connection speeds, and support encryption technologies.
Investors interested in capitalizing on the growth in wireless technologies within the healthcare space may want to consider companies like AmbiCom Holdings that are focused on providing the raw components or companies like Johnson & Johnson that are releasing wirelessly-enabled products into consumer end markets. Next up, we'll take a look at how wireless technology is revolutionizing the industrial sector.
Investing in the "Internet of Things"
Imagine that a factory has a series of robotic workers assembling car parts. Suddenly, one of the robots breaks down and the assembly line is halted. A nearby freelance field technician instantly gets a call outlining the exact nature of the problem. He drives to the factory where the replacement parts are all ready and waiting for installation. After just 15 minutes of downtime, everything is back up and running.
These scenarios are made possible by machine-to-machine (or, M2M) communication. When the robot broke down, a wireless signal was sent to the technician's cell phone and the factory's parts warehouse, coordinating the repair without human intervention. A recent report called the M2M Bible projected that demand for these applications would drive the industry to reach $136 billion by the end of 2018 — a 23 percent compound annual growth rate.
Sierra Wireless Inc. (NASDAQ:SWIR) provides wireless modems, mobile hotspots, wireless embedded modules, OEM software, intelligent wireless gateways, and other products that form the backbone of the rapidly growing M2M industry. In 2012, the company generated nearly $400 million in revenue and reported its first full-year of profitability since 2008. But 2013 could be the company's most transformative year yet.
Early last year, the company sold its AirCard assets to NetGear Inc. (NASDAQ:NTGR) in order to refocus on the M2M market and used the proceeds to acquire AnyDATA's M2M assets in October and In Motion Technology. Management grew organic revenues by 11 percent to a record $442 million and significantly improved profitability with EBITDA that increased 48 percent to $18.7 million. In Q1 2014, the company expects to generate $117 to $121 million in revenue.
Investors looking to buy into Sierra Wireless may want to look beyond the lofty P/E multiple to the P/B, P/S, and P/CF multiples that are well below the industry average. In addition to the strong growth, investors may have the opportunity to acquire the stock at a reasonable price at the moment.
Take Away Points to Remember
Wireless technologies are quickly revolutionizing a number of different sectors, including healthcare and the industrial sector. Investors that want to capitalize on these two sectors have many opportunities, ranging from AmbiCom Holdings and Johnson & Johnson in healthcare to companies like Sierra Wireless in the industrial M2M space.
Originally written for SECFilings.com, a leading provider of SEC filings, real-time alerts, and in-depth analysis, with a team of experienced financial writers that cover quarterly/annual reports, insider trading/hedge fund activity, and IPOs, spin-offs, and other disclosures of interest identified from time to time within documents filed with U.S. regulatory agencies. SECFilings.com may be compensated for its services in the form of cashed-based compensation or equity securities in the companies they write about, or a combination of the two. For a full disclaimer, click here SECFilings.com/disclaimer.aspx.
More From Wall St. Cheat Sheet: