20 Android and iOS Apps to Give You Privacy and Anonymity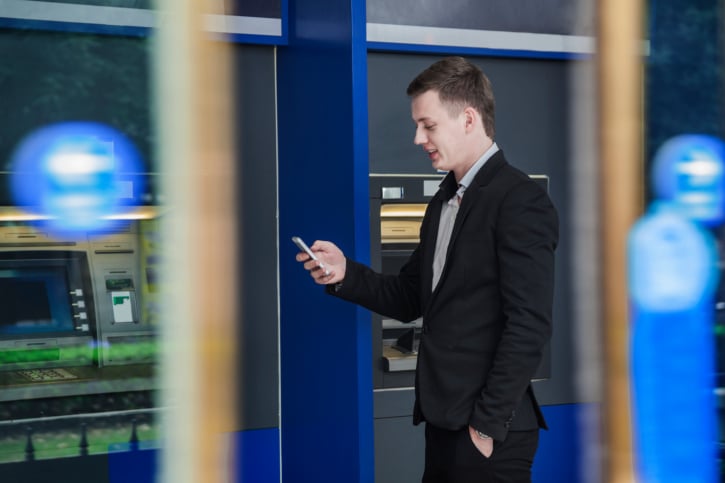 As websites, advertisers, and social networks put increasing effort into tracking your activity both on your computer and on your smartphone's apps and browser, it seems like a good idea to be more conscious of how private your mobile activities really are.
Among a growing number of privacy and security focused apps, there are tools that can help keep your mobile browsing private, keep you informed of the implications of the privacy policies that you agree to, or protect the data on your phone in the event that you lose it or it ends up in the wrong hands. Other apps can enable you to send secure and private messages, keep your passwords and financial information safe, or secure the photos and videos you keep on your device.
Still others are anonymous sharing apps that aren't exactly about privacy, but let you post your thoughts publicly without connecting them to your social media profiles. As Vox's Alex Abad-Santos recently reported, the growing popularity of "stealth sharing" apps like Secret and Whisper could, on the surface, seem to demonstrate that we're learning from constant admonitions to refrain from sharing every detail of our lives on social networks like Facebook or Twitter.
We could be choosing not to post every thought and make every comment that we'd like to, whether for fear of future repercussions or out of caution brought on by the realization that nothing we share online is ever truly private. But in reality, these apps are less about privacy and more about anonymity — about finding a way to publicly share a thought without having the consequences to answer to (i.e., without having the thought, admission, gossip, or rant associated with their name and the curated online persona that each of us projects with the content we choose to post on social networks).
There are apps that are built specifically to protect your privacy and keep your personal information from ending up in the wrong hands. There are also apps that build that functionality into an app with another use, providing more privacy minded versions of the tools and utilities that you use on a daily basis. Then there are apps that use anonymity to enable you to say and do things that you probably wouldn't normally say or do if it weren't for the excitement of sharing and connecting anonymously. The following list divides 20 apps among those three categories so that you can find exactly what you're looking for to keep your browsing, activities, and messaging private — or at least anonymous.
Apps That Exist Solely to Protect Your Privacy
Apps in this category all focus on protecting your privacy — whether that means alerting you to what personal information your apps have access to or actively blocking the trackers that are looking to detect what you're doing and where.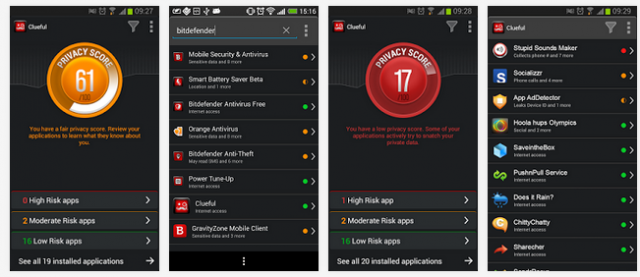 1. Clueful Privacy Advisor (web app for iOS and native app for Android)
Clueful is a free app that shows you how the apps you have installed on your smartphone use your personal information. It checks what apps are doing in the background without your knowledge and gives your device a "Privacy Score" with information on which apps are compromising your privacy. Clueful continually checks apps against Bitdefender's database of verified apps, and lets you search for apps to find out how they use your data before you even download them.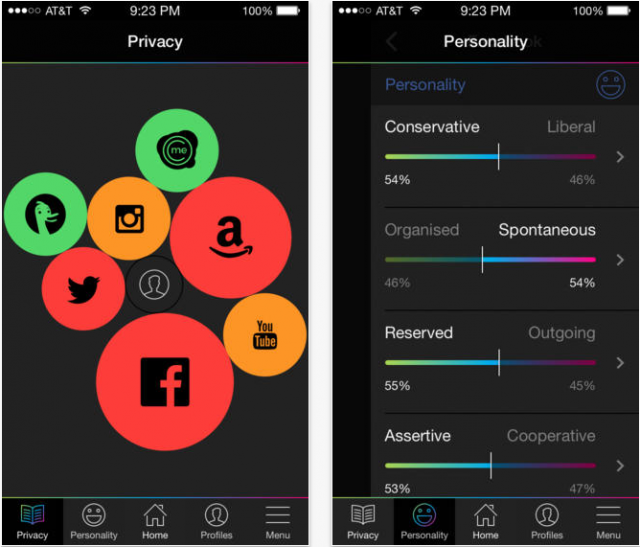 2. CitizenMe (iOS with Android coming soon)
As we reported in July, CitizenMe enables you to check the privacy and service policies of a variety of popular apps installed on your phone with the app highlighting parts that are controversial or otherwise concerning. CitizenMe displays each app's icon in a specific color with policies that are good for the user earning an app a green circle, apps with policies that are not good for users showing up in red, and policies that fall somewhere in between signaled with a yellow icon. The app can also gauge the personality that you project on each social network, explaining how Facebook, as an example, perceives you (and targets adds to you).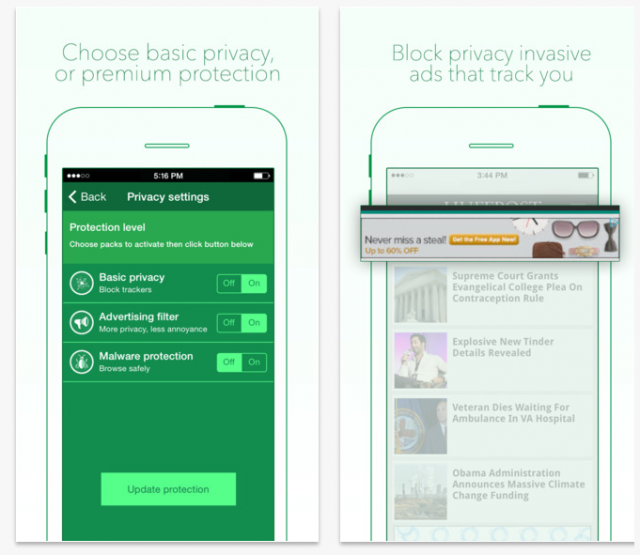 3. Disconnect Mobile (iOS)
Disconnect is a privacy app that actively blocks major mobile trackers that want to monitor your activity as you use an app or a mobile browser. It blocks "the biggest" mobile trackers from collecting your information, blocks ads from more than 2,500 ad tracking services, and blocks thousands of websites that are suspected of malware, spyware, and phishing scams. (While the same app isn't available for Android, Disconnect does offer a Disconnect Search and Secure Wireless apps on the Google Play Store.)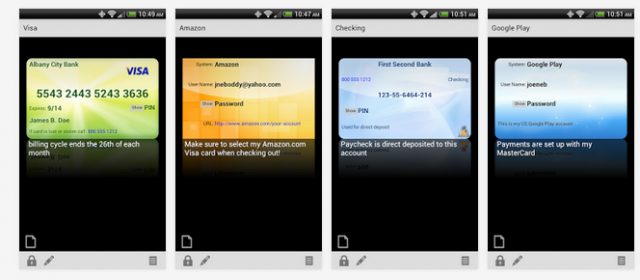 eWallet is a password manager and "secure storage database wallet" that locks your passwords, credit cards, and bank account numbers behind what it describes as "military-grade encryption." Its 256-bit AES encryption protects your information, and the app includes added security with an auto-lock feature. Users can sync their information between devices — even from an iPhone to a Windows PC. eWallet also has a built-in password generator, an AutoPass feature to easily log into websites, and the ability to add a note to each card where passwords and numbers are stored.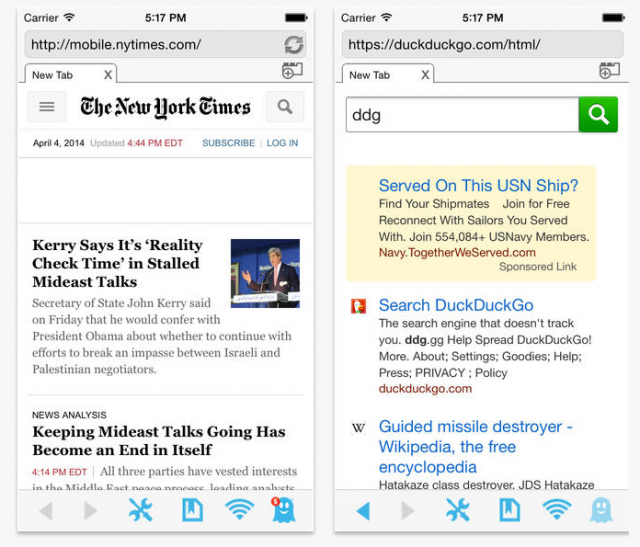 Ghostery helps you to protect your privacy by showing you what it refers to as "the 'invisible' web," which encompasses the "trackers, web bugs, pixels, and beacons placed on web pages by Facebook, Google, and over 500 other ad networks, behavioral data providers, web publishers — all companies interested in your activity." The app lets you learn more about each company, and provides you with links to privacy policies and opt-out options. You can also choose to send anonymous information to Ghostery so it can create a comprehensive list of trackers.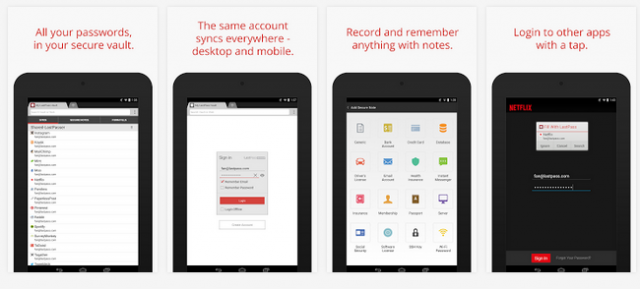 LastPass is a password manager that securely syncs your passwords across all of your browsers and devices. It saves your passwords and gives you secure access to them on your computer or your smartphone, and you only need to remember your LastPass password, since LastPass can automatically fill in all of your logins for you whenever you need them. LastPass can also securely store your memberships, credit cards, and other personal information, and share logins with your friends or family when necessary.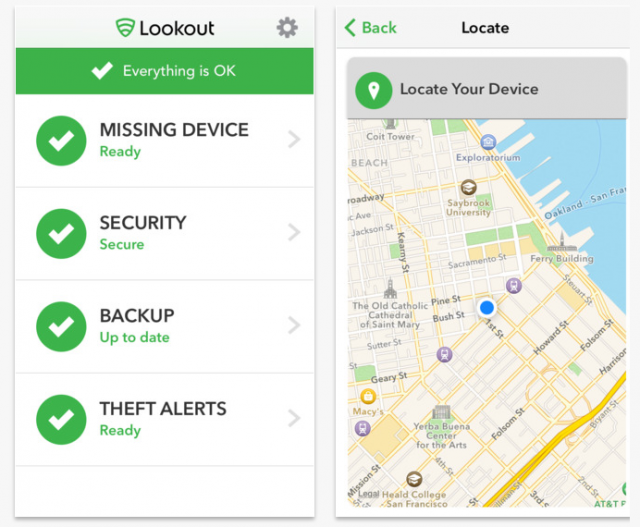 Lookout gives you several privacy and security focused functions in one app. With a registered Lookout account, you can go to Lookout.com to locate your phone if it's lost (Lookout saves the device's location before it runs out of battery), view backed-up data (like contacts, which are backed up automatically), and manage devices. When your phone is lost, Lookout can display a custom "lost" message with contact details, sound an alarm to find it, even if it was left on silent, or call the device over the Internet. Additionally, Lookout features app scanning to protect your phone against viruses, malware, adware, and spyware, and the premium version includes a privacy advisor and theft alerts.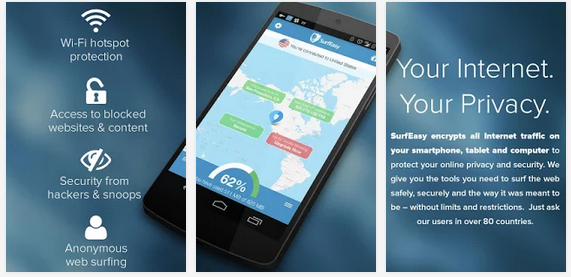 8. SurfEasy VPN (iOS and Android)
SurfEasy VPN protects your privacy with 500 mb of free VPN service each month. It protects the security of your smartphone on WiFi hotspots, prevents ad tracking, and encrypts all of the data coming in and out of your phone. SurfEasy enables you to browse anonymously, mask your IP address and location, access blocked websites from anywhere, including unblocking Facebook, SnapChat, Instagram, Twitter, YouTube, Skype, and others on networks that block them. You can earn more data by referring friends or adding more devices to your account, or upgrade to a premium, unlimited subscription.
Apps That Do Things That Regular Mobile Apps Do, Just Privately
These apps combine some of the privacy and security minded functionality of the dedicated privacy apps with an interface to complete regular mobile activities like sending messages or organizing photos.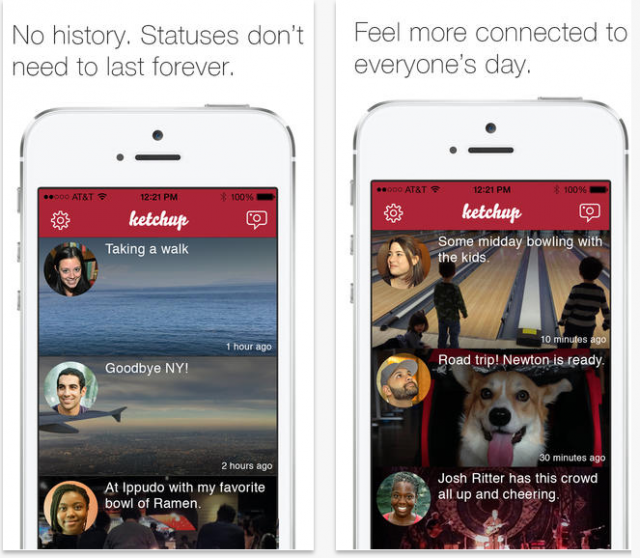 9. Ketchup (iOS)
Ketchup enables you to privately share status updates with your friends and family. Instead of broadcasting moments from your day to everyone on traditional social networks, like Facebook, Twitter, or Instagram, Ketchup enables you to organize people into groups, and to share different statuses with each group. Also unlike Facebook, each person has only one status, which he or she keeps updating. When you update your status, the old one is gone.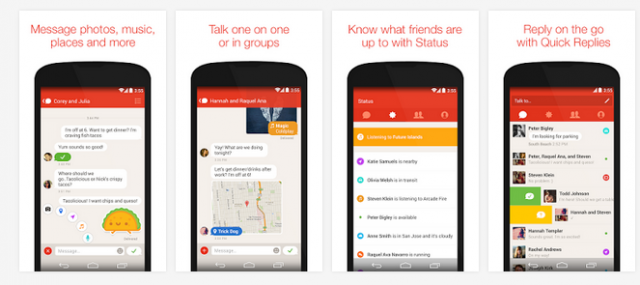 10. Path Talk (iOS and Android)
Path Talk is a private messaging app that enables you to send messages, photos, videos, voice, music, maps, and more either one on one or in small groups. All messages are erased from Path's servers 24 hours after you send them, and all message types are free to send. Path Talk also features an "Ambient Status," which automatically updates to let your friends know whether you're in transit, in their neighborhood, listening to music, or even if you're low on battery. A feature "coming soon" will enable you to send messages to places to book reservations, make appointments, get prices, and check a product's in-store availability. The feature will rely on a 24/7 network of "Path Agents" to call the business for you, get the information, and text it back to you.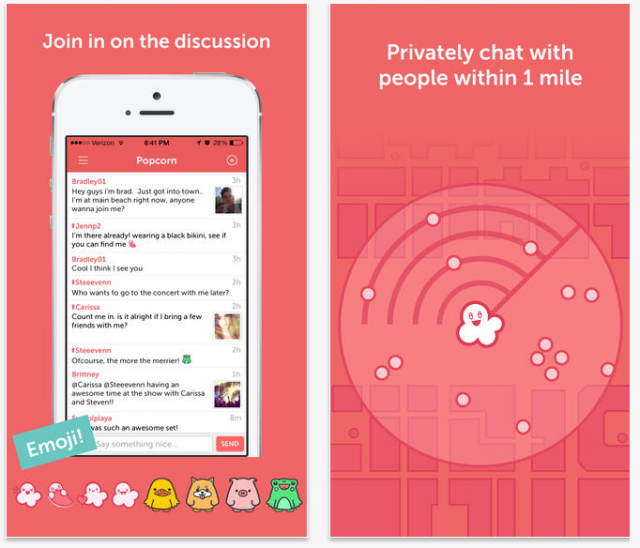 11. Popcorn Messaging (iOS and Android)
Popcorn Messaging enables you to text message your friends without cell service or an Internet connection, and instead uses Bluetooth or WiFi radio to set up a local network for you and your friends, which is useful at events like concerts and festivals where cell networks are burdened by heavy use. You can chat privately with people who are within one mile of you, and discover what people are doing, meet new friends, and share thoughts with the local community. You can earn "Explorer" points by opening the app in a new area, and use the app at school campuses, dorms, concerts, and conventions.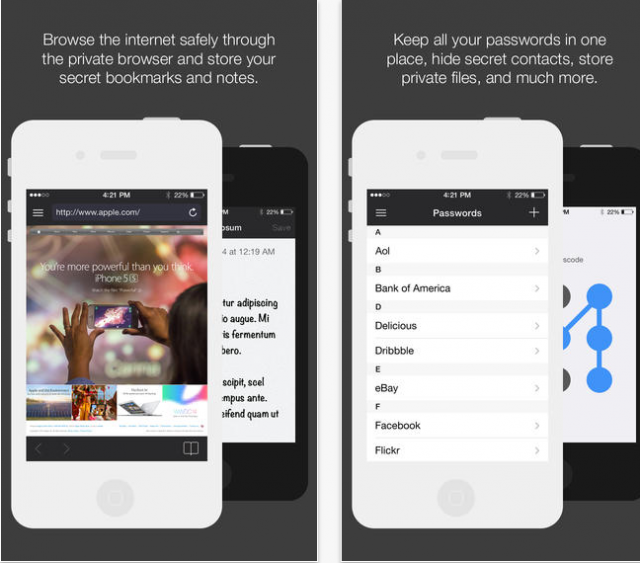 12. Private Calculator Plus (iOS)
Private Calculator Plus looks like (and is useful as) a regular calculator until you type in your password. Then, it turns into a private storage space where you can securely store photos, videos, notes, files, contacts, passwords, and bookmarks. It also functions as a private mobile browser, which won't save your history. With the file manager, you can transfer files from a Windows PC or a Mac, and easily export photos or videos. Private Calculator Plus also features four different kinds of locks, and break-in reports.
13. Safety Photo+Video (iOS)
Safety Photo+Video enables you to keep photos and videos private so that if your friends or your child get a hold of your phone, you'll be able to keep media you'd rather not let them see secure. The app lets you passcode-protect your photos and videos, with a dot pattern lock style or passcode lock style. You can also take photos from within the app, easily import and export photos, and share photos via Bluetooth with other phones that have the app installed.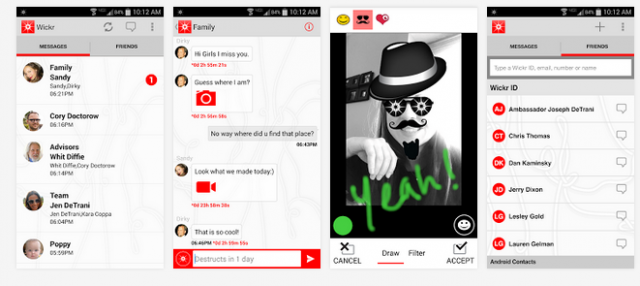 Wickr is a messaging app that enables you to send self-destructing, secure, private, and anonymous messages and media to others who use the app. You can send and receive text messages, photos, videos, voice messages, and PDFs, and as the sender you get to decide how long the recipient sees your message. Each message is encrypted with its own key, which Wickr doesn't have, and Wickr says that only the sender and the recipient see the data, no "strangers or servers" in between. Each message can only be read on the device it was sent to, and a Secure File Shredder erases deleted messages.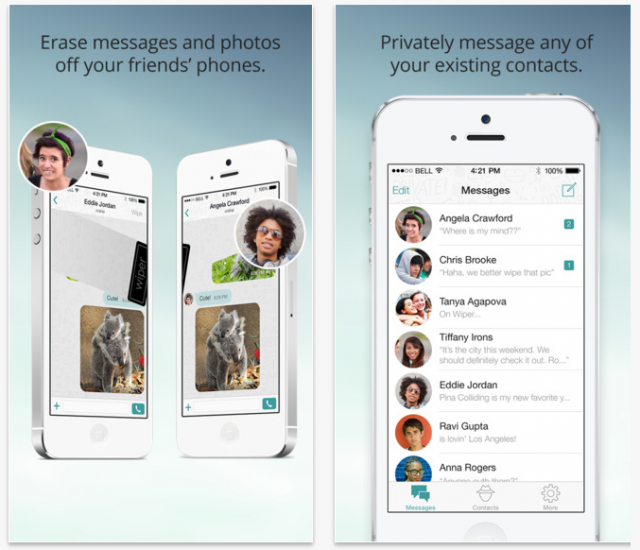 Wiper is a private music sharing app that also supports private texting and calling. You can share music and make playlists together, and also have private conversations. You can control how long your messages exist, and with a tap of the "Wipe" button, you can erase your messages from both sides of the conversation — on your phone and on your friend's — and get rid of any temporary record on Wiper's servers. The app also notifies you when your messages have been read or wiped, or if a friend takes a screenshot or forwards a photo or video. You can also call other Wiper users worldwide for free; calls are encrypted, and Wiper doesn't keep a call log.
Apps That Use Privacy and Anonymity to Let You Do and Say Things That You (Probably) Wouldn't Normally
While the previous category consists of apps that combine functionality that you'd normally use — messaging or photo organization — with a focus on privacy, the following apps push the boundaries of privacy and anonymity to enable people to post things that would normally be outside of their comfort zone to say if the activity were attached to their more public online personas.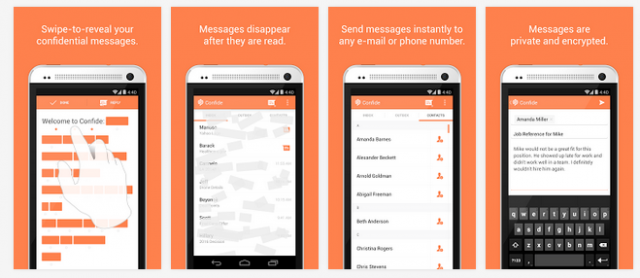 Confide describes itself as an "off-the-record messenger" app, which combines end-to-end encryption with disappearing and screenshot-proof messaging. You swipe to reveal a confidential message, which effectively prevents screenshots, and messages disappear once they've been read. You can send private and encrypted messages to any email address or phone number, and receive read receipts.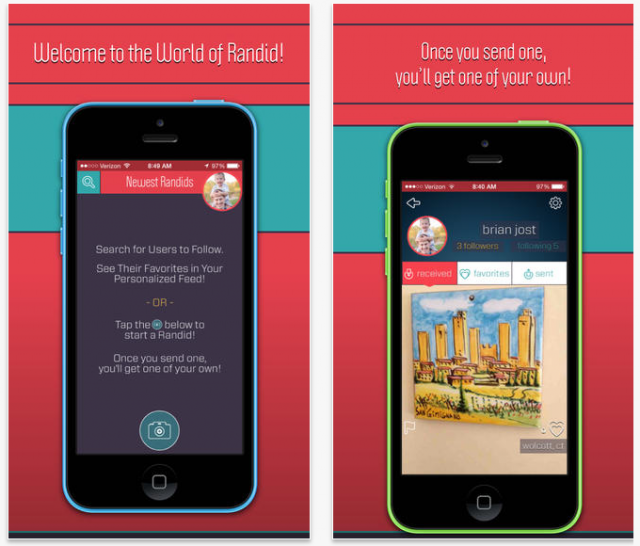 17. Randid (iOS)
Randid enables you to trade photos with other (random) users of the app. By tapping the camera icon, you can send a "random pic." Once you've sent a photo, you'll receive a photo from another user. You can share the photos that you receive with your Facebook friends, and while you don't know who's receiving your photos, you can see if they're being favorited and spread throughout the Randid community.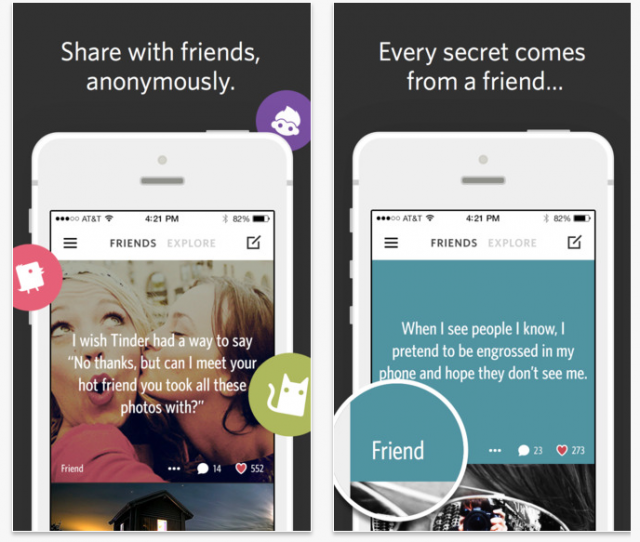 Secret is an app that's famous for enabling you to share content anonymously with friends, co-workers, and others nearby. The app is known as a platform for people to share thoughts and information that they wouldn't otherwise tell anyone. Secet divides posts between two tabs, "Explore" and "Friends," so that you can see posts either by people that you know (detected with personal information like your phone number, social networks, or contacts list) or by a wider base of Secret users.
It's interesting to note that Apple, Google, and Microsoft are facing a preliminary injunction from a Brazilian judge who wants the app not only removed from app stores, but also remotely wiped from all devices in Brazil, as AppleInsider reports. The decision is based on a claim that Brazil's constitution prohibits anonymous freedom of expression, applied to protect against anonymous cyber bullying.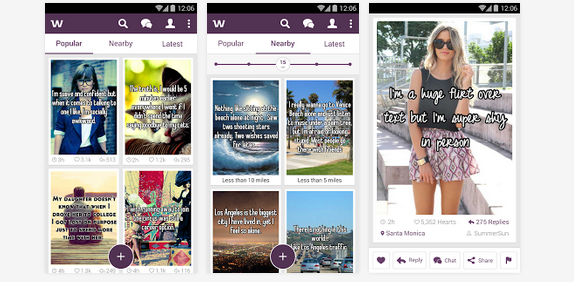 Whisper is another app that enables you to anonymously share your thoughts. With Whisper, you can add photos, choose a typeface, add tags to help other users find your Whispers, discover Whispers from around the world by topic, and connect with other users via private messaging. Whispers are accessible to anyone who wants to see them, and the app lets anyone read your secrets, thoughts, or gossip in exchange for letting you read anyone's secrets, thoughts, or gossip.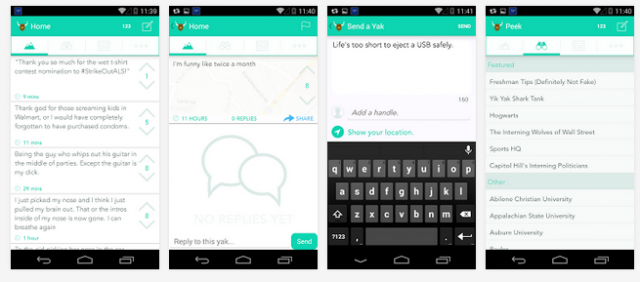 20. Yik Yak (iOS and Android)
Yik Yak is an app that describes itself as a "local bulletin board" that shows you recent posts by the other users around you. You can connect with and share information with other users without knowing them, and spread news, jokes, shout-outs, and funny experiences through your community. You can also upvote and downvote other users' posts and get a live feed of what's going on around you while keeping your privacy.
[mediagraph-partner content_url="c3d1f79f983757e8820f3221″][/mediagraph]
More From Tech Cheat Sheet:
Want more great content like this? Sign up here to receive the best of Cheat Sheet delivered daily. No spam; just tailored content straight to your inbox.