3 Companies Not Exactly Smiling After Apple's Big Event
After months of rumors and unofficial leaks, the long-awaited day finally arrived. On Tuesday, Apple held its special event in Cupertino, California. The tech giant unveiled new iPhone 6 models and its first wearable device. While the new gadgets were undoubtedly the stars of the show, some investors and traders are trying to figure out what Apple's product line means for other companies in the market.
Sometimes one just isn't enough. The new iPhone 6 comes in two different sizes. The iPhone 6 will have a 4.7-inch screen, while the iPhone 6 Plus will offer a 5.5-inch screen, placing it in the phablet category. These are the biggest iPhones in Apple's history, but they are also the thinnest. Both contain the new A8 chip with 64-bit architecture and M8 motion coprocessor, along with better battery life and iSight cameras.
Apple also unveiled the Apple Watch, which the company calls its "most personal device yet." Apple Watch comes in three distinctive collections to offer consumers easy choices for personalization. The crown on each watch is a multifunctional input device that lets you zoom, scroll, and select without covering the actual screen. Sensors even allow for a more in-depth fitness experience and actually learn about the way you move to suggest custom fitness goals.
Despite the numerous leaks over Apple's latest products, the market appeared to be surprised by the actual details. Let's take a look at three companies that did not enjoy Apple's big day, at least according to initial stock price movements.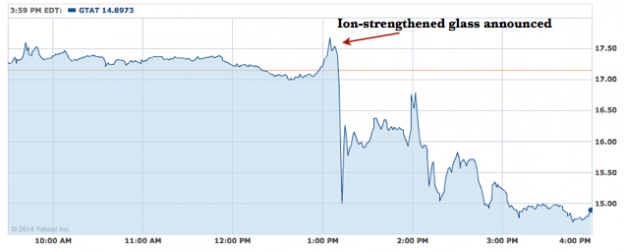 1. GT Advanced Technologies
The technology company produces advanced materials and innovative crystal growth equipment for the global electronics, solar, and LED industries. On Tuesday, shares of GT Advanced Technologies sank nearly 13 percent.
As the chart above show, details about the iPhone 6 models weighed heavily on shares. The new iPhones will not use sapphire glass made by GT Advanced Technologies, as originally predicted by some investors and analysts. Instead, the iPhone 6 and iPhone 6 Plus will both use ion-strengthened glass, which involves a chemical process to make displays stronger.
On the positive, two of the three Apple Watch collections will use sapphire crystal in the their displays. Furthermore, sapphire glass is used on the iPhone 6 camera lens.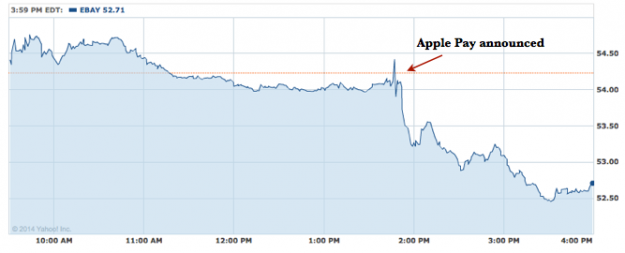 2. eBay
The online auction site is also the owner of PayPal, an international e-commerce business allowing payments and money transfers to be made through the Internet. PayPal is the most attractive growth component of eBay, but Apple made investors think twice about the long-term picture. On Tuesday, shares of eBay declined 2.8 percent as Apple moves into the payment business.
The new iPhone 6 models will feature Apple Pay, which aims to change how you pay for goods and services through payment technology. It essentially allows you to safely store credit and debit cards in your iPhone 6. Instead of searching for your wallet, simply swipe your phone at participating retailers. The near-field communication (NFC) antenna in the iPhone 6 doesn't even require you to open an app in order to pay.
More retailers will participate in NFC over time, but currently there are more than 220,000 locations accepting Apple Pay, including Macy's, McDonald's, Nike, and Disney. The feature can also be used within Target's own shopping app. Apple Pay is available via major credit card companies, including Visa, Mastercard, and American Express. More financial institutions are expected to adopt Apple Pay in the coming months. Apple Pay becomes available as a free update in October.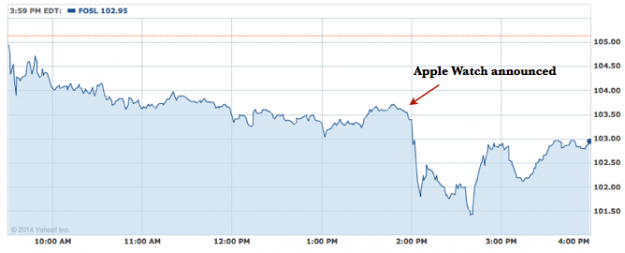 3. Fossil Group
Apple products have always contained a certain fashion element to them, but now design is even more crucial. The Apple Watch is the company's first wearable device and could have a significant impact on the watch industry.
Shares of Fossil Group, an American designer and manufacturer of watches and jewelry, fell 2.1 percent on Tuesday. It's still too early to tell how successful Apple's watch will be, but traders did not waste any time selling the news. The Apple Watch will be available in early 2015. The Apple Watch will start at $349, which is significantly more expensive than starting prices on traditional watches.
Disclosure: Long AAPL
Follow Eric on Twitter @Mr_Eric_WSCS
More from Tech Cheat Sheet: