3 Reasons Facebook Is Already Dominating Mobile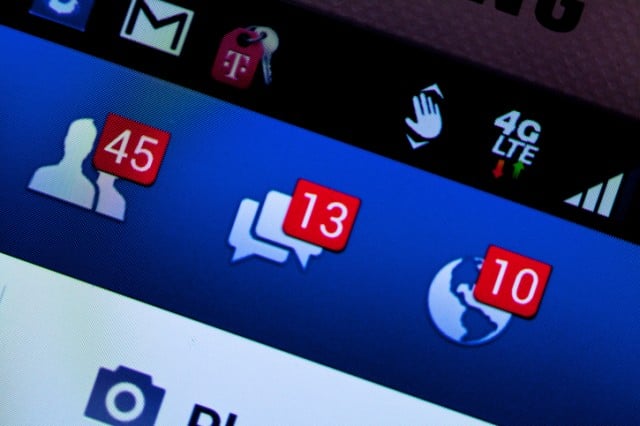 Facebook is already one of the world's top mobile companies, and plans to stay on the top of users' and advertisers' lists. In a recent piece titled "Facebook is simply crushing it in mobile," Quartz reports that Facebook's future depends on its ability to dominate the mobile Internet in the same way it quickly grew on desktop. The social network is determined to live up to that impressive standard, and so far is performing extremely well.
Facebook has recently moved to bring favorite, previously desktop-only features to mobile to improve the experience for the many users who check the social network several times per day on their smartphone. Facebook is jockeying for the affection of news junkies with the addition of the trending tool to mobile, as per Re/code, and is bringing a rebranded version of Graph Search to mobile to keep users in the app for a longer period of time, also according to Re/code.
But beyond simply translating the desktop experience to mobile, Facebook is building an expansive mobile ecosystem that will help it win the hearts of users and advertisers, and its strategies are working. Read on for three ways that Facebook is growing into one of the world's top mobile companies.
1. Facebook dominates app stores with its chart-topping apps
Facebook's Newsroom reports that as of the end of September, Facebook had 1.12 billion mobile monthly active users (and 703 million mobile daily active users on average for September). That wide reach shows up on the app charts, where App Annie reports that Facebook was the leading company for iOS App Store and Google Play store apps combined in October (the most recent data it's released).
Of the top 10 most-downloaded apps on iOS and Android, four were Facebook-owned apps. Facebook Messenger came in first on iOS, followed by the Facebook app in second, Instagram in fourth, and WhatsApp in sixth. On Android, Facebook Messenger also came in first, followed by WhatsApp in second, Facebook in third, and Instagram in fourth.
As App Annie notes, Facebook has a total of 44 apps distributed by 17 publishers and 7 subsidiaries. Even the apps distributed directly by Facebook on the iOS App Store now number eight: Facebook, Facebook Groups, Facebook Mentions, Facebook Messenger, Facebook Pages Manager, Paper, Rooms, and Slingshot. On Android, it has six: Facebook, Facebook Groups, Facebook Pages Manager, Home, Messenger, and Slingshot. And on the Amazon Appstore, it has three: Facebook, Facebook Messenger, and Facebook Pages Manager. Facebook's Instagram subsidiary has three apps on iOS and two on Android, and WhatsApp has one app on iOS and two on Android. More apps are distributed by subsidiaries with less-familiar names, like Branch Media, Jibbigo, Onavo, Parse, and ProtoGeo.
While not all of those apps are hits, chief executive Mark Zuckerberg is committed to creating single-purpose apps, which will all likely serve as testing grounds for Facebook's other innovations. The New York Times reports that in a recent public town hall meeting, Zuckerberg told the audience, "If you're successful, most of the things you've done were wrong. What ends up mattering is the stuff you get right."
As Quartz notes, Facebook's user base continues to grow, primarily in developing markets and on mobile. The company's acquisitions of WhatsApp and Instagram are expected to help it offset what appears to be an exodus among younger users. Per the Washington Post in October, a Piper Jaffray report found that between fall 2014 and spring 2014, Facebook use among teenagers dropped from 72% to 45%. But the same demographic of users love Instagram, which recently surpassed Twitter in its number of monthly active users, and keeps Facebook expatriates in the family.
2. The social network now accounts for one-fifth of all mobile data in North America
A recently released Sandvine report shows that Facebook now accounts for 19.43% of all data used on smartphones in North America. Facebook leads in "upstream" data, accounting for 22.36% of that traffic, and is behind only YouTube in "downstream" data. YouTube accounts for 19.75% of that traffic, versus Facebook's 19.05%. And Facebook pulls ahead in the aggregate of upstream and downstream data, with its 19.43% share exceeding YouTube's 18.02%. Facebook-owned Instagram also accounts for a significant amount of traffic, at 2.55% of upstream data, 4.49% of downstream data, and 4.27% of aggregate share.
As Quartz notes, Facebook's traffic is up about 5% over the first half of the year, and Sandvine attributes the increase to the autoplay function that Facebook introduced for videos earlier in the year. Each time that a user scrolls by a video, it automatically begins playing (unless the user has turned the autoplay function off). The uptick in data usage suggests that most users have opted to leave the autoplay function on, and Sandvine explains that watching a video, "which is essentially 24-30 photos being displayed in your feed each second," makes the data add up quickly.
Facebook isn't the first to see its mobile traffic rise considerably thanks to video. When Instagram added video to its service, Sandvine observed a significant increase in the app's bandwidth usage worldwide. While it's not clear how quickly or slowly the rollout of autoplay is taking place globally, Quartz notes that the rollout of autoplay video is likely intended to prepare users for autoplay video ads.
3. Facebook is expanding its advertising ecosystem
As Quartz notes, mobile now accounts for two-thirds of Facebook's advertising revenue. With a huge audience on mobile and an array of information on each of those users, Facebook is positioning itself as a platform that can accurately target specific groups of users with marketers' advertisements as the need for infrastructure that can understand users' behavior online, offline, and on multiple devices grows.
VentureBeat reports that at Facebook's recent AdTech event, Facebook laid out its vision for how its advertising ecosystem will grow and change over the next two years. The social network's user base and the extensive information that it has about its users "gives us the foundation for what advertisers want," according to Brian Boland, Facebook's vice president of Ad Tech, "and to get messages in front of people. We're moving from a mass reach product to a personalized product."
Facebook built Custom Audiences to help businesses target ads to existing customers, and reference them against a list of those who saw ads, demonstrating impressions on web or mobile lead to purchases. Then it bought Atlas, a platform that enables advertisers to serve and track digital ad campaigns, to understand not just online advertising, but mobile advertising, and to tie online and offline behavior together. It acquired LiveRail, a video advertising company, to help advertisers target users with relevant video ads. And it launched Audience Network, which enables advertisers to extend their Facebook ad campaigns to other mobile apps.
TechCrunch notes that Facebook has a unified understanding of users' identities in ways that most platforms don't. It can target gender with an accuracy of 90% compared to the industry standard of 50%, and will leverage its strengths in targeting and measurement, and the advantage of its sheer scale, to fight rivals like Google, Yahoo, AOL, and Twitter for the ad dollars poised to flood into digital and mobile advertising.
More from Tech Cheat Sheet:
Want more great content like this? Sign up here to receive the best of Cheat Sheet delivered daily. No spam; just tailored content straight to your inbox.