3 Reasons Why Apple Operates in the Best Sector Imaginable
How do you pick an attractive stock? Some investors take a bottom-up approach that focuses on attributes of individual companies, while others use a top-down strategy and forecast how the overall economy or certain sectors will perform. Either way, it's hard to ignore the promising future of the tech sector and the world's largest public company, Apple (NASDAQ:AAPL).
Thanks to Apple and other major companies, society is becoming more digital by the day. Last year, the worldwide smartphone market shipped more than 1 billion units for the first time in history, according to data from IDC. In comparison, 725 million smartphone units were shipped in 2012. Smartphones are increasingly becoming the standard as they accounted for 55.1 percent of all mobile phone shipments in 2013, up from 41.7 percent a year earlier.
Despite the strong growth in smartphones, there is still significant room for improvement. Cisco released a report earlier this year that found smartphones represented only 27 percent of total global handsets in use last year. By 2018, it's estimated that over half of all devices connected to the mobile network will be smart devices. This bodes well for Apple, which receives more than half of its revenue from the iPhone.
Considering the rise of smartphones and the Internet of Things, let's take a look at three charts showing why Apple operates in the best sector imaginable.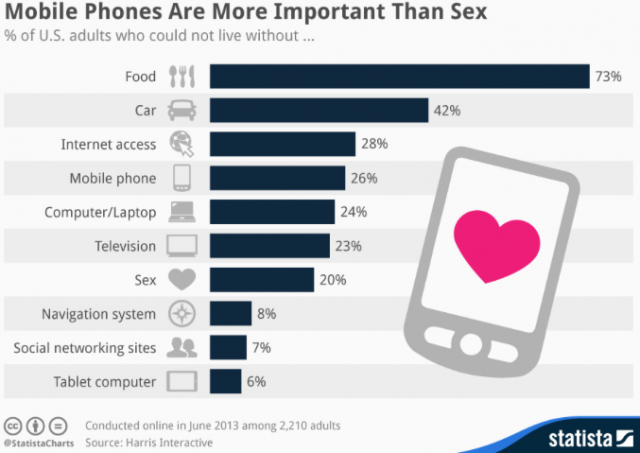 1. Importance
For better or worse, mobile devices are one of the most important aspects of our lives. A recent poll from Harris Interactive finds that 28 percent of Americans say they are unable to live without Internet access. As the chart above shows, 26 percent even say mobile phones are more important than sex.
The majority of Americans check their smartphones at least a few times a day, while 35 percent check constantly, according to Bank of America's latest Mobility Report. Nearly half of Americans say they can't last more than one day without their phones. The report notes: "The youngest Millennials (ages 18-24) view their mobile phone as most important to their daily lives (96 percent)—even more than the Internet (88 percent), deodorant (90 percent), and their toothbrush (93 percent).
2. Trend
The target audience for mobile devices is becoming younger, effectively increasing Apple's customer base. According to a new report from NPD Group, ownership of tablets in households with 2- to 12-year-olds increased to 59 percent this year, up from 50 percent last year. In fact, 48 percent of kids ages 2 to 12 use tablets, compared to 38 percent in 2013. Almost half of parents say their children are playing on tablets more than last year.
"Most households have electronics such as tablets, and in some cases children not only use these devices, they are the primary owners," said Juli Lennett, president of the Toys division at NPD Group, in a press release. "The role of technology in children's lives cannot be overlooked, and parents recognize that, while sometimes struggling with it. This generation is using technology as their coming-of-age play source, as past generations have done by moving to other items or methods of play as they aged."
While traditional toys are still popular among children younger than 10, technology items are just as popular among the 10-12 age group. As the chart above shows, 70 percent of 10- to 12-year-olds own technology items, slightly ahead of the 69 percent that own traditional toys. The report also finds that many tech gadgets are handed down to children. Smartphones are the most likely to be handed down, followed by e-readers, consoles, and the iPod Touch.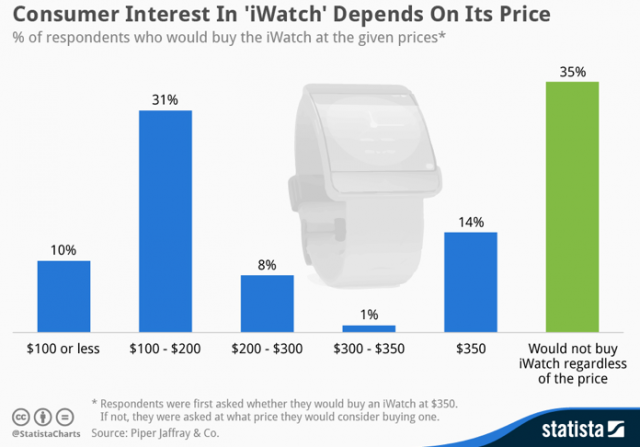 3. Possibilities
The future is unknown, but the possibilities are exciting. The Internet of Things is slowly expanding to wearable devices, which could lead to healthier lives. It's still speculation at this point, but Apple is believed to be working on a wearable device, currently referred to as the iWatch. Earlier this month, reports revealed that Apple hired two former Nike employees who worked on the FuelBand. Nike fired the majority of its FuelBand team earlier this year as the company decided to focus on software instead of hardware.
Although the iWatch is not expected to be as successful as the iPhone, consumers show interest in a wearable device from Apple. As the chart above shows, 31 percent of consumers polled by Piper Jaffray may purchase the rumored iWatch if the price tag is between $100 and $200. Another 23 percent show interest if the price is between $200 and $350. Longer-term, wearable devices could become the norm for improved health care.
"Our overall health — lifespan, disease rate, and quality of life — will greatly improve by 2025 due in large part to the Internet of Things," explains David-Michel Davies, executive director of The Webby Awards, in a Pew Research Center report. "One of the big opportunities it will provide is the ability to close our own feedback loop – to incorporate real-time biometric feedback into our lives. Even today, in 2014, relatively rudimentary and simple apps like Nike + and 24/7 (an app that uses the Motion x chip in the iPhone to passively tracks steps, sleep pattern etc.) is supporting improved fitness and quality of life for millions of people."
More From Wall St. Cheat Sheet:
Follow Eric on Twitter @Mr_Eric_WSCS
Want more great content like this? Sign up here to receive the best of Cheat Sheet delivered daily. No spam; just tailored content straight to your inbox.
Disclosure: Author is long AAPL