3 Surprising Theories About Apple's Rumored Car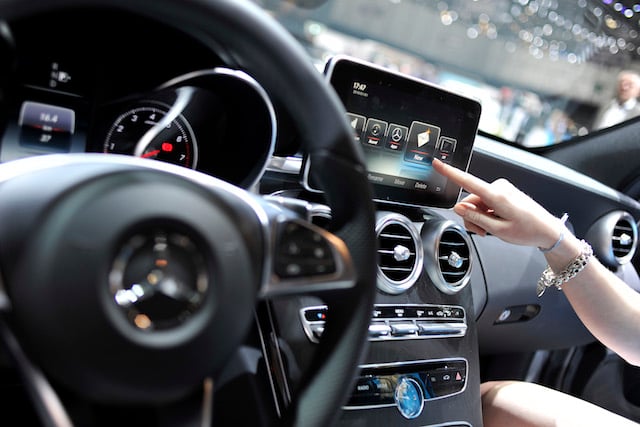 One of the hottest topics of discussion and speculation as of late is the rumor that Apple is working on building its own electric car. While industry watchers can't agree on whether such a car would be self-driving or not, whether Apple has the expertise to tackle the complex automotive manufacturing process, or whether the car reportedly under development will ever reach the market, the news of the latest project brewing in Cupertino has inspired almost everyone with something to say about Apple to theorize about the project.
In case you have some catching up to do, here's a quick timeline of the reports that sparked the major deluge of speculation about why Apple's interested in cars and what its rumored efforts in the area will yield in the future. On February 9, Business Insider reported that an Apple employee emailed with news about "vehicle development" at the company, a project that allegedly has Tesla employees "jumping ship" to work at Apple. The source wrote that "Apple's latest project is too exciting to pass up. I think it will change the landscape and give Tesla a run for its money."
On February 13, an article in The Wall Street Journal reported that Apple has hundreds of employees working toward creating an Apple-branded electric vehicle. The project, codenamed "Titan," is reportedly working on the design of a vehicle that resembles a minivan. Chief executive Tim Cook reportedly approved the project almost a year ago, and gave the green light for the creation of a 1,000-person team.
On February 14, the Financial Times reported that recent recruits to Apple's team includes the head of Mercedes-Benz's Silicon Valley R&D unit. Steve Zadesky, an Apple veteran who led the teams developing the original iPod and iPhone, is reportedly leading Apple's automotive research lab, and sources said that the background of recent hires and the seniority of the executives involved suggest that an electric car is in the works. "Three months ago I would have said it was CarPlay," reported one source. "Today I think it's a car."
Also on February 14, Reuters reported that a senior auto industry source said that Apple is looking specifically at creating a self-driving electric car, and is exploring how to make an entire vehicle, not just designing software or individual components. The source said, "Fully automated driving is an evolution. Carmakers will slowly build the market for autonomous cars by first releasing connected and partially automated cars. Apple is interested in all the potential ways you can evolve the car; that includes autonomous driving."
Whether you believe the reports and rumors or not, they've cause a variety of further speculations and theories to surface. From bloggers to analysts to entrepreneurs to The Onion, everyone seems to have something to say about the direction Apple's car project could take.
Gene Munster thinks it's all a conspiracy theory
Piper Jaffray analyst Gene Munster isn't buying into the theory that Apple will release a car anytime soon — or that it even really intends to. Munster said in a note to investors, according to Quartz, "While it appears Apple is serious about at least experimenting in the car space, we believe it is unlikely that the company launches anything in the next five years." As Quartz explains, Apple has for many years been rumored to be working on a television (and Munster, for one, is convinced that it will happen). Televisions are much closer to Apple's core product than cars, so it would be odd to imagine Apple releasing a car before a television.
Quartz notes that the recent influx of reports and rumors on Apple's car project stems in part from the "media echo chamber" surrounding the secretive company. So Munster thinks that the car rumors amount to little more than a publicity stunt, designed to keep investors excited about Apple's future and bolstering its share price. "We believe that the potential for a car gives investors something, along with the Watch and TV, to look at as the next big thing," Munster writes. As Business Insider reports, Munster's argument continues:
Given the WSJ article's report that Apple CEO Tim Cook approved project Titan a year ago, the question is why is this information coming out now? We believe the most logical answer is to provide investors with some insight into Apple's coming plans without making any public statements. History seems to be circular for Apple as many wonder if Apple can break the $1 trillion dollar market cap barrier, which is similar to the speculation when shares were at their highs after the iPhone 5 launch. We believe, at that time, the biggest concern from investors was that the company didn't have any products compelling enough to fuel belief in another leg to the model. We believe that floating the potential of a car now could be to help investors dream about the type of projects yet to come from Apple.
As Business Insider notes, good reporters break news, which may be all that's at play in the timing of the discovery of Apple's project. But those looking for a conspiratorial angle could point to the fact that having the news made public will help Apple to recruit more employees for the project. Additionally, it takes some pressure off Apple to develop the car in total secrecy as it is, after all, a large device that will need to be tested outdoors.
Jason Calacanis thinks Apple's actually angling to acquire Tesla
Entrepreneur and angel investor Jason Calacanis predicts that Apple intends to buy Tesla for $75 billion in 18 months. Though he admits to having no inside information on either company, he posits that the acquisition is a lock. He explains that Elon Musk has made it known that to complete his mission with Tesla, the company will need to launch the third generation of its electric car, the Model 3 intended for everyone.
Tesla Motors generally announces cars 24 to 48 months before they're available for purchase, and Calacanis predicts that the Model 3 will be announced in the second quarter of 2015 and delivered in 2018. He notes, "What this means to me is that Apple would be desperate to buy Tesla between when the Gen 3 is announced but before it is delivered, because once the Model 3 hits the road Tesla's market cap would make a deal with Apple a merger — not an acquisition."
Calacanis then lists 19 more reasons why he thinks that Apple is likely to buy Tesla within the next 18 months. He cites as evidence Tim Cook's interest in renewable energy, the opportunity to build an app ecosystem for Tesla's in-car system, and reports that 100 or more former Apple employees are now working at Tesla. Additionally, he predicts that Apple could buy Tesla at "3x its market cap (the cost I believe they would need to hit)," with a year of profits from its phone business.
Calacanis also writes, "Self-driving cars will be in the market in 7-10 years in a major way (you'll test one in the next three years, of course), which means that with Apple and Tesla's combined progress in this market, they could have the entire line refreshed and ready for a makeover for the coming driverless revolution." On its own, Calacanis thinks that "Apple would need at least seven years to get a car on the road: three or four years to design it, followed by three to five years of building factories capable of any sort of modest capacity."
Kevin O'Leary and Tim Bajarin think the key for Apple is the platform, not the car
Investor Kevin O'Leary, chairman of the O'Leary Financial Group and a Shark Tank investor, told CNBC that not only does he believe that Apple's car can exist within five years, but that he thinks there's nothing stopping Apple from establishing a platform for driverless cars that would provide a service similar to Uber's. In that scenario, O'Leary thinks that Apple would also gain an advertising advantage within the car, as it would already have data on users who own iPhones and other Apple products.
Conversely, Creative Strategies analyst Tim Bajarin thinks that Apple isn't really building a car at all and is instead in the early stages of building a platform to bring the iPhone's functionality into cars by Toyota, Cadillac, Volkswagen, Honda, and many other manufacturers. Bajarin thinks that "Apple wants to own the dashboard," and says, "It does not want to build a car."
According to USA Today, Bajarin goes on to explain that if Apple wanted to make a car, it would be "10 times easier" to "just" acquire Tesla. However, the analyst thinks that Apple doesn't want a single-branded experience, and instead wants to build a product that will introduce Apple into many different cars. Apple has already demonstrated its interest in bringing the iPhone experience to cars with CarPlay, which was announced last March and brought touchscreen and voice-activated navigation to cars in which the system was installed.
Richard Wallace, director of transportation system analysis at the Center for Automotive Research, agrees with Bajarin in his doubt that Apple will sell cars itself. "This is a business with 5% to 6% margin," he reports. "That's not what Apple and Google see with their products. If I was an Apple or Google shareholder, I'd demand they not become an automaker and lower my returns."
More from Tech Cheat Sheet:
Want more great content like this? Sign up here to receive the best of Cheat Sheet delivered daily. No spam; just tailored content straight to your inbox.