3 Tech Titans Making Noise: Amazon's Monster Earnings, Yahoo's Unusual New Content, and Microsoft Readies For Battle
Amazon.com (NASDAQ:AMZN): The largest web retailer has posted its quarterly earnings on Thursday, and so far so good: earnings of $0.18 beat estimates by $0.09, and although revenue of $16.07 billion fell $90 million shy of targets, it's still a whopping 22 percent over the same quarter last year. Second quarter expectations for revenue fall at $14.5 billion-$16.2 billion, on target with the  $15.9 billion consensus. The company is also rolling out original TV shows to launch on its instant streaming service, placing the company in yet another revenue channel.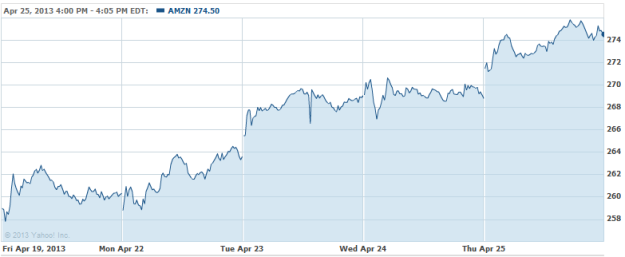 Yahoo (NASDAQ:YHOO): In a move displaying just how the company is attempting to diversify its offerings, the web giant has acquired the rights to all 38 years of Saturday Night Live. That's right, exclusive rights to the entire archive of the part-improv, part-who-knows-what hit TV show, which Yahoo users can now access — including snippets from current seasons.

Microsoft (NASDAQ:MSFT): Microsoft will be announcing its latest XBox, the 720, on May 21 at the company's offices in Redmond, Washington. Details a few, but the console is reported to require an internet connection to play games, link to a cable box via an HDMI cable and add an Xbox layer on top of the regular cable menu, and the new Kinect sensor will have enhanced voice control and greater motion sensitivity, according to speculations.

Don't Miss: Can Amazon Compete in This New Arena?