3 Tech Titans Making Noise: Apple Finds a Friend in Korea, Nokia's Arrangement with Siemens, and Faber Ponders Dell's Future
Apple (NASDAQ:AAPL): The Korea Times is reporting that South Korean carrier SK Telecom (NYSE:SKM) is intending to sell a version of the iPhone 5S that supports the next generation LTE-Advanced standards. "SK Telecom is approaching Apple to put our LTE-A technology on the upcoming iPhone 5S. We are in the middle of negotiations," said an SK Telecom executive, who asked to remain anonymous. The news comes shortly after rival Samsung (SSNLF.PK) released a version of its Galaxy S 4 with LTE-A support.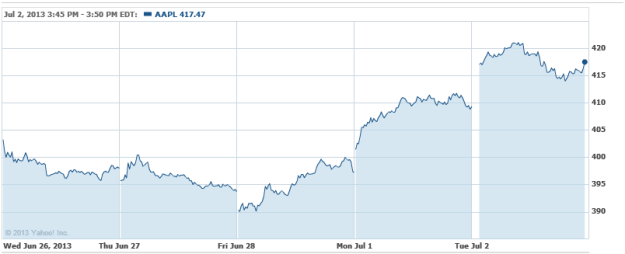 Nokia (NYSE:NOK): Following Nokia's announcement to buy out Siemens' (NYSE:SI) interest in the Nokia Siemens joint venture, Argus expects the business to perform more effectively under the new ownership structure. The firm adds that the business will be a stable, strong cash flow source for Nokia, and it keeps a Buy rating on the stock.

Dell Inc. (NASDAQ:DELL): David Faber isn't holding his breath on Michael Dell's chances on July 18th, when shareholders will vote on his own LBO proposal versus Carl Icahn's 62 percent stake-bid at $14 per share. "According to the many sources I am speaking to, it is highly doubtful Dell is going to win the July 18 vote," Faber went on to say. "A lot of that will depend on what ISS recommends, and based on what I'm hearing, it seems likely ISS is going to go for Icahn." Faber's comments come in the wake of Icahn's announcement that he has secured a $5.2 billion loan for his bidding efforts.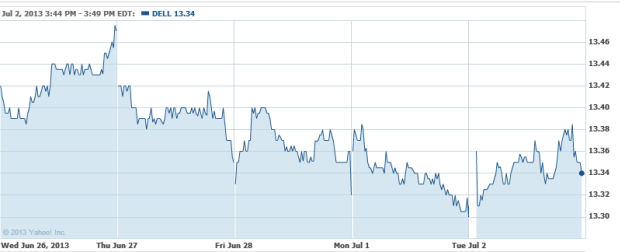 Investing Insights: Will An Acquisition Help Nokia?