3 Tech Titans Making Noise: Apple in Talks With LG, Google's Quarterly Report Card, and Microsoft Tanks on Latest Results
Apple Inc. (NASDAQ:AAPL): Digitimes is reporting that Apple is reportedly in discussions with LG (NYSE:LPL) about buying 55- and 65-inch Ultra HD TV panels, though "the rumors state that Apple is still testing the technology and has yet to finalize its orders with LG." The same rumors also indicate that Apple could be in talks with Sharp for similar products.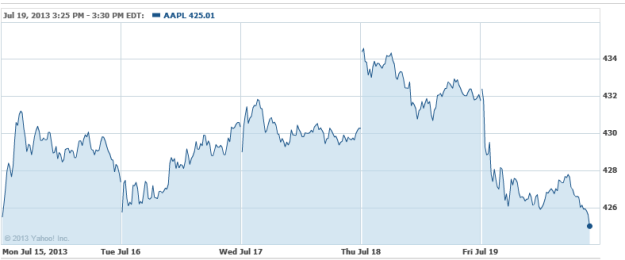 Google Inc. (NASDAQ:GOOG): Google's second-quarter earnings per share of $9.56 misses its projections by $1.22, and revenue of $11.1 billion misses the mark by $230 million. Ad prices continue to pose a challenge, falling 2 percent for the quarter and 6 percent for the year. Google Sites revenue, making up 68 percent of the total, rose 18 percent year-over-year, in line with the first quarter. Ad network revenue — another 24 percent of the total — grew just 7 percent, down from the 12 percent seen in the first quarter.

Microsoft (NASDAQ:MSFT): Microsoft shares are getting battered after posting weak quarterly results. Earnings per share of 66 cents missed by 9 cents, and revenue of $19.9 billion missed by $830 million. A $900-million charge was taken for Surface RT inventories as Windows division revenue  fell off by 6 percent year-over-year. Chief Financial Officer Amy Hood says the company is still looking at ways to adjust Windows pricing, especially for smaller devices like the Surface.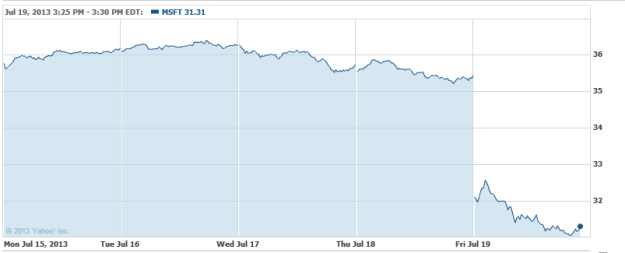 Don't Miss: Analyst: Nokia's Windows Phone No Match for Android or Apple's iOS.