3 Tech Titans Making Noise: Apple's Lost Market, Google Evolves YouTube, and Amazon's Senate Interest
Apple (NASDAQ:AAPL): Strict quotas and standards that the company sets for carriers of the iPhone may be doing more harm than good, according to Horace Dediu, the analyst behind Asymco.com. He estimates that there is a market of 2.8 billion people that Apple is alienating due to its stringent wireless policies, largely in Asia where the telecommunication providers have eschewed the restrictions.

Google (NASDAQ:GOOG): The search giant's YouTube division is gearing up to launch its new subscription service for individual channels, in efforts to finance a broader array of material and add a second revenue stream to its model. Reportedly, the service may kick off as early as this week, support up to 50 channels (which could start at around $1.99 per month), and provide cable and satellite channel owners with a new method to monetize "older shows and new programming" while taking advantages of YouTube's tremendous reach.

Amazon.com (NASDAQ:AMZN): A hotly contested bill over online sales taxes is due on the floor of the senate today, and is set to pass. The  bill would not impose new taxes;  but rather gives state governments the ability to collect Internet sales taxes from businesses headquartered outside of their respective state borders — taxes that are technically already owed. Amazon has offered strong support of the bill, while other online retailers such as eBay (NASDAQ:EBAY) have positioned themselves firmly against it.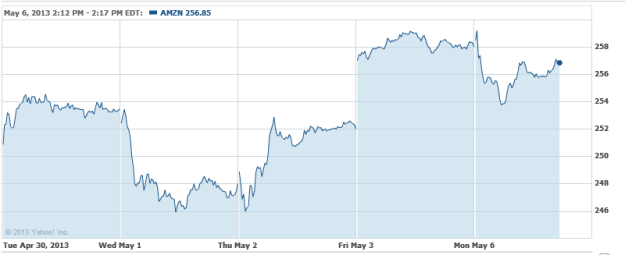 Don't Miss: Is Samsung About to Get Completely Cut Out of Apple's Supply Chain?