3 Tech Titans Making Noise: Apple's Rumored iPhone Cuts, BlackBerry's Upcoming Results, and Microsoft's Restructuring Efforts
Apple (NASDAQ:AAPL): Shares are down and hovering around $400 after a note from Jefferies' Peter Misek, which hinted at slowed iPhone production, and as a result, led the firm to lower its estimates on the company. Elevated inventory levels indicate the company may cut iPhone building in the third quarter, its current quarter, and fourth quarter as it prepares for the potential release of the iPhone 5S in September and iPhone 6 next year, according to Jefferies.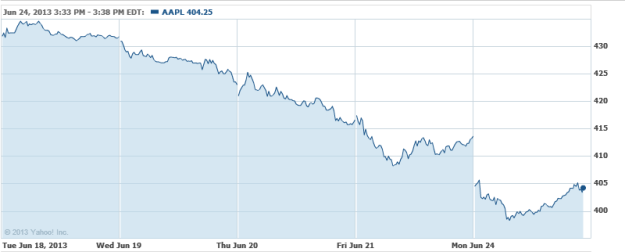 BlackBerry (NASDAQ:BBRY): Despite a lackluster day in the markets, BlackBerry is recovering some of the gains that it lost late last week, riding on a few bullish investor notes that believe the company will meet its estimates when it reports its quarterly results on Friday. Channel fill, pent-up demand, and strong initial sales of the Q10 have been cited, although most firms remain wary of the handset maker's future.

Microsoft (NASDAQ:MSFT): AllThingsD is reporting that CEO Steve Ballmer's restructuring efforts are underway, but only a select few are on the panel determining the width and breadth of the changes. Ballmer is likely to unveil his plans to restructure the company to a larger group of senior executives by July 1, but sources aren't thrilled: "It feels like it is going to be titanic — that Steve is doing this change for his legacy … And it's the first time in a long time that it feels like that there will be some major shifts, including some departures."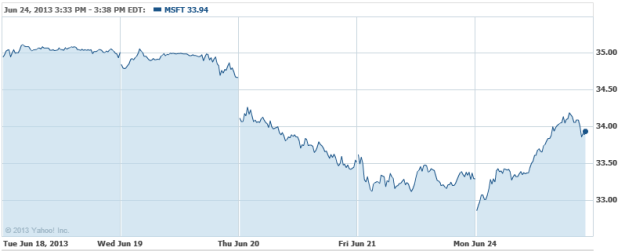 Don't Miss: Will Samsung's Swarm Smash Apple's iPads?