3 Tech Titans Making Noise: Apple's Tax Problems, Dell's Ophelia Project, and Google's YouTube Climbs Higher
Apple (NASDAQ:AAPL): Senate investigators are coming down on the Cupertino-based company, in regards to loopholes that allegedly allowed the company to duck out of paying $44 billion in taxes between 2009 and 2012. Tim Cook is scheduled to appear before a committee on Capitol Hill today, to defend against accusations that the company took advantage of numerous U.S. tax loopholes and avoided U.S. taxes on $44 billion in offshore taxable income. Apple has maintained that it has not been funneling its domestic earnings overseas, or tapping revolving loans improperly.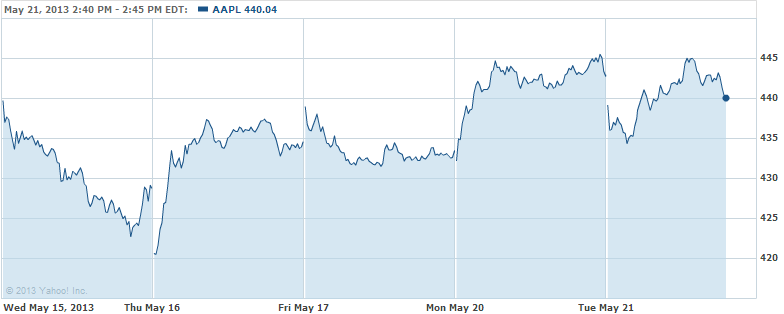 Dell Inc. (NASDAQ:DELL): Dell has announced that Project Ophelia, an Android-based device that will plug into a display's HDMI port to allow it to run applications or access files stored remotely, will begin shipping in July. Dell is also working on a keyboard that will work in tandem with Ophelia, "for users to type when Ophelia is docked to a screen." The company will demonstrate Ophelia on  a 19-inch and a 55-inch screen at next week's Citrix Synergy conference in Los Angeles.
Google (NASDAQ:GOOG): YouTube's video upload rate has surpassed the 100 hours per minute mark, just after its eighth birthday. At this time last year, YouTube was uploading 72 hours per minute. YouTube is still a growing platform, with future plans to unify its design across platforms, as well as rolling out premium subscriber channels to help diversify its monetization efforts.

Don't Miss: How Did Tim Cook Get Ready for the Senate Hot Seat?