Apple (NASDAQ:AAPL): WWDC Recap: Apple released the overhauled iOS 7, and Jony Ive has applied his trademark clean aesthetic to the software with changes to the fonts, colors, layout, et al. iTunes Radio was released, and although supported by ads, it will be ad-free for iTunes Match subscribers. Two new Macbook Airs have been debuted, in 11 inch and 13 inch formats, the latter of which supposedly boasts 12 hours of battery life. Apple has also updated OS X, now called Mavericks, which sports over 200 new features including tabbed windows for the Finder app, document tagging, the delivery of iOS push notifications, and improved support for multiple displays. (Live Coverage)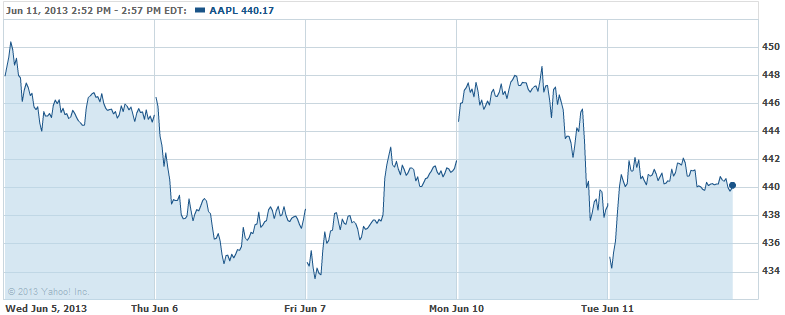 Google (NASDAQ:GOOG): Google's various apps are becoming as widespread on iOS as iTunes and Safari, and app developer Onavo estimates that 69 percent of iPhone owners who have installed one of its apps used a Google-built app in May, up from just 32 percent in August of last year. Google "very consciously made an investment in the quality of the iPhone apps, and their content ultimately is the one that wins," said Onavo CEO Guy Rosen.

Microsoft (NASDAQ:MSFT): The court of Public Opinion seems to favor Sony's (NYSE:SNE) PlayStation 4 over Microsoft's Xbox One, as it sports a lower price, fewer used game restrictions, and at least 140 PS4 games currently in development. However, PlayStation will now require a subscription to access PlayStation Plus (read: multiplayer gaming). The PlayStation will be priced at $399, $100 less than the Xbox.

Don't Miss: Next-Gen Gaming Consoles Arrive: Sony Undercuts Microsoft.