3 Tech Titans Making Noise: France's Anti-Competitive Apple Probe, Nokia to Buy Out Siemens, and BlackBerry's Results Fallout
Apple (NASDAQ:AAPL): Antitrust authorities in France have apparently raided Apple's local offices, as a part of an on-going investigation into the possibility that the company is anti-competitive. Independent retailers have alleged that Apple violates existing agreements with them in favor of its own stores. Separately, Apple has indirectly confirmed the existence of the iWatch, as it has filed a request to trademark the term "iWatch" in Japan.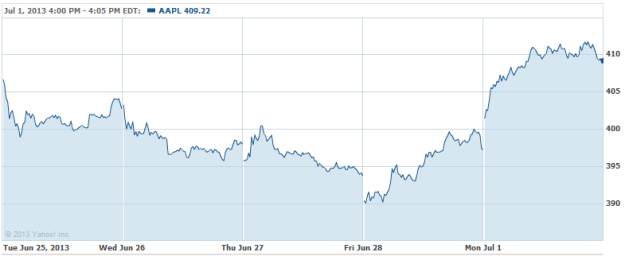 Nokia (NYSE:NOK): Shares of Nokia are on a tear on the announcement that the Finnish tech company will be buying out the 50 percent share of its joint venture with Siemens (NYSE:SI) belonging to the latter, for about $2.21 billion. "With this transaction, Nokia buys itself a future, whatever happens in smartphones and feature phones," Bernstein analyst Pierre Ferragu points out. The JV's current management and governance structure will be maintained.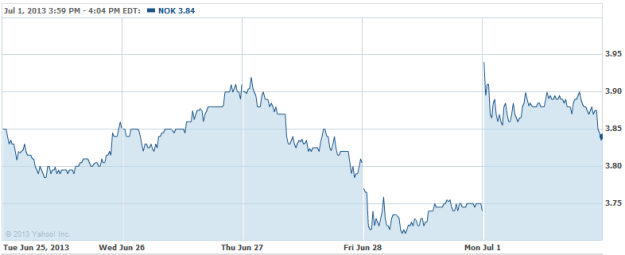 BlackBerry (NASDAQ:BBRY): Following last week's disappointing results, downgrades from numerous firms – Morgan Stanley, Needham, Deutsche Bank, Societe Generale,  Macquarie, and Wells Fargo — haven't helped the company's shares rebound, as the weak quarter should have been one of the strongest yet. There is little hope for the future, as well. A heavy marketing spend "will create a heavy cash burn" unless sales pick up according to Deutsche Bank. "While [BBM] drove sales in the emerging markets … the competitive landscape has become much more treacherous with alternative instant messaging services and low-priced Android devices flooding this market," says Needham.