3 Tech Titans Making Noise: Google Gears Up For Moto X, Microsoft Settles With Vringo, and Nokia's In For Stormy Weather
Google (NASDAQ:GOOG): The search giant's Motorola arm will be releasing a new phone come October, dubbed the Moto X. Though no indication as to what the specs will look like, the new phone will be American-made, at a Flextronics (NASDAQ:FLEX) facility in Texas. Motorola Mobility CEO Dennis Woodside said the initiative will create about 2,000 jobs. Also revealed, the phone will use two processors to conserve battery life, and will include sensors to help it better understand what a user needs, Woodside said. For example, the phone will know when it's turned on or being used in a vehicle.

Microsoft (NASDAQ:MSFT): I/P Engine, a subsidiary of Vringo (AMEX:VRNG), has entered into a license and settlement agreement to lay patent litigation that was pending in the U.S. District Court to rest. Shares of Microsoft are up marginally, and shares of Vringo are up over 3 percent.

Nokia (NYSE:NOK): RBC Capital thinks Nokia is more likely than not to make a negative Q2 pre-announcement, as it is still losing share and its feature phone business is now eroding along with its higher end phones. The firm also believes that the company's new devices are inferior to the competition, and it keeps a Sector Perform rating on the stock.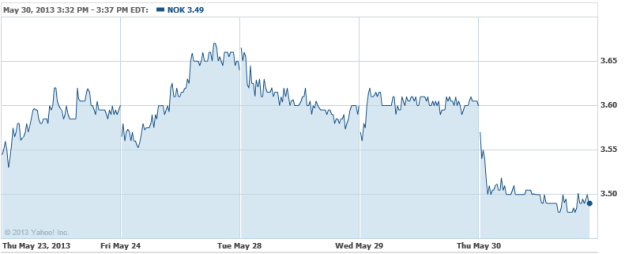 Don't Miss: Will Google Leverage Motorola Technology Against Apple?