3 Tech Titans Making Noise: Google Welcomes Private Equity, BlackBerry Bears Out For Blood, and Amazon Rests Comfortably Above Wal-Mart
Google (NASDAQ:GOOG): Google is opening up to private equity firms, as it hits the warpath looking for acquisitions, marking the first time that it would consider forging alliances with private-equity firms to help it structure deals. Google M&A Manager Don Harrison says that the company is considering making major purchases after its acquisition of Waze. "We apply something called the toothbrush test, which is we ask ourselves, 'Is this something people use once or twice a day and does it solve a problem?'" Harrison said.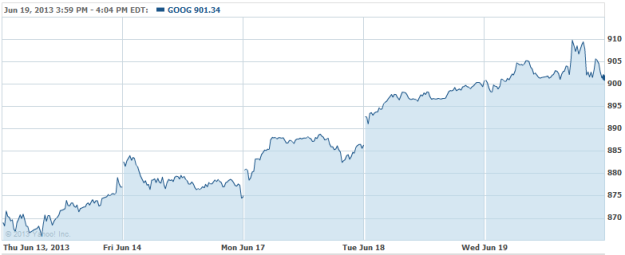 BlackBerry (NASDAQ:BBRY): Following a day or two of decent gains, BlackBerry shares have come back down, following a double whammy from Bernstein, which now rates the stock a Sell, and says it "believes the company's earnings will peak in the first quarter and there is significant risk of a miss in the second half." Additionally, OTR Global says U.K. Q10 sales fell off a cliff and have been – "not a typo" – just 30,000-50,000 units since launch.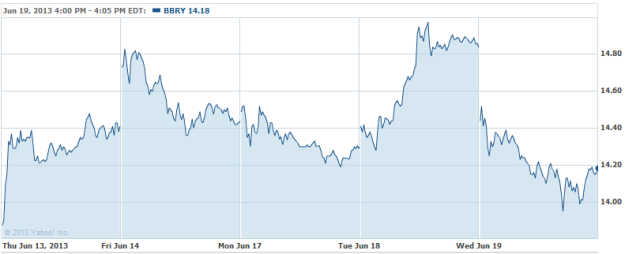 Amazon.com (NASDAQ:AMZN): In its never-ending quest to save money and time, Wal-Mart (NYSE:WMT) has enlisted the help of its store employees to pack and ship its online retail orders. While the move represents the further integration of Wal-Mart's brick and mortar operations with its online component, it also shows how much farther it must go to be a credible contender to Amazon. The retailer's online shipping costs come to around $5 to $7 per parcel, nearly double the $3 to $4 that Amazon is used to — and in this business, that means Amazon is still king of the pack.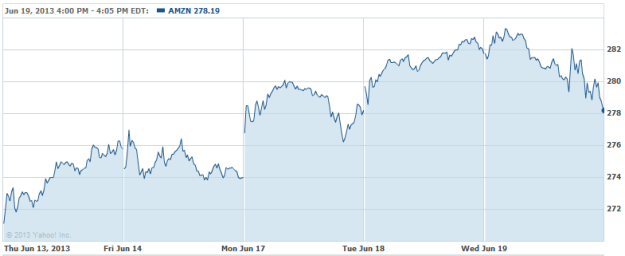 Don't Miss: 8 Companies Dominating Online Video.