4 Consumer Stock Stories to Start Off the New Investment Shopping Week
Toyota Motor Corp. (NYSE:TM): Closing price $129.78
In order to reach potential buyers of its all-electric RAV4, Toyota is employing an experimental advertising strategy, just like the battery-powered crossover car it wants to sell. The company is collaborating with DirecTV to concentrate on likely customers identified as tech-savvy early adopters in Los Angeles, San Francisco and San Diego, the California markets where the $50,000 vehicle is sold, using a new tool that searches satellite-TV subscriber data to aid marketers reach narrow slices of consumers.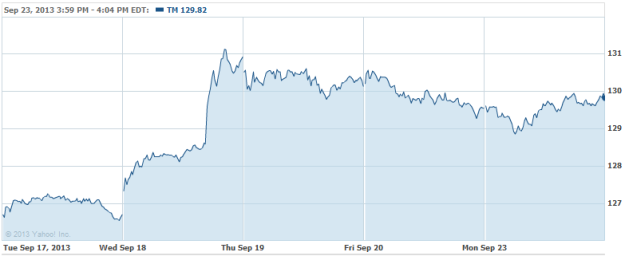 Best Buy Co. (NYSE:BBY): Closing price $38.89
Best Buy shares closed up 1.54 percent on Monday following a Barclays analyst who increased his price target and earnings estimates for the retailer. Analyst Alan Rifkin elevated his price target on the shares from $38 to $50, marking his fifth price target increase thus far in 2013. He also raised his 2014 earnings estimate from $2.65 per share to $2.75 per share on expected benefits from cost reduction. Rifkin's forecast stands above the $2.70 per share that analysts polled by FactSet on average anticipated.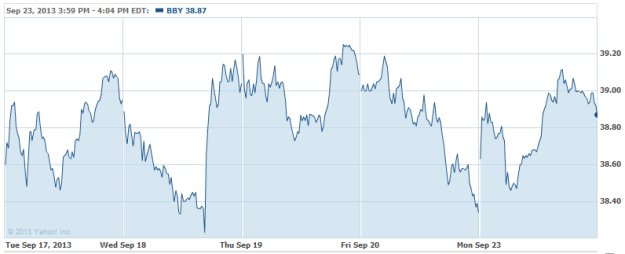 Goodyear Tire & Rubber Co. (NASDAQ:GT): Current price $22.11
Goodyear shares moved up modestly Monday after Deutsche Bank maintained its Buy rating and raised its price target from $23 to $29. Analyst Rod Lache perceived strength in the tire sector, saying: "Overall, we believe that a very strong mix phenomenon is developing in the tire sector, which should disproportionately benefit GT given that the company has shifted 67 percent of its NA and Europe volume to higher end tires. While difficult to quantify, we believe that most of the 3-5 MM units of annual growth that GT expects should occur in the premium/HVA category. These tires contribute at least $10/tire more than average ($40/tire rather than $30/tire), which could imply $30 to $50 million of annual positive mix benefits which we have not incorporated into our model."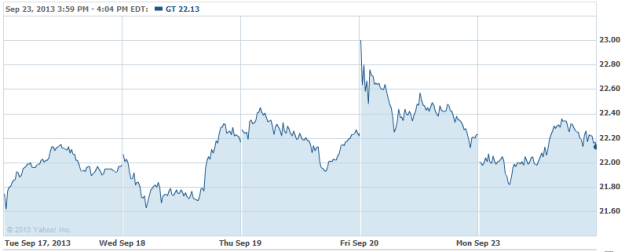 General Motors Co. (NYSE:GM): Closing price $37.13
GM's executive chief engineer, Jeff Luke, says that the automaker is mulling an off-road model for the redesigned large SUVs. For years, GM has sold a Z71 off-road package for the Chevrolet Tahoe and  Suburban and the GMC Yukon and Yukon XL, with stronger shocks, larger wheels, and special styling cues such as bigger wheel flares and badging, but according to Luke, they have not  been big sellers.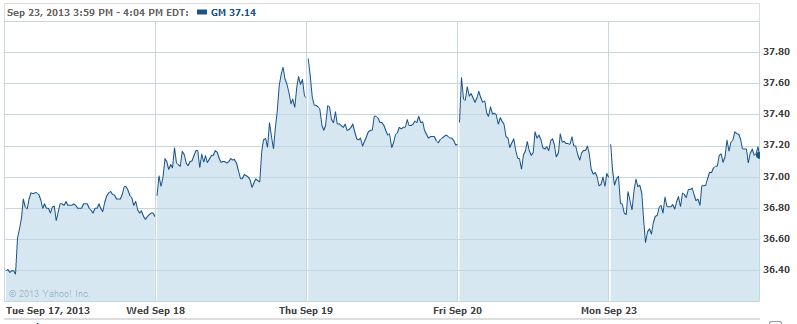 Don't Miss: Is the Justice Department Picking on American, US Airways?.
More Stories Recommended for You: