5 Big Video Games Launching the Week of June 1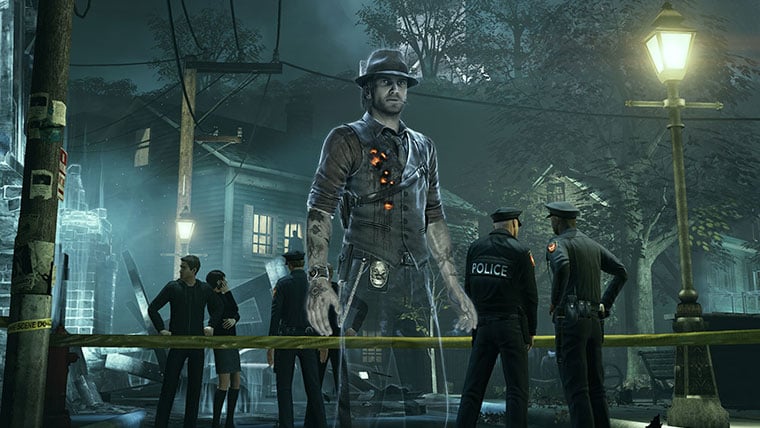 It's that time again — we're looking into our crystal ball to see what video games are heading our way next week. There might not be as many heavy hitters as this week's Watch Dogs and Mario Kart 8, but there's enough on the horizon to keep you tapping away at your controller for some time to come. Read on for the five biggest games launching the week of June 1.
Murdered: Soul Suspect
June 3 (PlayStation 3, PlayStation 4, Xbox 360, Xbox One, PC)
The biggest title coming out next week is Murdered: Soul Suspect, a detective game starring a tattooed hero who wears a fedora. The hero also happens to be dead, and it's up to his ghost — controlled by the player — to solve the mystery of who killed him and why. Since you're a soul stuck wandering between life and the afterlife, you have plenty of time to search Salem for clues, to help other un-processed souls reach the afterlife, and to solve a heap of mysteries along the way. Think of it as an East Coast L.A. Noire, but with ghosts.

Lifeless Planet
June 6 (PC, Mac)
In this PC game, you play as an astronaut traveling to a far-off planet where humans have established a colony. When you get there, however, you find that everyone is missing and you seem to be alone on the planet. What happened? You'll have to play to find out. The art looks incredible, with gorgeous vistas around every turn, and a bunch of challenging platforming thrown in for good measure. Watch the trailer to get a sense of the game's creepy, beautiful atmosphere.

Worms Battlegrounds
June 3 (PlayStation 4, Xbox One)
The Worms series has been around for a long time now, and it's easy to see why. The game stars adorable cartoon worms who engage in all out warfare with each other, using high caliber artillery and exploding sheep. This installment is set in a museum, with each of the 25 levels taking place in the diorama of a particular time period, like the Stone Age or the Industrial Revolution. You take turns plotting your movements and attacks, and bringing your enemies to their knees – in the cutest way possible.

Tomodachi Life
June 6 (3DS)
Tomodachi Life is an eminently Japanese game, Nintendo CEO Satoru Iwata told The Wall Street Journal when he announced that the game was being localized for Western audiences. It certainly doesn't seem like your average American gamer fare. In it, your Mii characters — avatars used in Nintendo games — interact with the Mii characters of your friends in a Sims-like world. But instead of directly controlling your Mii, he or she lives out their life independently, leaving you to check in with the town whenever you want, offering your Mii things like food and gifts to make them happy. If it sounds unlike other games, it is. But just about everyone who's previewed the game agrees: the best way to understand the game is simply to play it.

Wildstar
June 3 (PC)
Many MMOs (massively multiplayer online role-playing games) have tried to dethrone World of Warcraft over the past decade, but none have succeeded. The next game to make the attempt is Wildstar, a sci-fi MMO that was made by former employees of Blizzard, the makers of World of Warcraft. The game is set on a newly discovered planet called Nexus, where two groups — the Exiles and the Dominion — are duking it out for control over the planet. With eight races to choose from and deep sci-fi lore baked into the story line, this could be the next big MMO we've been waiting for.
More From Wall St. Cheat Sheet: