5 Big Windows 10 Reveals From Microsoft
Microsoft made a variety of interesting announcements at an event to share information about the next generation of Windows at its Redmond, Wash., campus. While, as VentureBeat reports, many of Microsoft's announcements at the Windows 10 event simply expanded on what we already knew about the company's plans for 2015, but the event did hold a few surprises, including the unveiling of an augmented reality headset. That device and others were introduced at an event that The New York Times notes was billed as the showcase for a more mundane product, the Windows operating system that runs on about 1.5 billion personal computers. Windows 10, the next generation of that operating system, will run on smartphones, tablets, PCs, and even the Xbox One console.
1. Windows 10 will be free for Windows 7 and 8 users
A star of the show was Microsoft's announcement that it will offer free Windows 10 upgrades to users of Windows 8.1, Windows Phone 8.1, and Windows 7 who upgrade within a year of the operating system's launch. As the company explained in a post on its blog, written by executive vice president of Microsoft's Operating Systems group Terry Myerson, the complimentary upgrade for Windows 7 and Windows 8 users means more than just a free upgrade.
This is more than a one-time upgrade: once a Windows device is upgraded to Windows 10, we will continue to keep it current for the supported lifetime of the device – at no cost. With Windows 10, the experience will evolve and get even better over time. We'll deliver new features when they're ready, not waiting for the next major release. We think of Windows as a Service – in fact, one could reasonably think of Windows in the next couple of years as one of the largest Internet services on the planet.
The move is aimed at motivating Windows users to upgrade quickly. That will help to make life easier on developers, who will gain a much larger audience of users running the same operating system. (As will a move to universal apps that work on smartphones, tablets, PCs, and even Xbox — detailed on the next page.)
Windows 10 will feature a more streamlined task bar and the ability to fullscreen the Start menu. It will also feature an updated Action button with a notifications bar on the right hand side of the screen, enabling users to add shortcuts to their favorite apps and settings. Microsoft also gave the audience at its Windows 10 event a first look at how Windows 10 will look on smartphones, revealing that Word for Windows 10 will be included for free on phones, and Outlook will be a universal app that runs on phones, tablets, and PCs.
Next week, Microsoft will release the first preview builds of Windows 10 for desktop. In February, Microsoft will release the first build of the operating system for mobile devices, with Myerson quipping that the release will come "after the Seahawks win the Super Bowl." He did not provide an official release date for the entire Windows 10 operating system.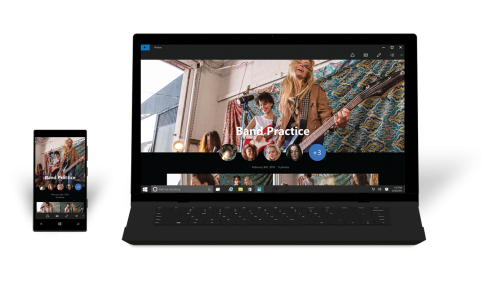 2. Windows 10 will feature universal apps that work on PCs, tablets, smartphones, and Xbox
Microsoft is working hard to demonstrate that Windows 10 is the same everywhere you access it. The company has redesigned its apps, music, photos, mail, calendar, and messaging to work similarly across all devices, and announced that Windows 10 will have universal apps that will work on the Xbox One console, which is estimated to have sold about 11 million units. Developers will be able to build software just once, and deploy it across the PC, tablet, smartphone, and Xbox console.
VentureBeat notes that Microsoft previously announced that it would enable developers to build universal apps, but it hadn't yet specified whether that feature would represent a core function of Windows 10. With the feature built in to the next major operating system upgrade, developers are likely to take advantage of the capability to create universal apps. Xbox One currently has dozens of apps, including Skype and Twitch. The number of apps available on the console is likely to increase dramatically with universal Windows apps. Windows 10 will also enable users to stream Xbox One games to any tablet or PC in their house.
Myerson notes that the idea of asking another user, "What version are you on?" will cease to make sense for Windows, which will feature universal apps that work across Microsoft's entire family of devices. "Developers can build one app that targets the broadest range of devices – including the PC, tablet, phone, Xbox, the Internet of Things, and more." This is good news for consumers, for enterprise customers, and for developers who will build for the new platform. While Microsoft has shared the enterprise story for Windows 10 in September and the consumer story this January, Microsoft will likely share its story for developers at the Build conference in April.
Cortana will also be everywhere with Windows 10, including on the PC. Joe Belfiore, corporate vice president of Microsoft's operating systems group, demonstrated Cortana within early builds of the new Windows operating system, showing it doing impersonations, making predictions about sports games tailored to the user, and answering questions. It can also track flights, show stock prices, and surface news on the home page. The information the personal assistant draws on can come from either the desktop or from online services like Microsoft's OneDrive.
Users will interact with Cortana on desktop mainly via a search box next to the Start button. A PC running Windows 10 will be able to understand natural language questions. Belfiore demonstrated that a command such as "Hey, Cortana, please be quiet" will instantly pause music that's playing. Cortana is Microsoft's competitor to Google Now and Apple's Siri, and will also learn what users are interested in so that it can provide personalized results. Additionally, the assistant is seamless across devices.
Speaking of remaining seamless across devices, a Windows 10 feature called Continuum will reconfigure the interface between desktop and tablet modes depending on which peripherals — mouse or keyboard — are connected. The feature could play an important part in making hybrid devices much more powerful and functional for users.
3. Microsoft is introducing its own augmented reality headset and augmented reality platform
Alex Kipman, technical fellow for the operating system group at Microsoft, unveiled a new product called Windows Holograhic, and an augmented reality headset, called the Microsoft HoloLens. The face-mounted computer is a wireless Windows 10 device that enables users to virtual "holograms" in 3D space, and Microsoft envisions games benefiting from the device's capabilities.
The company refers to the HoloLens as "the next PC," which VentureBeat points out is a claim that Facebook also makes about the Oculus Rift virtual reality headset that Oculus VR is currently developing. While the Rift would replace the user's vision entirely with simulation, and require him or her to sit down and use the device while connected to a PC, users would see the world around them through HoloLens, and be able to get up, walk around, and still see images and information from the headset.
In one demonstration, Microsoft showed a version of Minecraft, the hugely popular video game it acquired last year, in which players can see characters and structures around a room. Through gestures and voice commands, the user can, for example, blow a virtual hole in a coffee table to examine the imaginary lava flowing beneath it.
The HoloLens device creates an augmented reality overlay in the user's vision, and that overlay could interact with the objects and environment around the user. Players could potentially control game characters in the environment of their living room, which the device would become the world of the game. VentureBeat notes that Microsoft hasn't announced a release date or a price for HoloLens, but is tying the device to Windows 10, which is due to launch later this year.
Kipman also announced that "Holographic computing enabled by Windows 10 is here," and reported that every Windows 10 build includes Holographic APIs for multiple screen sizes. The company will work to attract developers who are already interested in or building for other augmented reality platforms, with Kipman saying, "Oculus, Magic Leap, Glass developers, and everyone else — we humbly invite you to come create holograms with us." Software called Holo Studio will enable people to create their own holograms while using the HoloLens headset, and Kipman says that Microsoft refers to as "Build 3D in 3D."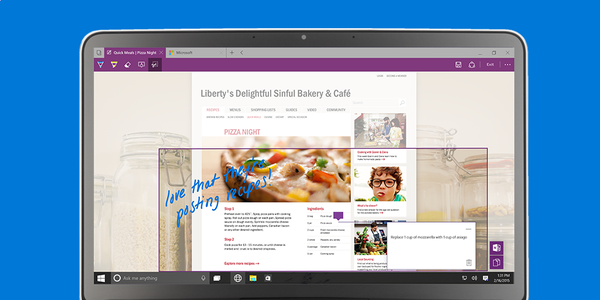 4. Microsoft is launching a new browser along with the new operating system
After much speculation over its new browser, codenamed Project Spartan, Microsoft demonstrated the new browser on a PC. The browser enables users to mark up websites with text that they type on a keyboard or draw using a tablet with a stylus. The browser also adds a reading list for longer articles and PDFs, and also includes the power of Cortana.
For example, a user browsing a restaurant's website would see a Cortana sidebar on the right side of the browser, which would give him or her the option to make a reservation. Highlighting an item on the menu could show dietary information in the Cortana sidebar. Belier reports that the new features should be available for insiders to try out over the next five months.
The new browser may not totally replace Internet Explorer — which dates back to the 1990s and at one time competed with Netscape. But Microsoft's new browser targets contemporary competitors like Google's Chrome and Mozilla's Firefox (1/23/15: corrected the company that runs Firefox). VentureBeat notes that at one point in Microsoft's history, the concept of enabling people to use apps on the Internet wasn't widely accepted, but cofounder Bill Gates came to believe that the Internet was essential as a communication layer. Internet Explorer was introduced as an integrated application with Windows, and Microsoft introducing a new browser with a new user interface could help the company to deal with competition from Apple and Google on the front of the mobile platform and browser wars. Myerson notes, "Windows 10 changes the rules of the game and redefines the relationship between us and our customers."
5. Microsoft introduces a new device called the Surface Hub
The company unveiled the Microsoft Surface Hub, a Windows 10 device with an 84-inch 4K display. The device features sensors that can detect who's using it, dual cameras, a microphone array, and speakers, plus multi-touch and multi-pen inputs. The device constitutes the next generation of Microsoft's Perceptive Pixel technology, from a research company that Microsoft acquired in 2012.
The screen has a customized Windows 10 interface that will enable users to access OneNote, Skype, and any of the other tools that groups would need to collaborate together. Surface Hub can also draw content from any device in the room and share it with a conference call. A meeting mode will enable users to conduct presentations and send them to other users dialed in from conference rooms or from their own computers.
Mashable notes that as with many of the products announced at the Windows 10 event, the Surface Hub had no release date or price revealed. (Though VentureBeat notes that the price, which has not yet been revealed, will likely be a big determinant in whether or not companies decide to adopt the device.) But the announcement is aimed more at demonstrating what Microsoft is working on bringing to market rather than getting consumers to line up with credit cards in hand.
More from Tech Cheat Sheet:
Want more great content like this? Sign up here to receive the best of Cheat Sheet delivered daily. No spam; just tailored content straight to your inbox.