5 Biggest Games Last Week Reviewed: A Very Big Week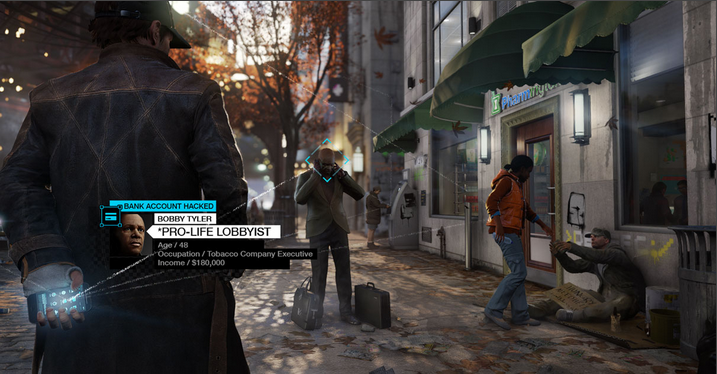 Last week was huge for gamers. It saw the launch of a major new franchise with Watch Dogs, and the continuation of one of the most critically acclaimed series in video game history with Mario Kart 8. But not every game released last week was a winner, so read on to make sure you don't pick a stinker next time you hit up your local game store.
Watch Dogs
(Xbox One, Xbox 360, PS4, PS3, PC)
Consensus: Good
After being hyped for nearly two years, Watch Dogs has hit store shelves for just about every major console on the market, save the Wii U. The game plays like a cross between Grand Theft Auto and Splinter Cell, with a touch of hacking added to the mix for all sorts of new gameplay, not to mention a handful of special multiplayer modes.
If Watch Dogs wasn't an overwhelming critical success, some of that can be chalked up to the hype it had built up since the game was announced. However, most critics agree that graphics are great and the hacking is fun, but the storyline is full of clichés, and the main character comes off as wooden. But when a game aims this high, a few drawbacks can be overlooked. If you're in the market for a polished game capable of giving you dozens of hours of entertainment, Watch Dogs is it.

The Sly Collection
(PlayStation Vita)
Consensus: Good
This collection, which includes the three action-adventure Sly Cooper games from the PlayStation 2 era, already has great reviews on Gamespot for its PS3 version. The question is whether the game performs as well on the handheld device as it does on the console. Not all games work perfectly on both; an unfortunate reality for anyone who bought the Vita version of Borderlands 2.
The results are in, and critics agree that this collection works just fine on the Vita. Or, in the words of the IGN review, "I'm happy to report that everything is still awesome and nothing has been ruined." The games star a group of three cartoon thieves led by the titular raccoon as they try to foil the plans of dastardly criminals. Playing through all three titles is like journeying through the near-history of console gaming, as each game in the series expands the scope of the game world and storytelling. Whether you've played these games before or not, this is a smart buy for any Vita owner.

Slender: The Arrival
(Xbox 360)
Consensus: Mixed
The mythology of Slender Man was popularized by the Web, and the creep factor was intense enough that someone decided they'd make a game of it. Playing on the natural fright created by dark environments with limited vision and light, the game kept Slender Man hidden while it built up your anticipation and fear. This paid-for sequel expands on those ideas in a number of ways.
The reviews for Slender: The Arrival are decidedly mixed. The Escapist found it to be wonderful, calling it "a well-built game that, above all, is scary to play." IGN, on the other hand, wasn't quite so fond of it, saying that, "This paid-for sequel attempts to pump up the horror experiment into a bigger (though still quite short) game, but it quickly becomes apparent that the simple mechanics of the original Slender crumble under the weight." So if you're looking for a scare and don't mind a short game, Slender: The Arrival delivers. Otherwise, steer clear.

Monochroma
(WiiU, PS4)
Consensus: Not So Hot
As the title suggests, Monochroma is not a colorful game. But what it lacks in color, it adds in artistic style and an interested play of light and dark — as well as red. The game doesn't have a spoken story, but follows the player as he adventures through a dystopian world carrying his younger sibling. Expect plenty of puzzles related to setting the sibling somewhere safe in the light, while you venture off into the darkness to arrange puzzle pieces so you can proceed while carrying your sibling — who's a bit too heavy to jump very high with.
It may look a lot like the game Limbo, but Monochroma does its own thing when it comes to gameplay with a mix of platforming and puzzle solving. The visuals are spiced up with a dash of occasional color, and the story is interesting enough to keep pulling players along. Unfortunately, says Destructoid, the game also "suffers from poor control and mundane puzzle design that mar the whole experience." If it weren't for that, the game might be recommended for certain players. But with the other superb games out this week, you're better off going with something else.

Mario Kart 8
(Wii U)
Consensus: Very Good
Mario Kart 8 looks to continue all the fast-paced madness of its many predecessors, and it doesn't look like it will hold back on adding even more madness of its own. Of course, we can expect as many far-fetched levels and vehicles as ever plus some new ones, as well as a nice redecoration with higher resolutions and graphics, but there also will be some extra gameplay at work. For one, going around corners isn't the only place you'll need to drift, as a new kite dynamic will make you drift through the air. Also added is a magnet hovering for tracks that go around the walls and upside down.
As usual for the biggest Nintendo franchises, this game is a bonafide success — at least as far as critics are concerned. Mario Kart 8 takes everything that makes previous installments special, including tight controls, smart power-ups, and impossibly creative race tracks, and turns it up to 11. Nintendo even mostly got the online multiplayer right, something they've struggled with mightily in their previous games. In short, if you have a Wii U, Mario Kart 8 will make a terrific addition to your library.
More From Wall St. Cheat Sheet: