5 Things to Know About the Next Game From the Makers of 'Candy Crush Saga'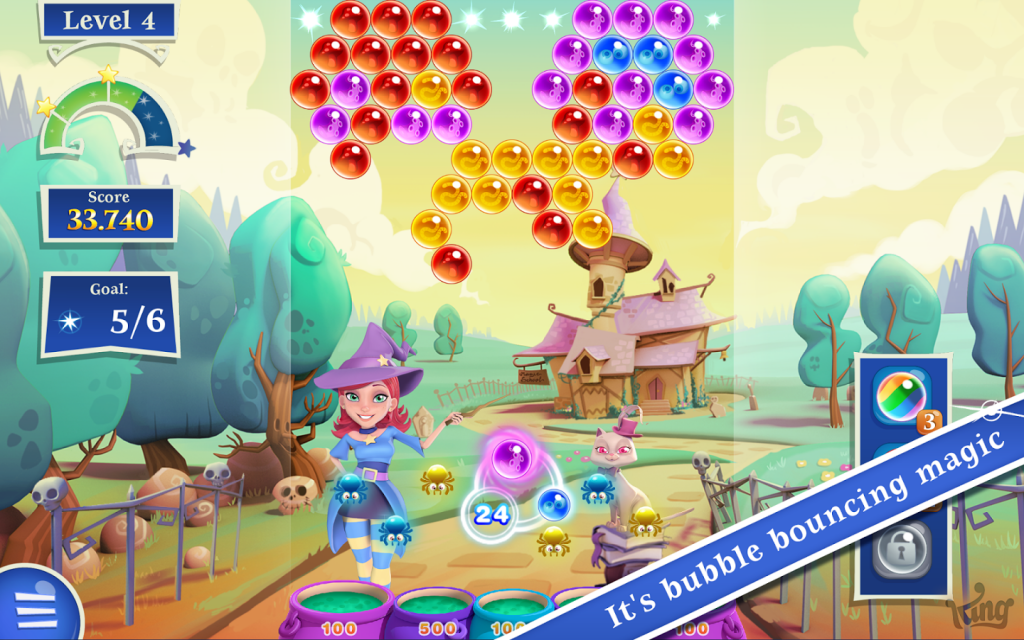 King Entertainment may have started out making games for Web browsers, but today it's all about mobile games. Its most popular title, Candy Crush Saga, has made a huge splash on mobile, earning the company $1.5 billion last year. King's next game is Bubble Witch Saga 2, and the company hopes it has another blockbuster hit on its hands. I got to meet the developers and get an early look at the game, so here are five things you need to know about Bubble Witch Saga 2.
It's a Bubble Shooter Game
What's a bubble shooter game? If you've played classics like Snood, then you have an idea of what to expect. Clusters of colorful bubbles cling to the top of the screen. You control a gun that sits at the bottom of the screen and can shoot bubbles at the clusters. Shoot a bubble into a cluster of two or more like-colored bubbles, and those bubbles pop, releasing any other bubbles that had been clinging to them. Clear enough of the board, and you can move on to the next level.
It's a Sequel
If the number in the title didn't give it away, Bubble Witch Saga 2 is a sequel to — you guessed it – Bubble Witch Saga, a game that's available on the web, Facebook, and mobile. The thing about the original game is that it was made before mobile gaming took over the world. It was designed to be played on a computer, so the mobile ports aren't the ideal way to play it.
The sequel was made for mobile first, so it feels right at home on a phone. It can be played in portrait orientation with one hand, which is great if you're on the go. It's also far more colorful and stars a much more visually appealing cartoon witch. Beyond that, the game has a lot more going on in it, so it's likely to keep you interested for longer periods of time.
It Has 3 Types of Levels
The original Bubble Witch Saga only had a single level type. The sequel has three. There's the classic "Clear the Top" mode, where you have to eliminate a certain number of bubbles from the top row to continue. Then there's "Save the Animals" in which creatures are trapped in some of the bubbles, and you need to remove them from the board to move on. Last is "Free the Ghost" where a cartoonish ghost sits in the middle of the screen, with a wheel of bubbles radiating out from him. Pop all of the bubbles touching the ghost to win. The twist in this mode is that each time you shoot a bubble at the wheel, it rotates.
It's Free-to-Play
The game will cost nothing to download, but that's not to say you can't spend money on it. Candy Crush Saga was also free-to-play, and it made $1.5 billion last year. The way the in-app purchases in Bubble Witch Saga 2 work is like this: You have a certain number of lives, and if you run out you can either wait for them to replenish on their own, or you can spend gold to buy more. Gold is the game's currency, which you can spend to buy lives or power-ups. You earn some gold as you play, but if you want more — which you probably will as the levels become increasingly more challenging — you can spend real life money to buy it. You don't have to spend money to play the game, but you may not be progress after a certain point unless you do.
It's Coming Out Soon
King has already "soft-launched" Bubble Witch Saga 2 in Canada and New Zealand. Companies often do this for free-to-play games to make sure their servers are working and to see how people play the game out in the wild. No exact release date has been announced for the rest of the world, but expect to see Bubble Witch Saga 2 hit Google Play and the iOS App Store in the next week or two.
More From Wall St. Cheat Sheet: