5 Ways Smartphones Can Help, Not Hurt In-Person Retail
In an era of smartphones, shopping apps, and flash sale sites, the ubiquity of online and mobile shopping seems an insurmountable challenge for local business and brick-and-mortar stores. But a new study by Gannett (NYSE:GCI) marketing firm G/O Digital found that mobile technology doesn't hurt local shopping at brick-and-mortar stores, and instead can enhance it, challenging the popular idea that the rise of sites (and apps) like Amazon (NASDAQ:AMZN) will kill in-person retail.
The study, which surveyed 13,000 consumers who own a computer (desktop or laptop) and a smartphone or tablet, found that mobile technology has a significant influence on the way respondents shop. But instead of driving consumers away from in-person shopping, smartphones enable customers to research products, hunt for deals, and obtain coupons — which they often use to buy items in a local store.
Let's take a look at the key points from the study, which highlights the new targeting and marketing opportunities that mobile tech presents to local stores and businesses.
1. iBeacons and push notifications enables retailers to create a personalized and targeted shopping experience
That's a must for converting online and mobile traffic to in-person sales. Ninety percent of survey participants identified their smartphones as the device that's easiest to use for shopping in a local store. However, 50.7 percent identified their computers as the most convenient device for browsing sales, coupons, and other deals. That indicates that mobile phones and desktop/laptop computers are used at different stages of the shopping experience, and both present opportunities for targeted advertising and interaction to facilitate in-person shopping and sales.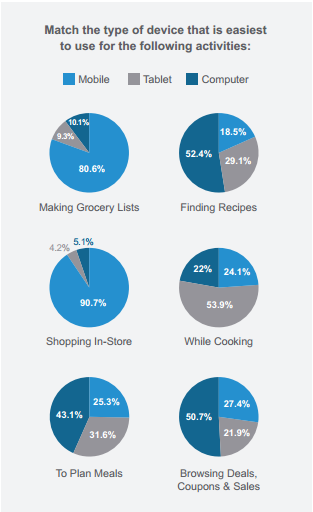 2. Consumers shop on their smartphones to save money
The number one mobile shopping activity was searching for a coupon; 35.86 percent of respondents say that they look for coupons on their mobile phones, a number much higher than the 12.05 percent who say that they use their smartphone to actually purchase the item. The fact that so few people make purchases on their smartphone is certainly predicated on a variety of factors itself. But e-commerce sites generally load slowly on smartphones, with Yottaa recently reporting that even top retailers' sites use redirects that cause mobile sites to take an average of 10.4 seconds to load on an iPhone versus 1.89 seconds in Google's (NASDAQ:GOOG) (NASDAQ:GOOGL) Chrome browser on a desktop computer. In between the two are the 25.61 percent who use a mobile device to access a shopping list. (See number 5 for more details there.)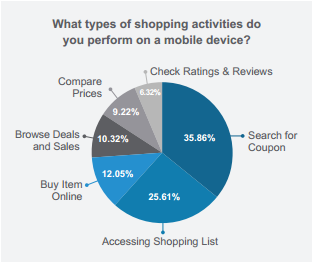 3. So giving consumers ways to save drives in-person sales
Of the survey participants, 47.4 percent say that they're most likely to make an in-person purchase when the item that they've been researching on a mobile device goes on sale, or when they find an applicable coupon. Twenty-three percent say that they'll make a purchase when they've completed the process of comparing the item to other, similar items, consistent with the idea that consumers research a variety of products online before making a purchase.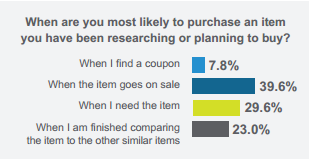 4. But deals aren't the sole driver of sales, since purchase influencers differ based on the type of product
Consumers make different purchasing decisions in each product category. When shopping for groceries, G/O notes, convenience is paramount. 20.7 percent will buy an item at an everyday low price, or 29.8 percent will choose an item that's on sale versus the 13.1 percent who will wait for a coupon. When shopping for clothing and shoes, 60.7 percent of consumers choose items that are on sale. In electronics and technology, 54.4 percent say that ratings and reviews are the most important purchase influencer.

5. Mobile shopping lists facilitate in-person purchases
Twenty-two percent of respondents say they always make a shopping list, and 39 percent say they often do. Of the survey participants, 89.3 percent said that a smartphone is the most convenient device for making a list prior to going shopping — leaps and bounds ahead of the 6.1 percent who prefer to make a list on a tablet, or the 4.7 percent who like making lists on a desktop or laptop computer.
The findings are consistent with the results of a May Gallup poll, which found that for many users, mobile technology serves to increase, not decrease, in-person shopping activity. Gallup found that retailers benefit by enabling consumers to order items online and pick them up in person. Retailers are also able to use mobile technology and other digital platforms to target customers more effectively than they've been able to with print, mail, TV, or radio advertising. The poll concluded that retailers' use of mobile technology to target customers has offset the challenges of online venues offering products at lower prices than local retailers. While some Gallup respondents reported less in-person shopping, just as many reported that mobile shopping activity increased their in-person shopping activity.
Gallup noted at the time that the explanation behind mobile technology's ability to increase in-person shopping could involve consumers researching an item online, then going to a local store to buy it, perhaps when given a coupon or alerted to a sale by email, text message, or social networking site. That conjecture was spot-on, at least in the apparel category, as confirmed by G/O's findings. For other product categories, sales and coupons were weaker as an influence, but still held significant sway.
However, sending out coupons, pushing sales alerts, or placing mobile ads indiscriminately isn't the way to go. Instead, the most successful retailers and marketers will make their targeting and promotions local, and relevant to the context and consumers' needs. The use of smart advertising and communications when shoppers are not at a store, and the strategic use of iBeacons and push notifications when they're in the store, will enable local brick-and-mortar stores to convert mobile traffic to in-person purchases. Instead of complicating consumers' shopping experience, mobile technology will enable brick-and-mortar businesses to better connect with their customers, making the path from mobile research to local store that much clearer.
More From Wall St. Cheat Sheet: