6 Big Nintendo Announcements for 3DS and Wii U This Spring
Lots of times when we talk about new games, we leave Nintendo out of the conversation, because its systems don't get the big AAA titles like Call of Duty, Far Cry, Dragon Age, Alien Isolation, etc. But what the Wii U and Nintendo 3DS do have is a lock on games made by Nintendo, which means they feature lots of very good titles.
As Nintendo has been doing for a while now, it has once again skipped the whole "press conference" thing and gone straight to customers with a Nintendo Direct video to announce what the company has in store for us this spring.
The video was packed full of information about upcoming games and hardware, so we've saved you the trouble of watching the 46-minute release and broken down the most exciting announcements in the following pages.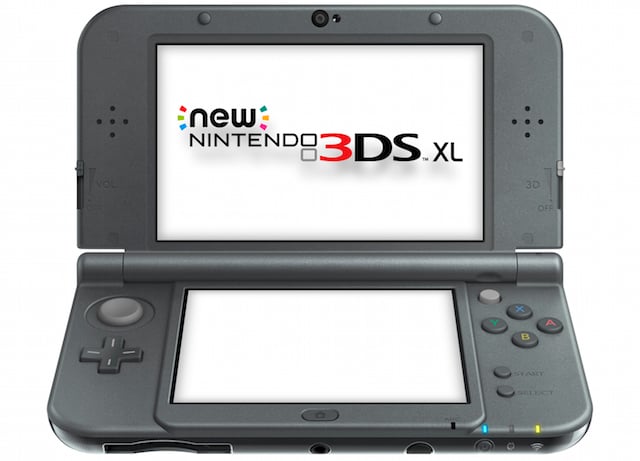 1. New Nintendo 3DS XL gets a U.S. release date and price
Japan and Australia have had the "New Nintendo 3DS XL" for a while now, but Nintendo hadn't formally announced its U.S. release date until just now. The system is coming to America on February 13 and will retail for $200.
While other countries have gotten two versions of the new hardware — a regular-size one and a bigger "XL" version — the U.S. is only getting the XL version, at least for now. The system will be available in red and black, or in special themed editions for The Legend of Zelda: Majora's Mask 3D and Monster Hunter 4 Ultimate. Here's a rundown on the new hardware.
What's so great about the New Nintendo 3DS?
The New Nintendo 3DS XL has a few features that make it better than the current models available in the United States.
C-stick: This little nub is seated above the face buttons and acts as a second analog stick. For the most part, it will be used to control the camera in many games, just like the second analog stick on a PS4 or Xbox One controller.
Improved 3-D effect: The New 3DS comes with face-tracking technology, which gives the system a much wider viewing area for its 3-D effects. This is important because on the current model, if you move your head or tilt the system while 3-D is enabled, the visuals become blurry, obscuring your view of the game. It's bad enough that many people forego the 3-D effect altogether. Perhaps those people will change their mind with the New 3DS.
More powerful: It's also more powerful than its predecessor, allowing for faster downloads, faster game loading, and smoother Web surfing. This extra horsepower will also allow the system to play games that won't work on the current 3DS models. So far, the only game announced that won't work on older hardware is Xenoblade Chronicles 3D, but several upcoming games will have special features when played on the New Nintendo 3DS XL.
Amiibo compatibility: Just like how Amiibos work on the Wii U, you'll be able to set Amiibo figurines on the New 3DS's touchscreen to access a variety of in-game features, which vary from title to title.
Auto-brightness: The new 3DS will automatically adjust the brightness of its screens based on the amount of light in the room, like an iPhone.
What's not so great about the new 3DS?
No AC adapter included: Crazily, Nintendo has decided not to include an AC power adapter in the New 3DS XL package. The system is useless without one, so you'll have to either buy it separately or use the adapter that came with your Nintendo DSi or current 3DS, if you have one.
MicroSD cards: The New 3DS XL will use MicroSD cards instead of the standard SD cards used in current 3DS systems. It comes with a 4GB MicroSD card, but if you want bigger one, you'll have to buy it separately.
Watch the video segment here.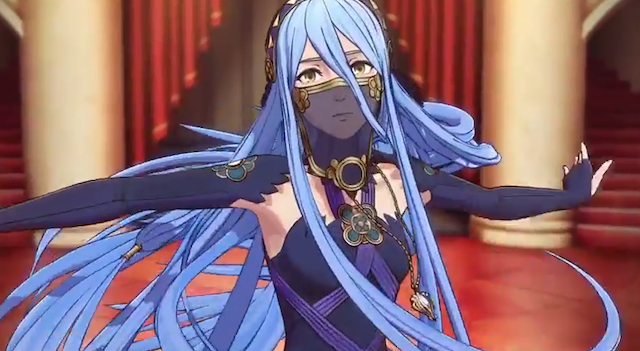 2. New 3DS games announced
New Fire Emblem
The Fire Emblem series has been on, well, fire lately, with Firem Emblem: Awakening releasing on Nintendo 3DS to much fanfare in 2012 and Fire Emblem X Shin Megami Tensei planned for Wii U. Nintendo just announced the next core entry in the series, using the placeholder name "the latest in the Fire Emblem series." The game will feature the series' trademark turn-based strategy gameplay, and will focus on player choice.
Watch the trailer here.
Puzzle & Dragons Z and Puzzle & Dragons: Super Mario Bros. Edition
The Puzzle & Dragons series for mobile phones has been enormously popular in Japan for quite some time. In these games, you battle enemies by playing match-3 puzzles (think Candy Crush Saga or Bejeweled) in order to deal damage.
Now Nintendo is getting in on the action by packaging the game Puzzle & Dragons Z with an all-new game called Puzzle & Dragons: Super Mario Bros. Edition. Mario's half of the game will feature lots of iconography from the beloved plumber's games, plus standard Mario enemies to defeat by matching gems on the bottom screen. Looks like fun.
Watch the trailer here.
Pokémon Puzzle
With Pokémon Puzzle, Nintendo is diving headfirst into the free-to-play model that's been cleaning up on mobile for years now. Pokémon Puzzle sounds a lot like Puzzle & Dragons, with the player solving match-3 puzzles on the bottom screen to deal damage to enemies on the top.
However, it has two big differences. First, the game is full of Pokémon characters for you to collect and level up. Second, it will be a free game that limits your play time unless you wait out a timer or spend in-game currency you can buy separately in bundles. That could be a drag, but at least the game is free.
Watch the trailer here.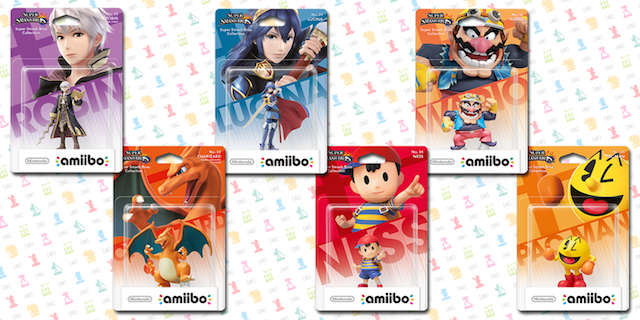 3. New Amiibos announced
Nintendo has announced a number of new Amiibo figurines that will be hitting shelves this year.
Mario Party 10 Amiibos
First up is a line of Super Mario Bros. Amiibos to coincide with the March 20 release of Mario Party 10. These include:
Mario
Luigi
Peach
Yoshi
Bowser
Toad
You may notice that some of those characters already have Amiibo figurines. The only thing differentiating the duplicates is that the new versions will come in different poses. However, you may want to buy the new versions even if you already own the current ones, because each Amiibo can only store data for one game at a time. To save data from another game, you have to erase the data currently saved on it.
New Super Smash Bros. Amiibos
Although Super Smash Bros. already has a lineup of Amiibo figurines, more are heading your way this spring. Here's what's coming:
Robin (from Fire Emblem)
Lucina (from Fire Emblem)
Pac-Man
Wario
Ness
Charizard
Regarding Marth
Nintendo also announced that the tough-to-find Marth Amiibo, which has already been released, will be rereleased in the U.S. this year.
Watch the video segment here.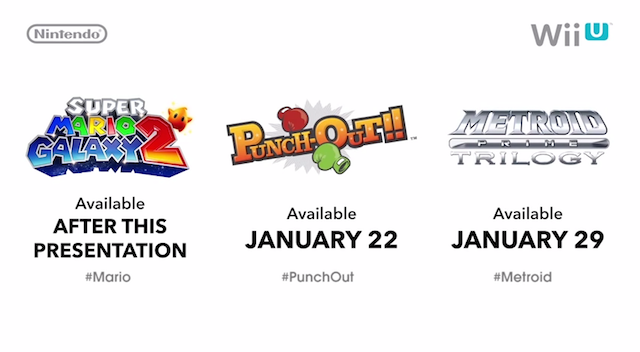 4. Select Wii games are coming to the Wii U e-Shop
Bear with me here. Previously, to play digital Wii games on your Wii U, you had to connect a Wii remote and click the "Wii Mode" icon, which opened a Wii emulator, creating a strange Wii universe within the Wii U. In short, it's a little confusing.
To sidestep this painful process, Nintendo announced that it will start bringing digital downloads of select Wii games to Wii U. That means you'll be able to launch the games directly from the Wii U menu, without messing with the "Wii Mode" at all.
Here are the games announced so far.
Super Mario Galaxy 2 – available now
Punch-Out – available January 22
Metroid Prime: Trilogy – available January 29
These games will be available for half price for the first week of their release.
Watch the video segment here.
5. Nintendo gets its first "cross-buy" game
One of the best reasons to be a PlayStation fan is that many of the games are "cross-buy" compatible, which means if you buy them on one platform, you can play them on all compatible Playstation systems, including PS3, PS4, and PS Vita.
Nintendo has just announced the first game that you can buy either on Nintendo 3DS or Wii U and play for free on the other system. The game is Mario vs. Donkey Kong: Tipping Stars, the latest in the previously handheld-only series.
Watch the video segment here.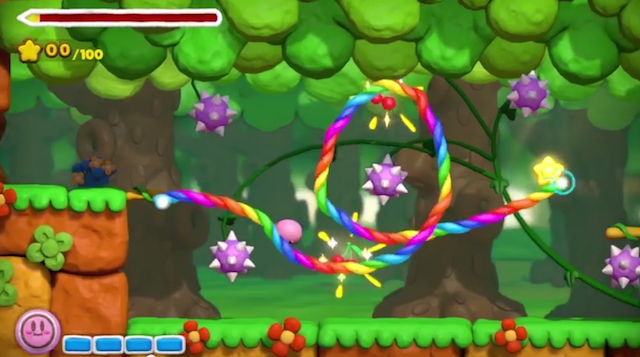 6. Lots of release dates announced
Scattered throughout the Nintendo Direct video were release dates for the company's upcoming games. Here's an easy guide to what games are coming out when for Nintendo 3DS this spring.
Nintendo 3DS
Monster Hunter 4 Ultimate – February 13
The Legend of Zelda: Majora's Mask – February 13
Codename STEAM – March 13
Xenoblade Chronicles 3D – April
Puzzle & Dragons Z and Puzzle & Dragons: Super Mario Bros. Edition – May
Wii U
Super Mario Galaxy 2 (digital download) – available now
Punch-Out (digital download) – January 22
Metroid Prime: Trilogy (digital download) – January 29
Kirby and the Rainbow Curse – February 20
Splatoon – May
Nintendo doled out even more information than we could fit into this breakdown. If you're interested in hearing more about Nintendo's plans for this spring, watch the full Nintendo Direct video here.
Follow Chris on Twitter @_chrislreed
Check out Tech Cheat Sheet on Facebook!
More from Tech Cheat Sheet:
Want more great content like this? Sign up here to receive the best of Cheat Sheet delivered daily. No spam; just tailored content straight to your inbox.